The San Francisco Board of Supervisors recently passed new legislation that makes San Francisco the first major U.S. city to mandate solar panels (or solar-heating units) on all new residential and commercial construction shorter than 10 stories beginning in 2017. If more cities follow suit, these laws could change the way architects industry-wide think about solar.
Big, blue, shiny, and often slapped onto roofs as an afterthought, solar panels have an unsightly reputation, but that's beginning to change as architects experiment with creative ways to incorporate these mini energy farms into buildings. As solar architecture becomes more pervasive, designers will likely have to push the aesthetics even more–particularly in areas that have challenging design review policies from local planning commissions. This could also spur technological innovations from solar-panel manufacturers as well, as they invent new materials that can harvest energy from the sun without compromising materiality.
On the heels of San Francisco's announcement, we've rounded up 10 examples of architecture that thoughtfully and beautifully incorporate solar energy.
1. The Further Education Center at Mont-Cernis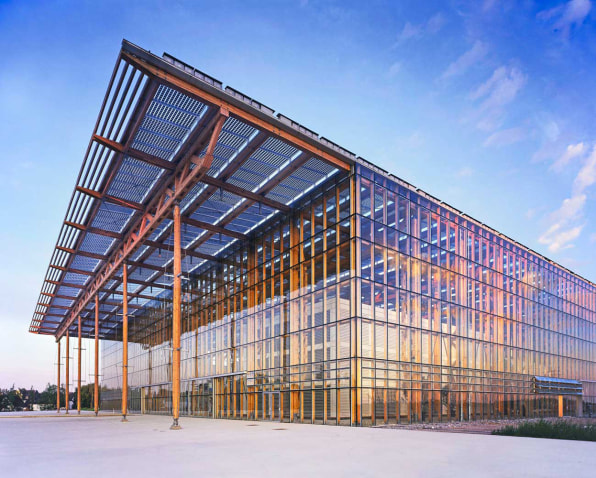 Designed by the firm HHS Planer + Architekten, the , in Herne, Germany, features a roof canopy made from solar panels that generate electricity and shade the interior.
2. The Blauhaus at Niederrheim University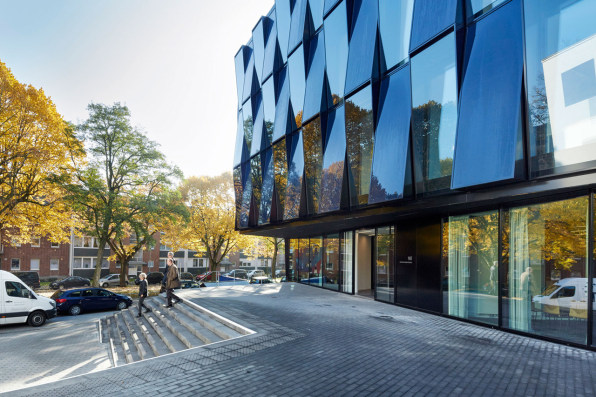 At first glance, the Blauhaus by Kadawittfledarchitektur looks like it has a facade composed solely of blue glass, but closer inspection reveals that it's actually a tessellation of windows and solar panels, which can be rotated to follow the sun.
3. The Science Pyramid at the Denver Botanic Gardens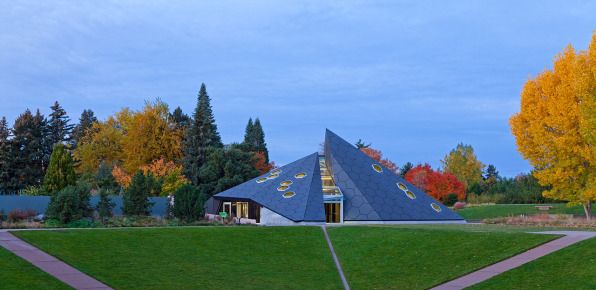 With a jagged shape inspired by the tectonic shifts that formed the Rocky Mountains, the Science Pyramid by Burkett Design is clad in gray hexagonal tile and solar panels that blend in with the pattern.
4. 36BTrd House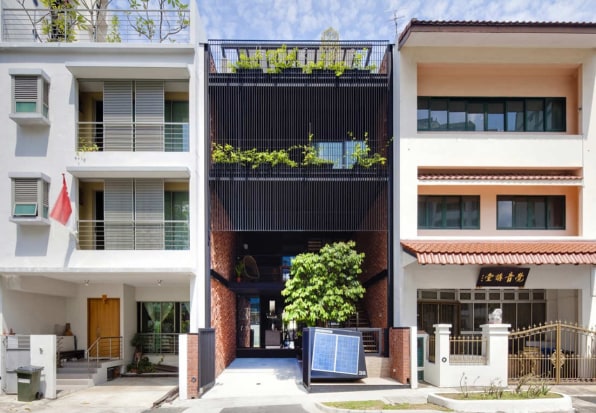 Located in bustling Singapore, the 36BTrd House by DP Architects features a number of solar-design strategies. First, it's clad with a thermal plaster that reflects heat. The structure is designed to promote cross breezes, and a photovoltaic array is integrated with a roof–plus, it has a solar hot water system.
5. Stanford University Central Energy Facility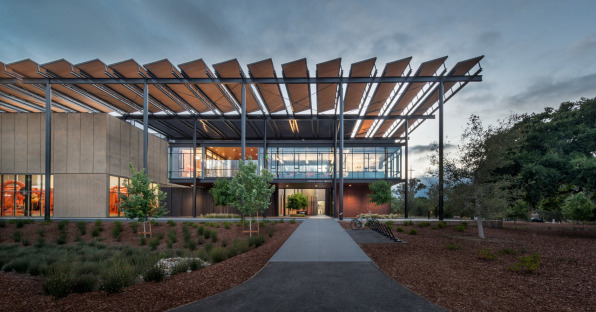 ZGF Architects played a bit of hide-and-seek in its design for Stanford University's Central Energy Facility. The structure elegantly obscures heavy-duty infrastructure with metal screens–and a shade trellis is actually a solar array that powers the entire building.
6. The Kathleen Grimm School for Leadership and Sustainability At Sandy Ground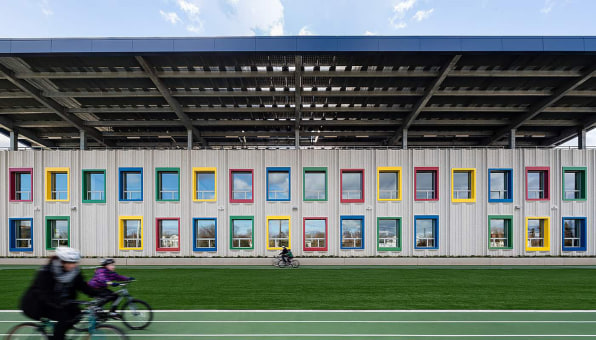 New York City's most environmentally friendly school is located on Staten Island. Designed by SOM, the Kathleen Grimm School for Leadership and Sustainability at Sandy Ground is also the city's first net-zero campus, which is achieved through efficient systems, building orientation, and photovoltaic arrays on the roof and south facade.
7. J. Craig Venter Institute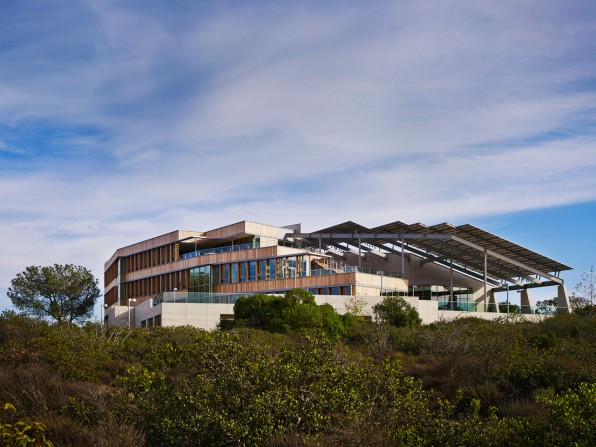 The La Jolla, California, building by ZGF Architects is the first net-zero energy biological lab in the country, which helped it nab an AIA green building award this year. In addition to a rooftop solar array, which overproduces power for the grid, the structure has a 50,000-gallon thermal energy storage system.
8. The Endesa Pavilion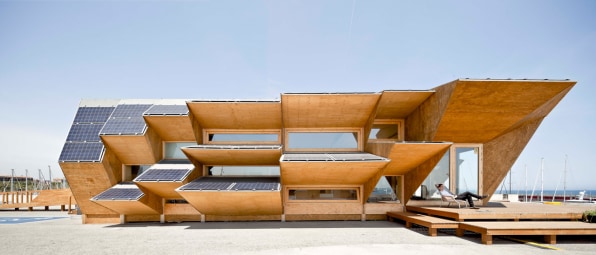 Using parametric design, the Institute for Advanced Architecture of Catalonia designed the Endesa Pavilion's angular facade to maximize the integrated solar panels' performance.
9. University of British Columbia's Center for Interactive Research On Sustainability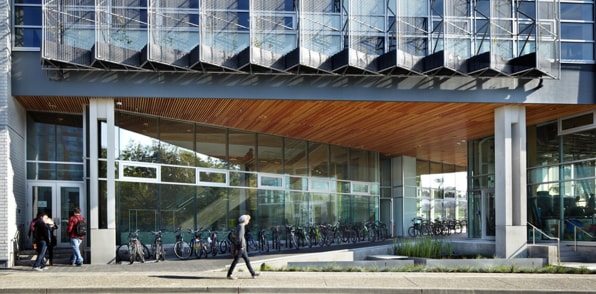 Rooftop photovoltaics as well as solar panels on sun shades generate power for the building located in Vancouver, British Columbia. Perkins+Will also designed the interior layout so that it relies on natural daylight.
10. Nursery +E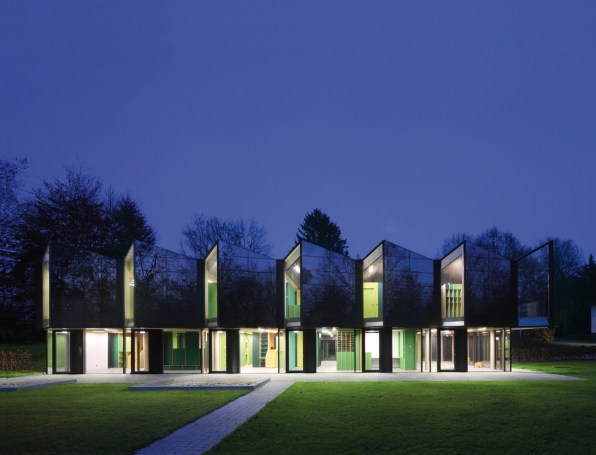 The facade on this daycare center in Darmstadt, Germany, has solar panels integrated directly into the surface. Opus Architekten built an angular facade to help the panels receive the most sun exposure.