Driving on an open highway and exploring new territory evokes adventure and excitement. It's no wonder that road trips are the plot line of some of the greatest films and books ever created and that there's a resurgence of vacationers hitching Airstreams to their cars.
When Honda tapped independent creative director Morihiro Harano to tell a story about its autonomous driving technology, he focused in on that wanderlust–and how self-driving cars could make it a reality. To develop a series of concept vehicles for the project, Harano collaborated with the London-based industrial design studio Map, whose work he admired–along with the transit-focused ethos of its founders, Jay Osgerby and Edward Barber.
Called the Great Journey, the project centers around a souped-up vehicle that would enable a trip starting in the African Serengeti, winding through the Middle East's sand dunes, over the Himalayan Mountains, across the Bering strait, and culminating in the Amazonian jungle. It's essentially the same path of migration some anthropologists believe early humans took.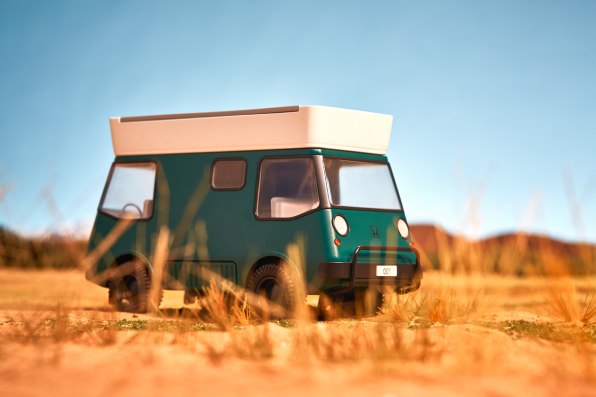 "My inspiration for this project came from a few things," Harano says. "My son's and my love for motorhomes–we built one together from Legos–the tiny house movement–I love architecture–and a road trip in Iceland for a shoot on a very long and wild road. When I learned about Honda's autonomous driving technology, those four things are came together for me. I thought if we could make a comfortable motorhome with autonomous driving technology, I would love to live my rest of life on the road, moving, traveling, enjoying a very long road trip on this planet, being a kind of new nomad."
Instead of talking about the technical specs that would make this type of journey possible, Harano wanted to communicate the experience–a trend that's already driving the way auto brands speak about their vehicles and make abstract technology graspable. Autonomous driving is still a polarizing topic: while companies like Tesla and Google are preaching its virtues and working out the UX kinks that could make or break it, the public has been wary of the technology and concerned about safety.
By framing Honda's technology as a tool for adventure, Harano wanted to table the techno speak and communicate in a language that everyone could understand.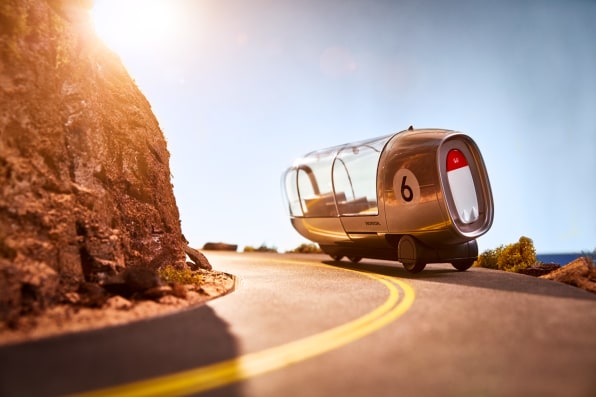 "In the old days, cars symbolized individual freedom," Harano says. "However with new services like Uber and Zipcar, the value and meaning of a car has changed dramatically for consumers. So it's important in talking about new technologies like autonomous driving and fuel-cell not to explain how to improve the car as a product, but to work make society and our lives happier. In order to do communicate that for this project, we decided to work with designers who aren't from a traditional automotive background."
Known for its expertise in model making and interdisciplinary approach, Map was top of mind when Harano was thinking about a company to design the concept cars. Jon Marshall, Map's design director, was turned off by the slick nature of CGI concept cars and computer renderings–and, instead, pitched the idea of scale models. Marshall wanted the cars not to be toylike novelties, but to embody real technology and engineering principles that could eventually be realized (though, right now, Honda has no plans to develop the concepts any further).
He and his team combed Honda's archives to get a sense of its design legacy: the company produces all sorts of vehicles, from passenger cars to farm equipment and trucks, as well as boats and robots. This fed into the car designs, which reflect an aesthetic from the manufacturer's 1950s and '60s offerings, mixed with modern technology like solar and fuel cells.
Map designed the 3-D files for the concept cars at scale for both the exterior silhouettes and the interior cabins, and took care that they were dimensionally accurate and structurally sound enough that they could all be manufactured. Then, the designers shrunk down the dimensions and produced the physical models. In a video, Marshall explains the process:
"In general, automotive is at a juncture where technology is playing more of a part, like autonomous driving, like the connected car, and other technology making it possible to do car sharing, moving from petrol to electric," Marshall says. "There's an opportunity for industrial and interior design firms to become more involved in ways to integrate [technology] with our lives."
The Great Journey demonstrates is that the way an emergent technology is framed by its creators really has an impact on how we perceive its role in society. When the dialog is weighted on features and engineering, it becomes abstract and the public becomes wary. When it centers around an experience or how it can empower users, magic can happen.