"Companies are like great buildings," says Nina Stritzler-Levine, a scholar and gallery director at the Bard Graduate Center in New York. "If you don't have the right patron and leadership, the building ends up being terrible and the same with a company." To Stritzler-Levine the Finnish design company Artek is, thanks to its visionary leaders, one of the greatest brands of the 20th century–but also one of the most misunderstood.
Stritzler-Levine is the curator of Artek and the Aaltos: Creating a Modern World, a new exhibition based on two years of research she conducted on the pioneering couple Alvar Aalto and Aino Marsio-Aalto and the business they cofounded with Maire Gullichsen, an arts patron, and Nils-Gustav Hahl, an historian, in 1935.
The show reveals not only that Artek had a far broader scope than furniture and how Aino and Alvar collaborated–but also how Aino became one of the greatest omissions in modern design history.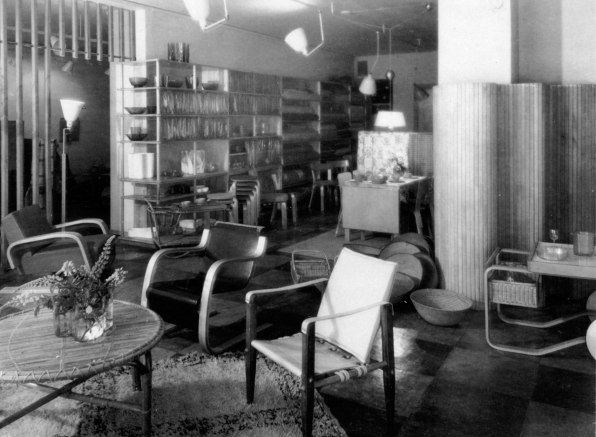 Today, Artek is mostly known for its bentwood furniture, but in the past, it was a fervent champion of capital-M modernism and a social mission that extended well beyond products to the design of complete environments. Stritzler-Levine wondered, "Why hasn't someone done a major book on Artek before?" she says. "Furniture is perceived to be the basis of Artek. It was important, but it wasn't the thing that drove the company's existence. The furniture gets folded into the literature of Alvar Aalto."
Indeed Aalto's Stool 60 is one of the designs most closely associated with Artek today, but at its inception the brand was about radical idealism and the belief that good design could improve the quality of life. In 1935, Hahl wrote that "Artek is a sales and propaganda center for the new housing ideology." In 1936, Artek opened a retail store and stocked it with furnishings and housewares that the brand designed as well as other products they thought belonged in modern interiors, such as glassware by Iittala, textiles of Marsio-Aalto's design, and handcrafts imported from Africa and Latin America.
The idea was that by curating these objects and staging educational exhibitions, Artek could promote the modern movement. In 1937, the company opened an art gallery and, after its inaugural show on Moroccan rugs, exhibited work from modern painters such as Fernand Léger, Henri Matisse, and Paul Gauguin.
Stritzler-Levine argues that what made Artek so different from other companies at the time was its focus on modern art, interior design, and advocacy. Furniture design–until a shift later in the company's history–was closer to the bottom of the list. But because of oversight in history books published about Aalto's work, there are few references to Artek's involvement with some of his most famous projects.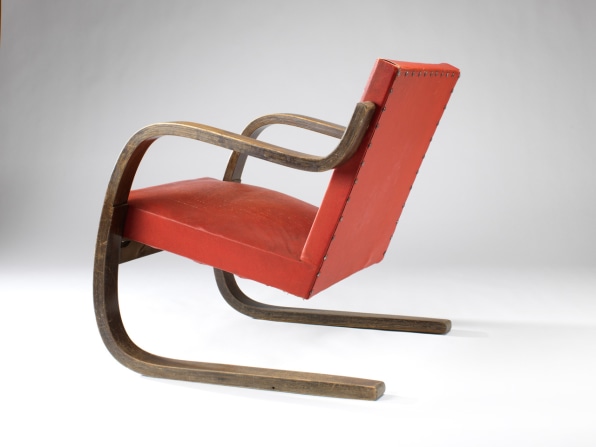 For example, Stritzler-Levine points out that Artek had a whole interiors division–beyond product design–that Marsio-Aalto directed. She discovered in archival documents that the Viipuri Library, which was built between 1933 and 1935 and for which Aalto designed the bentwood L-shaped leg that would be the basis for many of his furniture designs, was furnished by Artek in the first creative collaboration between Aalto's firm and Artek.
Further research into the Artek archives revealed that the company worked in close collaboration with Aalto's architecture office on interiors for the Savoy restaurant in Helsinki, Villa Mairea (arguably Aalto's most famous house, built in 1939), and the Baker House Dormitory at MIT.
Artek even designed public and private interiors, hotels, restaurants, and even parts of the Helsinki airport. "Artek completely intertwines architecture, interiors, and furniture–the macro and micro," Stritzler-Levine says. "What is this actual social mission? It was designing this artful interior down to the glassware . . . Is it advocacy the same way someone would defend against the water supply problem in Michigan? No. But it is a way to make domestic and public life better."
By misunderstanding the role of Artek, historians have vastly misunderstood the role of Marsio-Aalto. "I think that she is arguably the single the greatest omissions of design history," Stritzler-Levine says. "She's thought of as just a glass designer." Marsio-Aalto began to study architecture at the University of Technology in Helsinki in 1912, and she graduated in 1920 two years ahead of Aalto. She eventually joined his firm in 1924 and the couple became engaged that year. The two worked very collaboratively as equal partners, as recent research, including Stritzler-Levine's, has shown. (Historian Göran Schildt, a prolific author on Aalto once wrote that "feminist-inspired attempts have been made to overestimate Aino's architectural contribution at Alvar's expense.")
In combing the archives, Stritzler-Levine found letterhead that read "Alvar and Aino Aalto Architects." Few drawings from the Aalto office are signed, some by Marsio-Aalto and some by Aalto, which makes it difficult to assign credit more specifically–but from 1924 until her death in 1949, she was active in the office.
To Stritzler-Levine, that Marsio-Aalto was trained as an architect, interning with carpenters and joiners, and working on construction sites, differentiates the Aaltos from the other famous midcentury couple, Charles and Ray Eames. Ray, whose contributions to design history cannot be overstated, originally trained as a painter.
"In 1939 press writes [Marsio-Aalto] up as 'the model of the modern woman,'" Stritzler-Levine says. "And they write, 'How does she do it all?' She's a mother, an architect, the wife of Alvar Aalto. It's the kind of thing you could read today in the New York Times. That's what I mean by she was really a total pioneer."
Artek and the Aaltos: Creating a Modern World is on view at the Bard Graduate Center until September 25. Visit bgc.bard.edu for more details.
All Photos: courtesy Bard Graduate Center Gallery