When Ikea started working on the Sladda, a new $800 bike that will launch in stores later this year, they weren't necessarily planning to make a bicycle.
"We didn't start off thinking of a bike from the very beginning," says Marcus Engman, Ikea's head of design. "We started off actually designing a new transport system."
The company–which sees itself in the business of providing solutions for everyday problems, not just making bookcases and sofas–realized that as urban populations swell, more people would want and need alternatives to a car.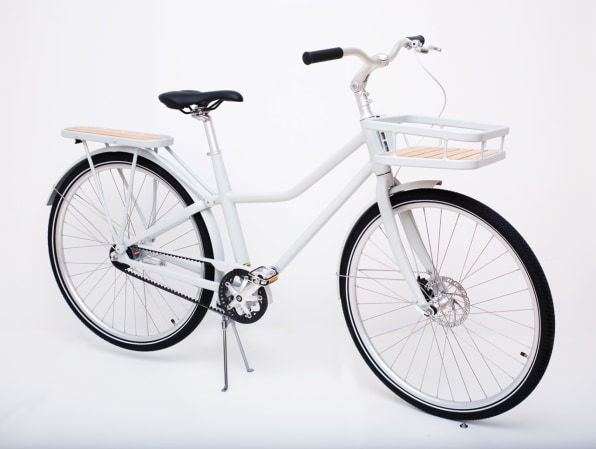 "We could see that this is a big need–for urban transportation," Engman says. "Less and less people are buying cars and getting driver's licenses, mostly young people in urban areas." As the design team considered alternatives, they eventually settled on the idea of a bike–but they approached it a little differently than most on the market.
The key was to make something that could easily carry the same things that someone might normally carry in a car. "Of course, we aimed to do a really great bike, but the big aim was to do a bike that could be a really great transport system, because we didn't see many of those," he says. "Some of them are not versatile."
The new unisex bike has a simple click-on system that lets users instantly pop on accessories such as racks or a trailer if they need to carry something bigger than usual. "If you want to change the bike for different purposes really fast, that was our aim," he says. "[We were] looking at the bike like the app store, then you could add different apps to it. That was the idea. The apps would be different things for different uses. This is an open system, also, it's not just for Ikea–if you want to add something to it yourself, that's absolutely possible."
The front rack is mounted on the frame, rather than the handlebar-mounted racks that are more common, so that the bike stays stable even when a heavy load is packed on the front. The step-in frame makes it simpler to get on and off, and is designed to double as a perfectly balanced handle if you need to carry the bike. An upright, semi-relaxed posture makes it easier to see traffic in the city.
The bike is also designed to be low maintenance–instead of a chain, there's a less-finicky carbon belt drive. The gearing is automatic, and the frame is rust-free.
Of course, this being Ikea, the bike is also designed to be as affordable as possible. "This bike is more or less a manufacturer's dream," says Oskar Juhlin, director of industrial design at Veryday, the design firm that worked on the bike with Ikea.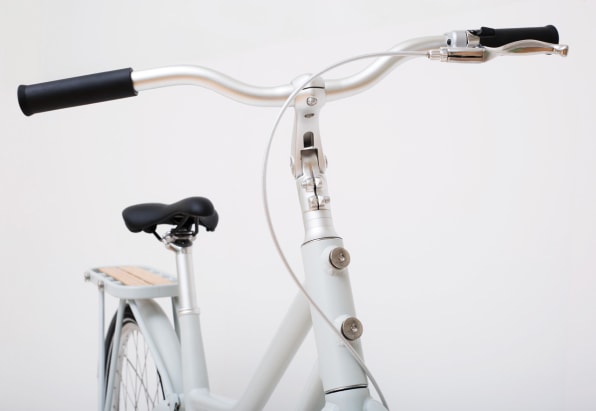 "It comes in two sizes and one color," he says. "The bike has no decals and all the bikes have the same details. Compare that to the super-cluttered assortments of traditional bike brands that come in four to five sizes, a minimum of five colors with different sets of decaling and numerous amounts of different specifications for the details. Sladda is the opposite–easy to use and has a clean and neutral design."
Through the process–following Ikea's formula for "democratic design" that meets a long list of aesthetic, functional, and quality requirements along with cost–Engman says they went through around 15 different variations of the frame before landing on something that worked.
Every detail was considered. For example, the designers chose a more expensive quick-release front wheel hub to make it more convenient for riders, but also to optimize space in shipping. The front wheel, unmounted, is more than 80 millimeters narrower to pack than a wheel with a traditional cheap axle–and that tiny space makes a difference.
"This made it possible for Ikea to pack the bike in a 50-millimeter flatter box than usual, resulting in an extra layer of bike boxes in the containers, giving a cheaper and more efficient transport, and finally a more affordable yet better-equipped bike for the people," Juhlin says.
The bike, which won a Red Dot award for its design, will arrive in stores in August. Ikea is hoping it gets more people out of cars. If it even approaches the popularity of some other products–like the Billy bookcase, which sells somewhere every 10 seconds–Ikea might eventually be one of the biggest bike companies in the world.
All Images: Veryday