If a brand wants to use its marketing to tout its ethical standards and provenance of its products, it takes more than a picture of a farm on the label to convince consumers. That's probably why U.K. grocery chain Waitrose decided to go with live footage from down on the farm and out at sea.
The intention behind the new campaign, by agency adam&eveDDB, was to keep the creative idea and presentational style simple. But bringing it to life was anything but. "It's a bit of a beast," says agency producer Panos Louca, outlining a timetable of 4 a.m. starts, multiple cameras, including a GoPro fitted to a dairy cow, and TV ads shot, cut, post-produced, and ready for air within just a couple of hours. "The beauty of this, though, is what you see is what you get as we're doing everything for real."
What British audiences see will unfold over coming weeks as an ambitious cross-platform campaign comprising TV ads featuring same-day live footage, real-time live streaming online and to digital billboards at major U.K. railway stations, as well as press ads with images so fresh they were shot just one day pre-publication.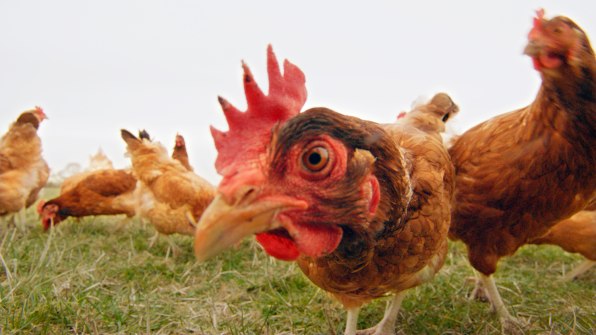 The germ of the idea was a spring-time brief to promote seasonal interest in the retailer and its products in a way that would move the brand and its marketing forward, says adam&eveDDB executive creative director Richard Brim.
"Waitrose is very proud of its suppliers who, in turn, are proud of working with Waitrose," says Brim. "The opportunity was to tap into this to explore the provenance of some of the food Waitrose sells. So initially, we suggested live web cams from some of the farms could be a fun part of that."
Test footage using film shot on GoPros convinced everyone that live content should be the campaign's central idea.
"It was soon clear that the honesty and the immediacy of live was a way of being completely transparent to show the origin of the food we buy before we serve it up to eat," says Brim. "Though there have been lives ads on TV before, it was also a way to have a first with live ads streamed live to digital outdoor screens and online."
The plan was for the TV commercials to comprise different same day live footage from down on the farm running first in ad breaks. Accompanying footage, simply but elegantly pre-shot, featuring the same produce ready to serve at the table would then run last in the same break.
"Across all the creative executions, simplicity was key to make our content stand out from the other ads in between," Brim adds.
Four locations were chosen to shoot footage for the campaign's first wave: a dairy farm; a free-range hen farm; beehives, rapeseed fields, the panoramic views at Waitrose's own farm, and a fishing trawler at work in the North Sea.
An immediate consideration was how easily footage could be uploaded, so 4G connectivity was a priority, Louca says. Footage from the fishing trawler will be gathered and edited on the boat's return journey to port.
Up to six cameras–mostly GoPros, but with three HD cameras shooting the footage for digital outdoor and YouTube–were then installed at each farm location. 'Contact microphones' which sense audio vibrations through contact with solid objects were also used, chosen to deliver high-quality, intense audio of even the smallest movement.
"The aim throughout has been to keep everything simple-looking, with the focus on what's going on each day at the various locations," says Brim. "Sound is an important part of this, and we have made a point of investing in bringing out the clarity of what's happening in the field and on the ground–the swish of grass as a cow walks by, or the sound of milk as it's poured into a glass–rather than adding voice overs or emphasizing sound effects."
Shooting and gathering the material involved a number of other challenges.
"Farms, animals, cables, and mud are not an ideal combination," Brim admits. "A major issue for us is the weather because if it pours with rain cows don't want to be outside. So we had to put our trust in a higher being. Though we also shot back-up footage that could be used if nothing happens on the day, just in case."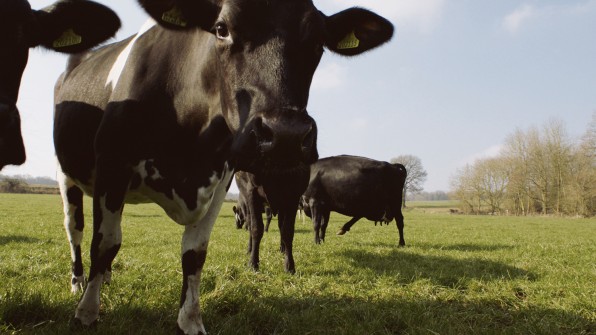 The biggest challenge of all, however, is time.
"We're shooting material on location, getting it, editing it, sending it to post production, then getting it to the TV stations by a certain point late in the day for transmission that same evening," says Louca. "And when you're working like that, there's just no room for error."