Jacqui Yorke didn't know if she was going to do it until she got harnessed up on the zip line. At any moment, she thought she might back out.
"I'm not the most adventurous. I'm more tranquil," as the British mother of six describes herself. But her family was all there cajoling her to go, and she figured that if she didn't like the sensation, she would keep her eyes closed and zone out the way she did when her family took her along on roller coasters.
As it turned out, she only kept her eyes closed for a second or two, and when she opened them the view was "stunning."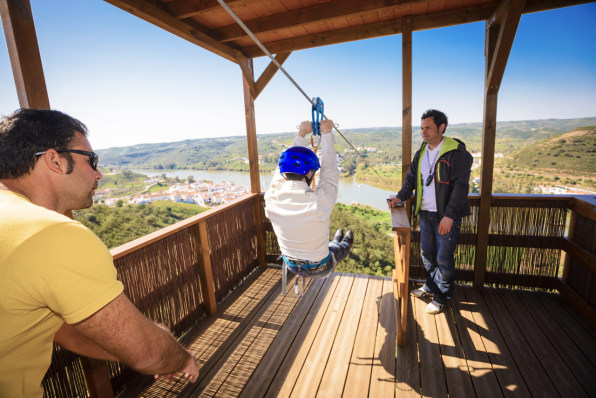 "It's exhilarating. There's no other word for it," she recalled. In a little under a minute, she traveled 2,360 feet from a hill above the village of Sanlúcar de Guadiana across the Guadiana River to arrive in another village, Alcoutim, sliding over the landscape at around 50 miles an hour. When she landed, she had also traveled back in time by an hour. One village is in Spain and one village is in Portugal, and the two countries are in different time zones.
Riders of Limite Zero, an unorthodox economic development project, get a helmet and gear at the bottom of the hill on the Spanish side before they're driven up a steep and curving dirt road to the departure point: a modest, open-air platform with expansive views.
This all doesn't sound like your typical economic development growth project, but that's exactly the point, according to the man behind the wire, David Jarman.
For the past decade, the British expat has lived on the Spanish side of the river, and there has always been talk of building a bridge to the other side. For now, there's just a ferry. The hope on the economically depressed Spanish side was that a bridge might funnel off visitors from the more prosperous Portuguese Algarve region. Many families from elsewhere in Europe, particularly the U.K. and Germany, vacation in the Algarve.
By contrast, in Spanish Andalusia, Jarman said, "Many years ago, the principal economic activity was mining. That's fallen into decline." He describes a trajectory familiar to many towns, an economic downturn contributing to a shrinking population and empty storefronts. "The large majority of younger people, for a career future, they had to leave, and they've gone to Seville and Madrid or abroad," he says. "People survive on very little."
He'd always felt the traditional, whitewashed village, with a population of just under 300, had tourist potential, but it needed a way to attract people a little off the beaten track.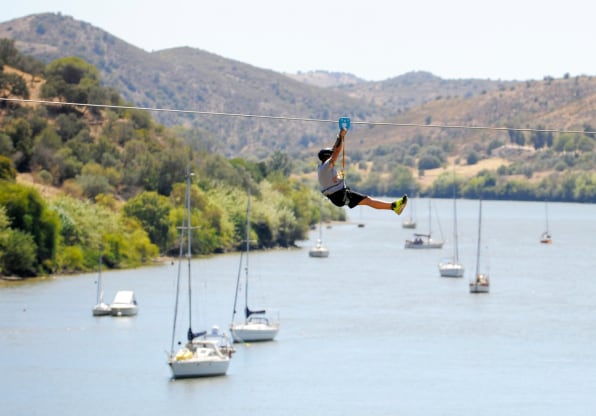 "I was aware of the zip line industry," he says, "that it was a growth industry. Always, the mantra is faster, higher, longer."
He thought if he could get the permissions for a zip line across the border, the peculiarity of that and the "time travel tourism" could offer something unique enough to induce people to make the trip. (He believes Limite Zero is the only currently operating border-crossing zip line, though not the first–that honor belongs to a project that temporarily linked Zimbabwe to Mozambique.)
Jarman hoped that once visitors came for the zip line, perhaps they would take in a little more of the region. The zip line's launch point is just below the remains of a 17th-century fort that the Spanish government has restored.
He also hoped–though this has not yet materialized–that more spin-off businesses would open to capitalize on the visitors' presence and offer them other services.
A passport isn't required to cross the Spanish-Portuguese border, but launching a business that spans both countries still came with a host of challenges.
"Both Spain and Portugal are renowned for their stifling bureaucracy. So I effectively had to deal with a double dose," says Jarman.
In all, launching the zip line took four years, five architects, and engineers from both countries. The involvement of a French company meant technical documents had to be translated into three languages. To help finance the project, which costs a quarter million dollars, Jarman took out a 100% mortgage on his own property.
"Like anything that takes an awfully long time, one has moments of frustration and disappointment, but I always believed that it would become reality," he says.
After finally launching, Limite Zero now employs a staff of five, including Jarman. They include one person who lives on the Portuguese side of the river. Jarman says he sometimes commutes home by zip line. An independent photographer also works with the company.
At peak season, they operate seven days a week. The crossing costs 18 euros, which includes a four-wheeler ride up to the platform where the zip line begins, and the return ferry from Portugal to Spain.
Yorke, the fearful flyer, confirmed the zip line had drawn her family somewhere they likely would have overlooked. "It's a quiet area," she says. "If you're not looking for it, you could normally drive straight through."