It's time for the other kind of Hollywood stargazing.
Yuri's Night International–April 12, the date Cosmonaut Yuri Gagarin became the first human in space–has become a worldwide celebration of human space flight, cooperation, and space science education. Co-founded in 2000 by astrobiologist Loretta Hidalgo Whitesides and Virgin Galactic CEO George Whitesides, it's grown some 600 science-themed events in 100 countries taking place on or around that date.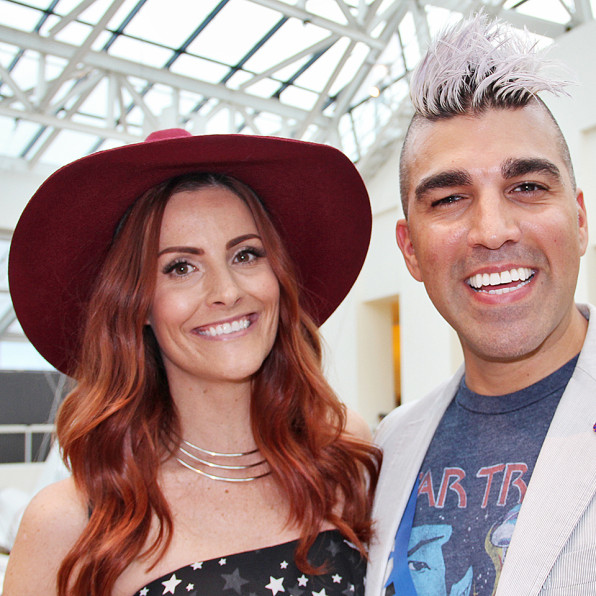 But the flagship Yuri's Night bash, a science lecture/cosplay dance party held last Saturday under the Endeavour space shuttle at the California Science Center in Los Angeles, delivered a slew of close encounters with space VIPs. Buzz Aldrin, European Space Agency astronaut Samantha Cristoforetti, Jet Propulsion Laboratory's Bobak "Mohawk Guy" Ferdowsi, and Star Trek: Voyager's Robert Picardo mingled with both space enthusiasts and senior executives from Virgin Galactic, Autodesk, Northrop Grumman (now building the James Webb Space Telescope), and asteroid mining firm Planetary Resources.
"Yuri's Night is a world celebration for everyone who's interested in a human presence in space–without concern for politics, the Cold War, countries that do and don't have space programs," said Picardo, who also serves as a board member of The Planetary Society, a space exploration advocacy nonprofit helmed by Bill Nye.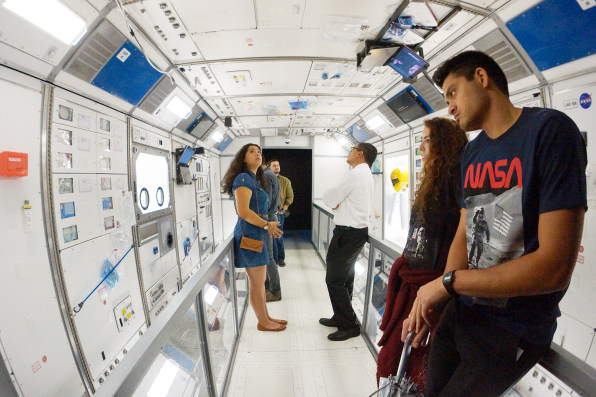 This shared interest (and a well stocked bar) lures a cocktail of science, arts, and business communities with an eye towards cross-pollinating ideas.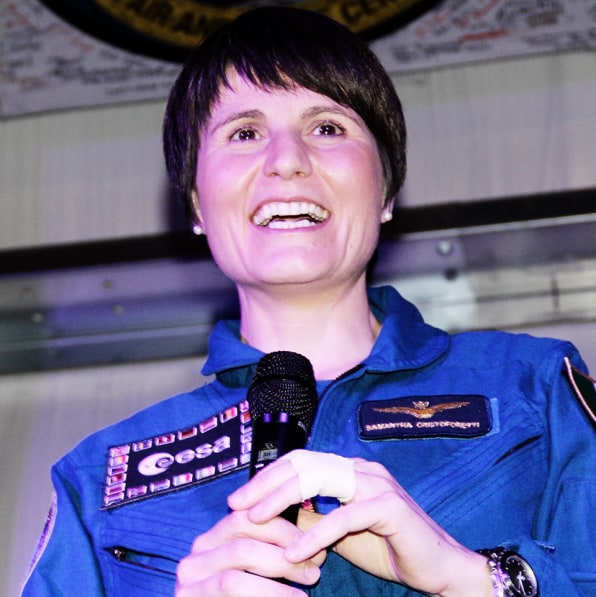 "There is a big community behind the space mission, and there's a lot that any one can contribute, a lot of [opportunities for] professional skills and talents," said Cristoforetti.
Cristoforetti, who flew in from her native Italy for the event, spent nearly 200 days on the International Space Station during 2014-15 breaking the record for longest single space flight by a woman. To coffee aficionados, she will forever be heralded as the first person to brew an espresso in space.
"The space station becomes your home," she said. "You have to adjust to inconveniences, but I enjoyed living an extraterrestrial life and being able to float. For the people on the ground, you are this dot of light traveling fast across the sky." Entrusted with experiments years in the making, "every little thing you do has such big meaning," she adds. (Planetary Radio's Mat Kaplan has a Yuri's Night interview with Cristoforetti here.)
Known for her whimsical space tweets–like posing in a Star Trek uniform on the ISS, she says, "I love to share what I do."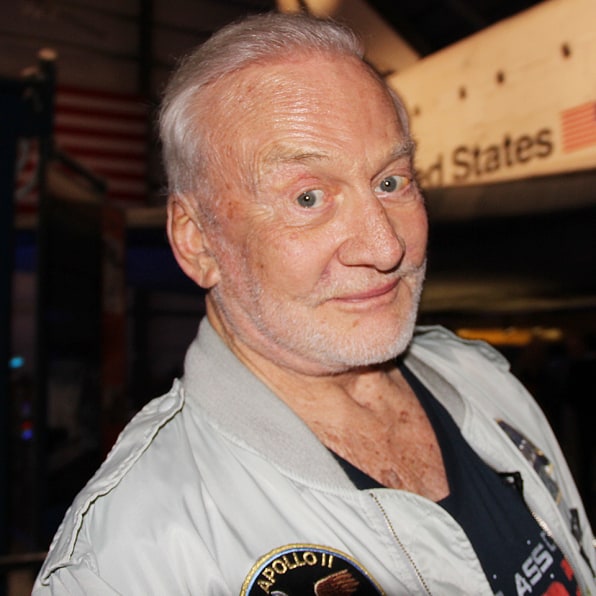 Aldrin, who regaled the crowd with tales from the moon, offstage weighed in on NASA priorities. Despite sporting a "Get Your Ass to Mars" T-shirt, he made a case for reconsidering a moon base as a practice run before landing humans on Mars.
"Humanity is going to expand outward," he said. "Right now the U.S. is lagging behind most everything in space. We need an objective. Go back to the moon–not going to be very popular with the American people–to resume where we left off 50 years ago. We need to learn some things at the moon, like building [and living in] a base that is almost the same as the base we'll have at Mars, and we'll do it in as near the same way."
He urged Yuri's Night revelers to go beyond Gagarin and celebrate all global space firsts, citing such examples John Glenn (the first American to orbit the Earth), Frank Borman (commander of Apollo 8, the first mission to fly around the moon, Yang Liwei (the Chinese space program's first man in space) and, of course, Neil Armstrong.
"They are the first specific achievements of global nations," he said. "And it's open to the future."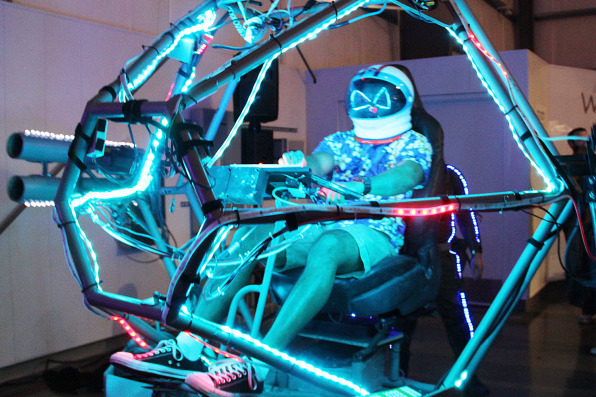 Ferdowsi, a JPL flight systems engineer whose hip look on the 2012 Curiosity landing livestream caused a Twitterstorm, parlayed his fame into a science education advocate role. Now working on NASA's Europa orbiter mission, he's also co-hosting a new science show, tentatively titled Blame It On Science, on the new Lionsgate/Comic-Con channel ComicHQ starting in May.
"I want people to be excited about science and engineering, to appreciate how it's influencing their lives," says Ferdowsi. "Whether you want to understand how the world of cinema or your phone works. I want people to see that, understand it, and feel like they can contribute in some way."
Photos by Susan Karlin