In some ways, the Apple Watch is a device in search of a killer use case, and I believe it will eventually find one, probably many. In the meantime we're seeing a few apps that point at that tantalizing future. Apple invited me to an event at the de Young Museum in San Francisco recently to show me one of them.
With a small group of other reporters and Apple PR and developer relations people, I was given the run of the normally jam-packed museum to walk through a stunning visiting collection of dresses designed by fashion icon Oscar de la Renta. Apple had helped me load a cool museum guide app on my phone and Watch, and set me up with a pair of headphones.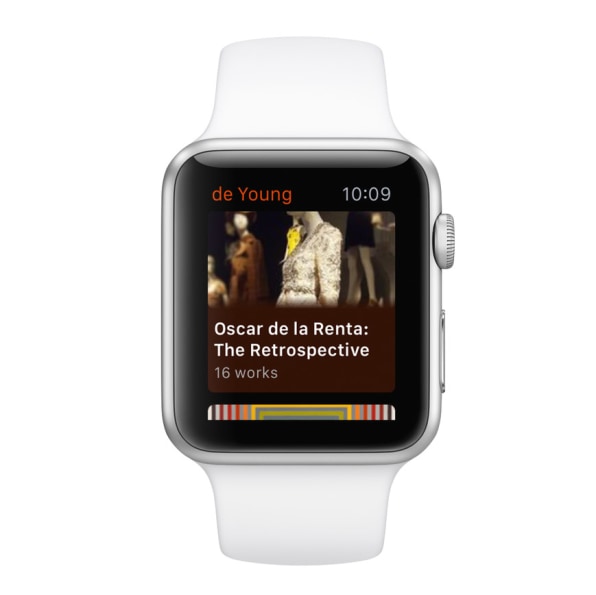 As I walked from dress to dress Guidekick's de Young app for Apple Watch, which launches today, notified me on the Watch (with a gentle tap) as I arrived at each one. It then presented me with some contextual information about the dress, and gave me the option of clicking on some audio commentary in the headphones.
The app knew when I was approaching a dress because Guidekick had installed an iBeacon radio near each one. A Wi-fi network assisted in nailing down my location.
The actual content of the app (the text, images, and sound files) was stored natively on the paired iPhone in my pocket, and was shared to the Watch via a Bluetooth connection.
The visiting de la Renta exhibit is just one of five exhibits as the museum for which Guidekick tours are available. You can buy the individual tours from within the Guidekick app. The de la Renta tour, for example, sells for six dollars. Right now the app runs on iOS devices only. An Android version is coming later.
The museum contracted with Guidekick to build the technology, and will deploy it to other visiting and permanent collections in the future.
The analytics payoff to the museum is considerable. The Guidekick technology, whether running on the visitor's phone or Watch, can see which exhibit items are getting the most traffic and attention, for example. Data like that could influence the way the museum organizes the pieces in an exhibit. The Guidekick app might one day expand its capabilities to handle things like admissions payments, de Young spokeswoman Miriam Newcomer told me.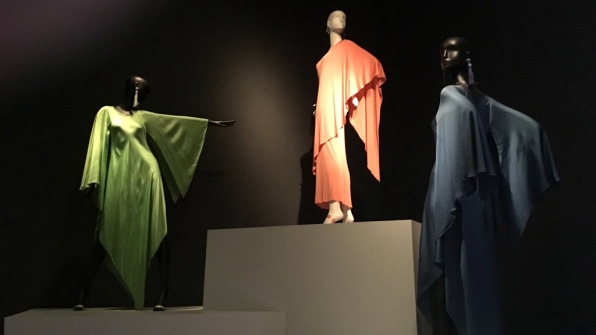 The exhibit itself was impressive. A nice reporter from Womens Wear Daily, Maghan McDowell, told me that de la Renta designs are unique because they're at once formal and sensual. They hug the curves of a wearer's body, but without pushing various body parts into unnatural positions to heighten sexuality or to show more skin.
An opening day panel discussion on "Oscar de la Renta: The Retrospective," featuring with exhibition curator and former editor-at-large of American Vogue, André Leon Talley, Oscar de la Renta's creative director, Peter Copping, and others:
Oscar de la Renta (July 22, 1932 – October 20 2014) originally rose to fame during the 1960s by designing dresses for Jacqueline Kennedy. He designed gowns for hundreds of film stars, politicians, and other dignitaries during the rest of his career.
Fashion designers are one of the target markets for another Apple product, the iPad Pro with the Apple Pencil stylus. Autodesk community manager Renee Bussee was along for the de la Renta tour, and at one point used her company's SketchBook app on the iPad Pro to make a quick sketch of one of the gowns. She quickly chose from among a set of more than 130 pre-made brushes, ranging from a smooth inking brush, a textured pencil, to a set of creamy synthetic paint brushes.
After she had completed a sketch of one of the gowns, Bussee showed how the whole illustration process had been recorded and could be played back.
Creative professions have always shown an affinity for Apple's sensibilities. The company's new products–and the third-party apps developed for them–should help it keep pace as the worlds of fashion and design move quickly into the future.