Low-wage workers in California make less now, adjusted for inflation, than they did in the late 1970s. At the same time, the highest-paid workers earn much more–and the state now has more billionaires than any other.
If it's approved by the state legislature, a new law approved by California Governor Jerry Brown would help slightly close the gap between rich and poor. Following the example of about a dozen U.S. cities, including Los Angeles and San Francisco, Brown wants to gradually raise the minimum wage in California from $10 an hour to $15 over the next seven years.
It would be the largest win for the Fight for 15 movement in the country, and have sweeping impacts. Some critics have argued that it's risky, and that businesses might be hit so hard that workers end up losing their jobs. But research from the University of California's Center for Labor Research and Education suggests that isn't true.
The center recently did a comprehensive study of New York State, which is also considering a $15 minimum wage, and the researchers have also studied California cities and crunched some early numbers for the state as a whole.
Update: New York State also just struck a deal to increase the minimum wage to $15 an hour, which would be phased in by 2018 in New York City and a few years later in other areas.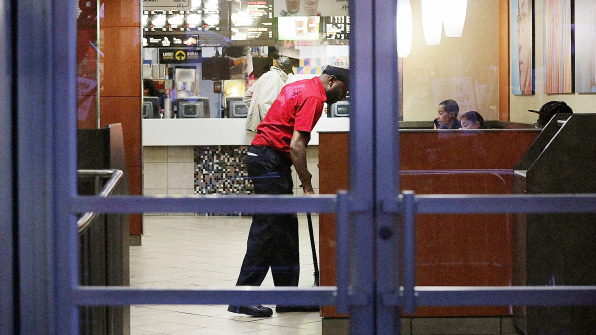 "We take seriously the arguments on both side–both the minimum wage supporters and the minimum wage opponents, in looking at what happens when you raise wages," says Ken Jacobs, who chairs the Labor Center.
When wages go up, that's obviously a cost to business. But it also makes workers more likely to stay at jobs longer, reducing the cost of continually hiring new staff. Workers are also likely to be more productive. Because every company would have the same minimum $15 wage, the rest of the cost would go into price increases–but it turns out that price increases are very small, just 0.7% in New York, for example, spread over the five years that wages go up.
"Those are very small annual increases," Jacobs says. "While the wage increases are quite significant–24% increase on average for low-wage workers. Those price increases would have some negative effect on consumer demand. But the other side of that is that we've got low-wage workers with more money in their pockets … and so that increases demand. When you put that all together in one model, what happens is it balances out."
In other words, the poorest workers could earn more without dragging down the economy.
In California, workers with retail or restaurant jobs would be most helped by the increase in the minimum wage. More than a third of those who would be affected have children.
Some have argued that the Central Valley, which has lower wages than bigger coastal cities, would be hardest hit by a higher minimum wage. But the answer is more complex.
"It is the case that the Central Valley has a greater share of low-wage workers, and so would be more affected on the business side, the effects on the economy," says Jacobs. "It's also the case that because the Central Valley has more low-wage workers, they would also disproportionately receive the positive effects of those wages–and the spending by those workers in the local economy."
That's especially true because in the retail and restaurant industry–the jobs most likely to be affected–wages in the Central Valley are more similar to what servers or shop assistants earn in the rest of the state. Agriculture may be different, however, and an increase in wages may push forward more automation that's already happening.
Overall, an increase in wages could lead to more societal benefits. "Beyond the immediate effects on workers, it's also important to look at the downstream effects," Jacobs says. "Where we know that higher wages result in better health for both workers and their children, and better educational outcomes for their children in the long run. So this is an important investment in California's future."
If it works, and if New York's new minimum wage also moves forward, it may inspire other states to follow.