Anytime somebody says they're launching yet another music subscription service, I'm skeptical. Oh really? Another millions-of-songs-for-ten-bucks-a-month deal like the one I've been paying Spotify for since 2011? What could you possibly have to offer? But this morning I'm sitting across from Alex Ljung and I don't need to ask that question.
That's because Ljung runs SoundCloud, a service that I, along with 175 million other people around the world, already use regularly. Today, he's here at Fast Company's New York headquarters to show me something he's been waiting years to unveil: SoundCloud Go.
For $10 per month, the new subscription tier will offer access to a massive, Spotify-style library of music that will sit on top of SoundCloud's existing trove of user-uploaded audio. The end result is something that nobody—not Spotify, Pandora, Apple or anybody else—will easily be able to copy: An all-you-can-stream library of albums from major and indie labels fused with millions of additional user-uploaded recordings, remixes, and DJ sets. For people willing to pay, all of that will be available ad-free and with offline syncing. At first glance, it's a pretty good deal. But to thrive in this already crowded space, SoundCloud has its work cut out for it.
"We have everything from the bedroom producer's sketch to something Kanye just recorded and put up on the site," says Ljung. "The full Kendrick Lamar album. All the back catalogs. Podcasts. All the big hits. All the emerging stars. Everything you can imagine in one place. It's the ultimate music service."
The biggest advantage that SoundCloud has over the likes of Spotify and Apple Music is its vault of over 100 million user-uploaded tracks. By combining that with their own new library of on-demand albums and tracks (thanks to recently finalized deals with the major and indie labels), SoundCloud is able to boast what Ljung calls "the biggest content offering in the world."
Sure, that offering includes a ton of junk. Bedroom demos and remixes of questionable quality are all over SoundCloud. But the noise generated by the upload-it-yourself model is outweighed by a huge asset: Megastars like Drake, Rihanna, and Kanye West are active on the platform, often using it to upload tracks that won't be found anywhere else. At the same time, SoundCloud is now where most up-and-coming artists of note head to start uploading tracks. By comparison, on-demand apps like Spotify and Apple Music require unsigned musicians to go through a third-party service to upload their tracks for a fee. If you're a brand-new artist in 2016, you're most likely coming to SoundCloud first. If you're an influential music blogger, you're embedding tracks from SoundCloud in your posts.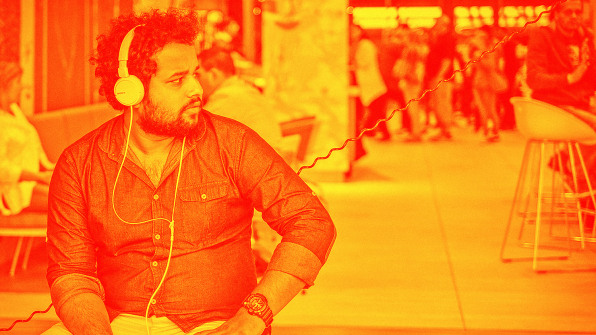 The artist-generated, free-to-listen nature of SoundCloud has made it a household name among music fans. But it's also presented challenges. As streaming music explodes, ad-supported, free music is struggling to rake in money for the music industry. That's why Taylor Swift ditched Spotify last year. By comparison, revenue from paid, on-demand streaming services is growing and making up a bigger piece of the beleaguered industry's income pie. As a result, services that peddle free music are slowly inching toward paid subscription models like this one.
Another challenge SoundCloud has faced is that all of this user-generated content has made life more complicated when it comes to copyright. User-generated sites like SoundCloud and YouTube are protected by the "safe harbor" clause of the Digital Millennium Copyright Act. But over the years, labels and rights holders have grown impatient with the amount of pirated content that winds up on sites like SoundCloud. Assuaging those concerns has been a delicate balance that involves annoying some users with takedown notices and negotiating with the industry to obtain the proper licensing for everything. Those discussions, which are likely more complex (and drawn out) for SoundCloud than for other players like Spotify, recently wrapped up with a deal signed between SoundCloud and Sony Music.
SoundCloud has also managed to work out special licensing deals for much of the derivative content that exists on the site: Remixes, cover versions, and DJ sets are a big part of what made SoundCloud what it is today. And all of that music has historically existed in a legal gray area.
"People kept saying that it was impossible, but we kept thinking that it can't be because it's such an integral part of contemporary culture," says Ljung. "Of course there's a way to figure out how to get a business around that."
Having buttoned up the complex legal issues, the company is now ready to launch SoundCloud Go. If you're expecting a dramatically overhauled music app, hold tight. The first iteration of SoundCloud Go is really just an additional layer on top of the already familiar SoundCloud interface. The chief difference is that now most search results show 30-second previews of tracks from the SoundCloud Go library alongside the regular results. Once signed up (there's a 30-day trial), all of this music will live (and play) seamlessly, side-by-side. Like the 30-second clips, a new download button shown next to every track will nudge listeners to give the new service a try. Weaving this many potential upgrade touch points into the app's interface is clever, but don't be surprised if some people complain about being hit up for money left and right.
There are a few curious things about SoundCloud Go: First, there's the design. Not only has the app not been given a visual refresh for this special occasion, but music is all organized as tracks and playlists, rather than the "album" analog that has become standard in music subscription apps.
Another feature that SoundCloud is hopefully planning to focus on next is discovery. Right now, Ljung tells me, the service doesn't have any formal editorial curation. Instead, it relies on user-built playlists and a new algorithmically powered radio station feature. But at Apple Music and Spotify, companies that SoundCloud can now officially call competitors, curation and discovery are a major source of competitive tension. Like SoundCloud, Apple entered the subscription game late, but has been using its remarkably smart discovery features—chiefly, hand-built playlists—to set itself apart. Spotify has responded with more human-curated playlists and popular, semi-algorithmic features like Discover Weekly and Fresh Finds. In fact, Fresh Finds takes a stab at mining the web for fledging artists who are about to break—something SoundCloud would be uniquely equipped to do if it could somehow muster the technical resources.
It's also worth mentioning that, at press time, there are a number of notable albums missing from SoundCloud Go. While SoundCloud proper will give you countless, unwanted cover versions of Radiohead's "Creep," classic albums like OK Computer and The Bends are nowhere to be found. Similarly, although Kanye West routinely posts tracks to SoundCloud, his albums haven't found their way behind the service's new pay wall. The company won't say how many tracks are included in its new subscription tier, but it appears to be fewer than Spotify and Apple Music offer.
SoundCloud Go may need a bit of polish, but the potential is hard to miss. For many active SoundCloud users who want access to millions of additional tracks, as well as offline listening, it will be worth it. If you're already invested in Spotify, Tidal, or Apple Music, there isn't much here that's going to convince you to switch. But it's still early and the streaming music space is constantly changing. Stay tuned.