In January, Jordan Reeves received an invitation to become a superhero.
More specifically, the 10-year-old from Columbia, Missouri was asked to participate in the Superhero Cyborgs program in San Francisco, a workshop hosted by nonprofit KIDmob and 3-D software firm Autodesk. The program connects children with upper-limb differences with professional engineers so that they can design and create their own custom-made prosthetics that do, well, whatever the kids want them to do.
Jordan was born with a limb difference: her left arm stops just above the elbow. When she found out she was headed to the Superhero Cyborg workshop, she was over the moon. "I was like, 'Wow, I can't believe I'm actually doing this,'" she says.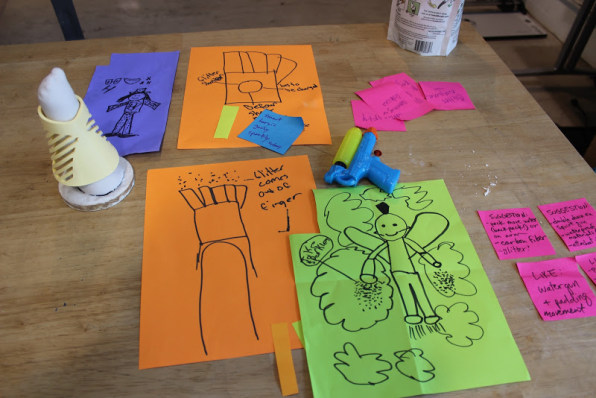 Over the course of five days, she and five other kids between the ages of 10 and 15 worked with design experts and engineers from Autodesk to brainstorm ideas. "Basically, if they could design the prosthetic or body modification of their dreams in a superhero context, what would that look like?" asks Sarah O'Rourke, a senior product marketing manager with Autodesk.
For Jordan, it looks very sparkly. Her plan was to transform her arm into a cannon that spread a delightful cloud of glitter wherever she went. She started with a few sketches. Then she created a 3-D-printed cast of her arm and a plastic cuff made to fit over it, for prototyping purposes. The kids used Autodesk's 3-D design tools like TinkerCAD and Fusion 360 to test their prototypes. "It was so fun," says KIDmob co-director Kate Ganim. "The testing and prototyping was amazing. There was glitter everywhere."
By day five, Jordan had come up with a working 3-D-printed prototype: a five-barrel glitter cannon that spewed sparkles with the pull of a string. She named it "Project Unicorn."
"For us, our interest is in getting kids familiar with taking an idea from concept to execution and learning the skills along the way to do that," says Ganim. "Ideally, it's not about the end product they end up with out of workshop; it's more about realizing they're not just subject to what's available on the market. It creates this interesting closed loop system where they're both designer and end user. That is very powerful."
It's especially powerful for kids like Jordan, who struggle to find good prosthetics that are helpful, comfortable, and affordable. Her mom, Jen Lee Reeves, has been working to find the right prosthetic since Jordan was 9 months old. Most existing designs are for people with a working elbow, but Jordan's left arm ends just above the joint. And designs that might work can be incredibly expensive, making them impractical for a kid who will grow out of it in just a few months.
"We've always encouraged the growth of 3-D printing, because it's more affordable," says Jen. "I feel like the engineers building these hands are really great, but they don't know the body. There's a revolution that's emerging where doctors and experts with degrees that help the body need to know more about hacking the body with more affordable tools."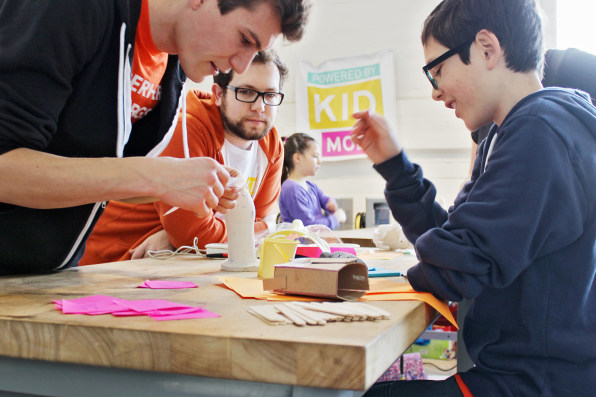 Project Unicorn isn't over. After the kids presented their creations to a room full of Autodesk and KIDmob employees, they were assigned a mentor whose job it is to keep in touch over the next six months and help the children iterate on their original designs. Once a week, Jordan video-chats with Sam Hobish, an Autodesk designer, to improve the sparkle arm. Right now, the sparkles "just kinda spill out," as Jordan puts it, but Hobish is on it. "I've been talking to my colleagues in electronics and materials development about ways we can create some kind of pressurized system that shoots out sparkles more effectively," he says.
Jen admits the sparkle arm is a bit messy, and not particularly practical. "But who cares?" she says. "It's fun and it's exciting and it's a really cool way to empower kids."
Even so, Hobish is also helping Jordan create a modular arm that can do other, more useful things. "I plan to work until we get something she really likes," Hobish says. "If that means we make new prototypes over the course of a year, I'm fine with that. I'll keep going until someone tells me to stop."
Jordan would love an arm that can help her hold a cell phone for using FaceTime and watching movies. "And I could hold heavy things like our groceries," she says, excitedly. "It might actually have a hand on it. It started out as one thing and then it grew into something cooler, and I'm designing it to make it better."