Mona Scott-Young is a multi-tasking maven.
Her New York City-based talent management and production company Monami Entertainment, LLC executive produces the TV show Love & Hip-Hop and manages musicians, including Missy Elliott. She's part owner along with Nicki Minaj of Myx Fusions Moscato. Scott-Young also has a publishing deal with Simon & Schuster and will soon announce a new line of fashion and accessories.
Scott-Young launched her own business after a successful run as partner in the artist management firm Violator Management, which was a force in the hip-hop and urban music sector in the 1990s, representing breakout stars like LL Cool J, Busta Rhymes, and Elliott, among others.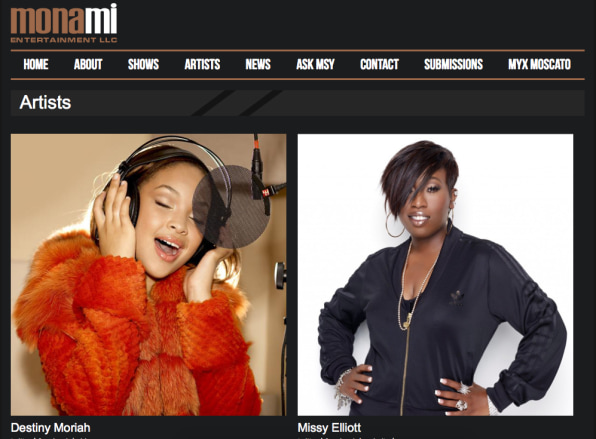 Along the way, she grew her latest ventures into a $50 million empire. Here she shares some hard-won lessons learned from being a woman in the male-dominated "wild West" of music, and the essential skills it takes to build a thriving business.
Scott-Young was raised by a single mother in the U.S. Virgin Islands. What her mother lacked in formal education—Scott-Young says she was "functionally illiterate"—she made up for with business savvy and hard work. When cruise ships entered port, her mother had a gift shop waiting. She also owned restaurants. Her mother's sense of spotting and serving a market was fine-tuned, Scott-Young says.
"For me, that's the ultimate challenge. If she was able to do what she did, how dare I not succeed?" she says.
Many women are caretakers, and that can sometimes work against them, Scott-Young says. "We give and give and give, and then we think someone is going to notice, and is going to compensate us for all of our blood, sweat, and tears," she says, "A lot of times, we have a tendency to be intimidated—about what our own self-worth is, and too intimidated to demand our real value."
Scott-Young says that lesson crystalized for her in her previous business, where she was often called upon to stay and "hold down the fort" while her partner pursued business opportunities that benefitted him financially. It wasn't until she put her foot down that things began to equalize. To get what you deserve, you have to stand up for yourself, she says.
Being a woman in an industry that is described by some as misogynistic, Scott-Young says that she learned early that no one was sitting around thinking about how to take care of her or what she deserved. That was her job. "I always refer to this cheesy quote by a motivational speaker. 'In business as in life, you don't get what you deserve, you get what you negotiate,'" she says.
In her experience, women have a tougher time negotiating than men. However, she says the ability to know your worth and demand to be compensated for it is essential in business and life.
Scott-Young doesn't like to use the word "mistake" because, she says, it's easier to beat ourselves up when we think we've made a mistake. Instead, think of it as an experience, learn the lesson from it, and look for ways to apply that lesson in the future. Then, let it go and move on.
It's easy to find reasons to say "no." With a thriving entertainment business, Scott-Young could have easily been "too busy" to move into a beverage line or design a line of accessories. But the thought of doing those things excited her, so she decided to seize the opportunities.
Embrace opportunities that excite you, Scott-Young says, but have the infrastructure to manage what you need to do. Also, learn everything you can about your business so you understand where to focus your energy and time, she says. Monami has a staff of 10 employees and "hundreds of freelancers," Scott-Young says. She works on delegating tasks that let her focus on her many ventures. (It's a struggle, she admits. Delegation is not her strong suit.)
We all need people around us who keep us grounded—and keep us going. Scott-Young has had the same friends for more than 20 years, she says. Her marriage and two teenage children are another source of strength. But don't think balance comes easily, even to a media mogul. Managing stress is still a challenge.
"That's the thing that I really know that I want to get better at, because it takes away all that joy and all the fun that I get. Then the benefits that I get out of building all of these businesses gets totally negated if I'm stressed, exhausted, and ill," she says. "For me, the biggest challenge has been figuring out how to find that balance, and how to process all of these different things."