The global coal sector isn't just in a slump—it may be in a permanent downward spiral. Peabody Coal, the world's largest private sector coal company, is about to declare bankruptcy. Major banks and investors are backing away from coal financing, and demand is slumping in economies including the U.S. and China. Environmental regulations are starting to slow development of the most emissions-intensive fossil fuel.
"There are always going to be periods of boom and bust," Chiza Vitta, a metals and mining analyst with Standard & Poor's, told the New York Times recently. "But what is happening in coal is a downward shift that is permanent."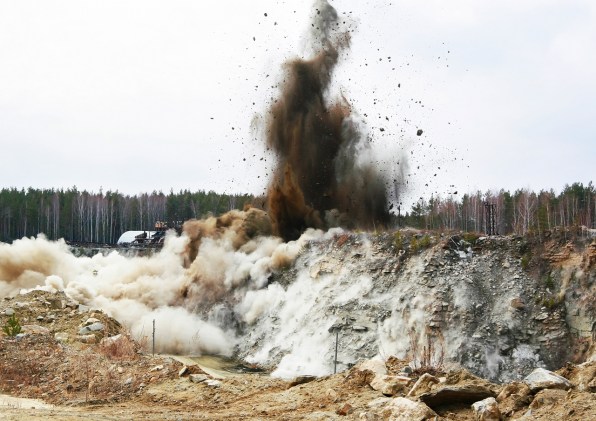 In September of last year, Goldman Sachs warned its clients: "Peak coal is coming sooner than expected." It explained: "The industry does not require new investment given the ability of existing assets to satisfy flat demand, so prices will remain under pressure as the deflationary cycle continues." In other words, the world just needs less coal, which means coals companies are making a lot less money.
And even though this trend isn't entirely caused by climate change concerns, making sure it continues will be crucial as the world works to reach future carbon emission reduction targets. Here's a deeper look at what's been happening: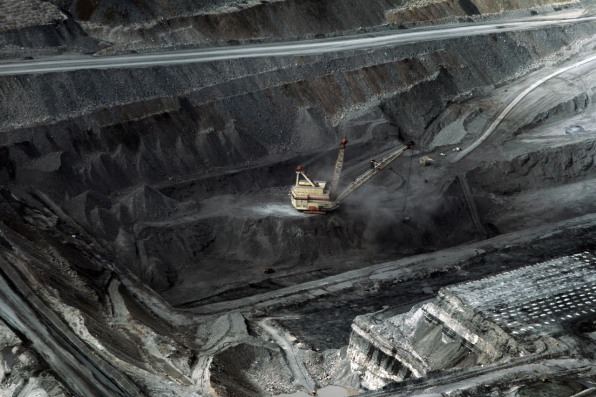 Peabody Coal, headquartered in St. Louis, Missouri, owns an interest in 26 active mining operations in the U.S. and Australia, and its coal recently provided about 10% of the electricity generated in the United States, and 2% in the entire the world. In an SEC filing recently, it said it was on the verge of filing for bankruptcy. It joins many other coal producers, including Arch Coal, Alpha Natural Resources, and Patriot Coal Corporation, which all declared bankruptcy in the few years.
Why are major coal companies going bankrupt? There are a few reasons. Global demand and coal prices have plummeted in the last few years, and many firms had overinvested during a boom time and are now caught with debts they can't pay. In its filing, Peabody also cited stricter environmental regulations, as policies such as President Obama's Clean Power Plan and the state of Oregon's recent precedent-setting decision to phase out all coal-fired electricity by 2030 start to take effect. According to the U.S. Energy Information Administration, 2016 is on track to be the first full year ever that coal isn't the dominant fuel of the electricity mix, surpassed by natural gas. (Don't celebrate too much. The natural gas boom–dominated in the U.S. by the intensive drilling method of fracking–has come with its own major set of environmental and social consequences, including polluted water and air, and even earthquakes.)
The fall of coal in China, however, has been the most significant development that has hurt the coal sector. The Chinese government (though its figures aren't always reliable) reported a drop in coal use of 3.7% in 2015 and 2.9% in 2014—this in a nation whose past economic boom was powered by the fuel. Part of the drop has been because of China's general economic slump. But part is the government's determination to slowly move away from the resource as it transitions to more renewable energy and seeks to address rampant air pollution and climate change. It is spending $4.5 billion to shut down 4,300 mines (out of about 11,000 in the country) and is banning new mine approvals for three years, while renewables investments are at record levels.
Goldman Sachs believes it's not just that the growth in coal demand is slowing. It says absolute demand will fall.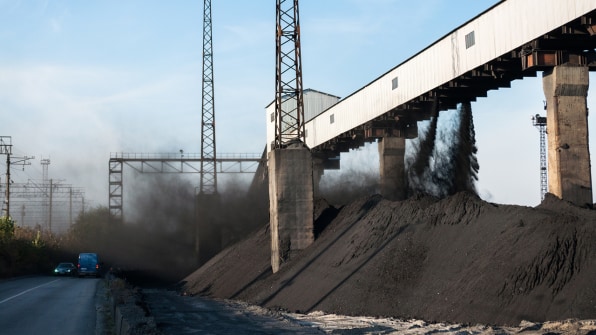 JPMorgan Chase recently announced it will no longer finance new coal-fired power plants in the U.S. and other developed countries–it will continue in the developing world but will require, according to the New York Times, "environmentally sound technologies." Bank of America, Citigroup, and Morgan Stanley have all announced their own policies that are aimed at reducing and limiting the credit and loans they extend to the industry.
These decisions partly reflect the view that the coal sector is a bad short-term bet. But the big banks also view their decisions in a proactive, socially responsibility framework. For example, Bank of America's corporate social responsibility executive bragged at a shareholder's meeting last year that it's renewable energy portfolio was now three times as large as its coal extraction portfolio. "The transition from high-carbon energy to low-carbon energy will continue. At Bank of America, we will continue to do our part to accelerate this transition for our customers, clients, and communities," he said.
The fossil fuel divestment movement, too, continues making its biggest inroads with investors specifically around coal. Of all fossil fuels, coal is seen as the riskiest investment for the future. Major pension funds, university endowments, cities, churches, and insurance companies around the world, worth more than $3.4 trillion, are making the move to remove their money from coal assets, while only some–but not nearly all–are also divesting from other fossil fuels.
Of course, none of this means that coal is going away anytime soon. A mere day after noting that environmental policies will "put a lot of coal miners and coal companies out of business"–and calling for an economic plan to help coal-producing U.S. states–presidential candidate Hillary Clinton was forced to backtrack and reassure everyone that "coal will remain a part of the energy mix for years to come."
China, too, will still use a lot of coal for a long time–it now is 64% of the nation's total energy consumption–but the trend there is that it will be using less, not more. And many developing countries like India may continue to increase their demand. But what is clear is that the future of coal is murkier than it has ever been before.