At a press event Monday in Cupertino, California, Apple unveiled a 9.7-inch iPad Pro, a smaller version of the business-friendly 12.9-inch iPad Pro announced last October.
The new device borrows some important features from last year's iPad Pro, and puts them inside a more manageable form factor. The new iPad features an external magnetic interface–the Smart Connector–to which a hardware keyboard can be easily attached. The new device also gets the earlier iPad Pro's Apple Pencil stylus, which enables users to write or sketch on the screen. Apple SVP of marketing Phil Schiller called the Pencil "the greatest accessory Apple has ever made."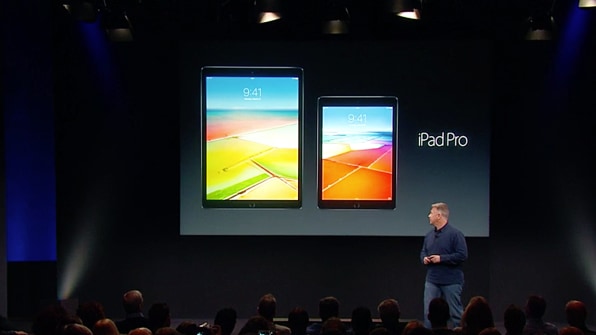 Like the iPad Pro before it, the new iPad Pro gets two additional stereo speakers (for a total of four). It's powered by the same A9X chip used to power the 12.9-inch Pro.
The new iPad gets a 12-megapixel rear-facing iSight camera that can also shoot 4K video. If it seems awkward to shoot photos from a iPad, the camera can be used for document scanning, and in augmented reality apps. The front-facing camera is 5-megapixels and HD.
Schiller says display is 40% less reflective than the iPad Air 2. It's also 500% brighter, he says. The display works with Apple's Night Shift feature, which switches to warmer-color tones during nighttime hours.
"It's the ultimate upgrade for existing iPad users and replacement for PC users," Schiller said of the iPad Pros.
"iPad Pro is a new generation of iPad that is indispensable and immersive, enabling people to be more productive and more creative. It's incredibly fast, extremely portable, and completely natural to use with your fingers, Apple Pencil and Smart Keyboard. And now it comes in two sizes," Schiller said in a statement.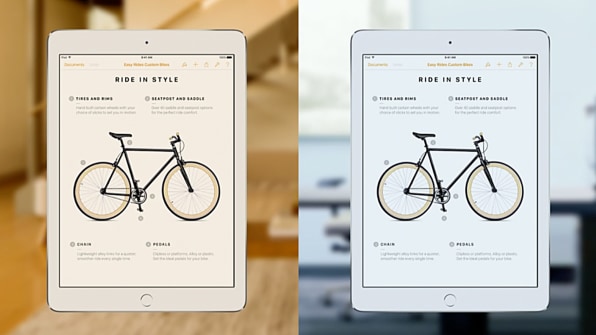 The new iPad comes in Silver, Gold, Space Gray, and Rose Gold, and in three storage sizes.
The 32 GB version is $599, a 128 GB model is $749, and a 256GB model is $899. All models connect with Wi-Fi. No LTE models are available.
The last 9.7-inch tablet, the iPad Air 2, was released in October 2014. Since then, Apple has released the iPad Mini 4 and the enterprise-oriented 12.9-inch iPad Pro.
This new iPad is being unveiled during tough times for Apple's tablet business. iPad sales have been in decline for the past two years. Sales declined 25% in Apple's fourth quarter 2015, which included the holiday shopping season. In the previous quarter, it shipped 9.9 million iPads, marking a 19.5% decline from the year-earlier quarter, and hitting below the 10-million unit mark for the first time since Q4 2011.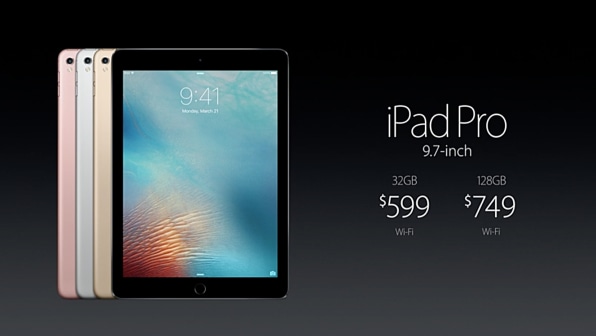 Apple has been unable to defy the overall shrinkage of the worldwide tablet market. IDC said in December that worldwide tablet shipments would reach 211.3 million units in 2015, down 8.1% from 2014. The new numbers, IDC said, follow three consecutive quarters of declining shipments in 2015.
Can a new 9.7-inch iPad do anything to change that dynamic? In the consumer market, probably not.
But the new device could be seen as the latest step in Apple's retooling of the iPad for the business market. It may hit the bull's-eye for some buyers who liked the new business-friendly features in the iPad Pro, but balked at that device's huge 12.9-inch size.