Trying to win over a tough customer? The FoodCorps knows what you're going through. Founded in 2009, this organization sends young service members to schools in disadvantaged communities with the goal of getting kids to eat more vegetables.
They have their work cut out for them. "We have a culture that is really great at marketing unhealthy food to all of us and to kids in particular," says Curt Ellis, the cofounder and chief executive officer of FoodCorps. Our bodies love salty and sugary tastes, and kids, perhaps for evolutionary reasons, are naturally wary of new foods.
Some research finds that kids need to be exposed to foods a dozen times before they'll accept them, which is a problem for lower-income families who can't afford to waste a dozen servings of kale. "If you have a limited budget to spend on food for your kids, you're not going to buy foods your kids might spit out," says Ellis.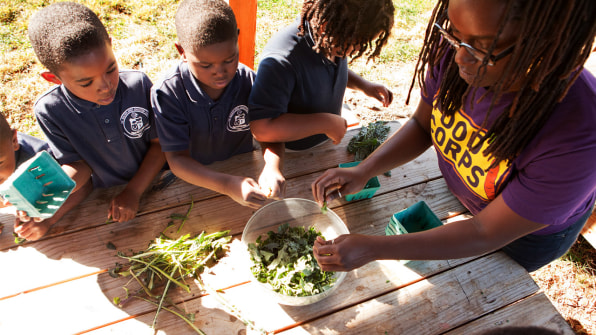 Yet new research from FoodCorps finds that of students exposed to 10 hours of its programming, 7 in 10 will improve their attitude toward vegetables. More than 40% tried new vegetables for the first time. Even kids who were okay with vegetables liked them more and tried more varieties.
Here's how the FoodCorps wins their tough customers, with lessons for anyone trying to become more persuasive.
FoodCorps members don't show PowerPoint slides on the merits of carrots and expect that to work. They involve kids in gardening, developing new recipes, and cooking. "You want to make it theirs as much as possible," says Ashley Ingram, a FoodCorps member stationed in Mississippi. She's been building a garden with help from everyone from an art class (they make signs) to a biology class (building one of the beds). She asks the kids what they'd like to see planted.
The reason? Kids who grow ingredients or cook a dish feel proud of themselves, and are more open to trying a bite. "It's not about convincing someone you have the right idea," says Ellis. "It's about cocreating the idea with your partner in the first place."
People are more open to new things when they're anchored in something they know. Ellis describes how a FoodCorps member created a hummus "pizza," made with a tortilla, hummus, and carrot circles standing in for pepperoni. "Getting kids excited to eat hummus is not an easy project but once you put that hummus in the shape of something they know and love, it is much more comfortable for them to make the leap to try it," he says. Likewise, FoodCorps members have had success with altering ethnic dishes or comfort foods to make them healthier.
Role models matter. FoodCorps members are young and hip, more like older siblings than authority figures. Ellis notes that one student gushed to her FoodCorps member that "you're basically like Justin Bieber, but for vegetables."
FoodCorps members have also been known to enlist influential children in their quests, carefully appointing "table captains" or "ambassadors" to ask kids to try new foods. Think about who your customers know, trust, and want to emulate, and get them to do the asking.
There's a reason "eat your spinach" means "suck it up." Bland and limp greens are no one's idea of a good time. But humans don't do well with suffering long term. People are more likely to be persuaded if they view what you're advocating as fun. FoodCorps members aim to make healthy foods colorful and appetizing.
They also play with their food. A big hit? Using a bicycle-powered blender to make smoothies. The kids all want to hop on the bike to try it out. Corps members have also used juicy, inky beets as "stamps" for Valentine's Day.
If you set the bar for success low enough, anyone can give you something. You want to make it easy to say yes. FoodCorps would like to have kids fall in love with vegetables, but they give points for trying just a little bit. When people see themselves as successful, they often move up the ladder fast, from a nibble to a bite to savoring. The goal is to create momentum.
This is where most parents fail in the great veggie wars. Dinner features an argument over why the child hasn't eaten her carrots, rather than elaborate praise for the tiny bite she took of a green bean. FoodCorps members have a saying: Don't yuck my yum. Or as Ingram says with her students, "If we like it, great! If we don't, let's try something else!"
If different team members try different things, some will find more success than others. If you want to be persuasive, figure out what works and share those techniques widely. "Our Corps members are part of a really active social network with each other," says Ellis. That's how the beet stamp idea got spread. There's no reason to reinvent the wheel when someone else has got a wheel that's working great.