Here's some great news for job seekers: A food truck in Tulum, Mexico, costs 160,000 pesos—at least, this one does. That's about $8,930 in Uncle Sam money, and the price, according to its seller on the marketplace Vivanuncios, is "negociable." (Plus, the seller writes, "acepto autos en cuenta," which means he or she will consider a swap with a used car.) That's a penny and a song (or an old car!) compared with this food truck on sale in Brooklyn for $50,000.
Before taxes, you can buy about 38 tacos with that.
Sure, the opening months of 2016 may have proved in some ways to be a "job seeker's market." And if you work in health care, tech, or data science, you're more likely to have your pick of six-figure positions to choose from than the rest of us.
But even those gigs aren't exempt from a broader trend: For decades, real wages have been cooling off like a taco on a glacier. American workers earn less today than they did 40 years ago despite huge leaps in their productivity. As labor expert Tamara Draut argues in her newly published book Sleeping Giant: How the New Working Class Will Transform America, even the knowledge economy's high-tech degree holders are no longer safe from the offshoring that gutted the manufacturing sector.
Maybe it's time to join a Trump rally or start feeling that Bern. Or maybe it's time to throw in the towel and pass the goddamn guacamole.
Because the real opportunity may not be on this side of that wall you keep hearing about. A record 14 million foreign tourists visited Mexico in 2014, prompting the country to invest $13.8 billion in tourism infrastructure through 2018. The Mexican tourist industry employs some 2.5 million people–why not become one of them?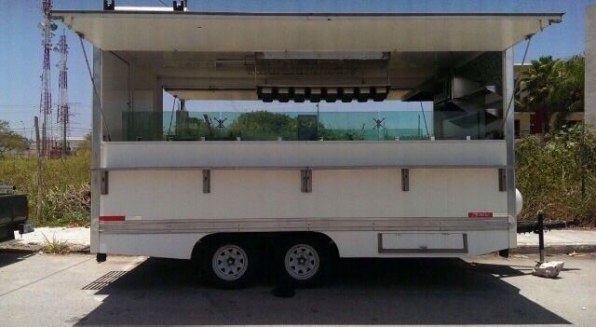 If you can drum up 160,000 pesos (negotiable!) and a one-way ticket to Cancún (starting at just $149), you're on your way to launching a business venture that will introduce you to more than a handful of the skill sets thought to be essential in the new economy, from "a global mind-set" to "knowledge of other cultures"–Tulum is, after all, an international travel destination–to "conflict resolution" ("I'm sorry, Señora, but extra pico de gallo costs extra! ¡Lee la señal!") and relentless entrepreneurial gumption.
Why pay astronomical rent for your New York City apartment when you can live here for USD $1,300 a month (a lot less than you'd pay in Manhattan!), by both a pool and this stunning beach, aka your new conference room?
Look at this image carefully. Take note of the sunbathing, taco-craving beachgoers just waiting for a taco truck to park at a discreet-yet-convenient distance from their loungers. They're ready for lunch, and you're ready to learn the value of a hard-earned, beach-bronzed peso. The U.S. middle class may be getting hollowed out, the system may be broken, and the seas may be rising. But waves still lap gently against the sun-drenched Playa del Carmen, where this steal of a taco truck is waiting–with a "fully equipped industrial kitchen"–for an enterprising, 21st-century careerist to go forth and seize it.
Be that enterprising, 21st-century careerist. Carpe la carne asada. Bistec or bust.