Giving feedback–positive or negative–ranks high on managers' lists of challenging responsibilities. Who wouldn't sweat in anticipation of giving an employee a performance review or debriefing a team after the completion of a project?
So it's no wonder that a new survey conducted by Harris Poll on behalf of Interact revealed that a majority (69%) of leaders confessed to being uncomfortable communicating with their staff.
The online survey polled 1,120 employed U.S. workers, 616 of whom manage employees in the workplace. Among those in leadership positions, more than a third (37%) admitted to being uncomfortable giving direct feedback to an employee if they believed that person would respond in a negative way.
But they don't just shrink from potential bad behavior. One in five managers said they have trouble giving praise for a job well done, and another 16% have difficulty crediting others with good ideas.
This discomfort shows up in a variety of ways, from ignoring the real issues, to being unavailable or depending on email for communication.  
Lou Solomon, founder of the leadership development firm Interact, which commissioned the study, says the irony is that people thrive when given expectations and feedback. In addition to the practical application of letting someone know if they are close to achieving their goals, Solomon notes that she's seen "droves" of leaders, from frontline managers to top brass, be "enlivened—even honored—by feedback, whether it was positive or negative."
Unfortunately, a recent survey from 15Five supports the findings that managers just aren't speaking up, revealing that 85% of employees are unsatisfied with the quality of communication in their workplace. What's more: Of the more than 1,000 full-time employees surveyed across the U.S., 81% would rather join a company that values "open communication" than one that offers perks such as top health plans, free food, and gym memberships.
Solomon asks, with so much to gain, why do leaders shrink from straight talk?
For one, she says, even leaders fear hurting people's feelings and facing drama and retribution. "That can cause us to behave in a way that drums up more tension," she says, by saying things such as, "Come in and shut the door."
"Our own nervousness causes up to tense up and over-dramatize the conversation," she says which in turn, creates an environment of conflict.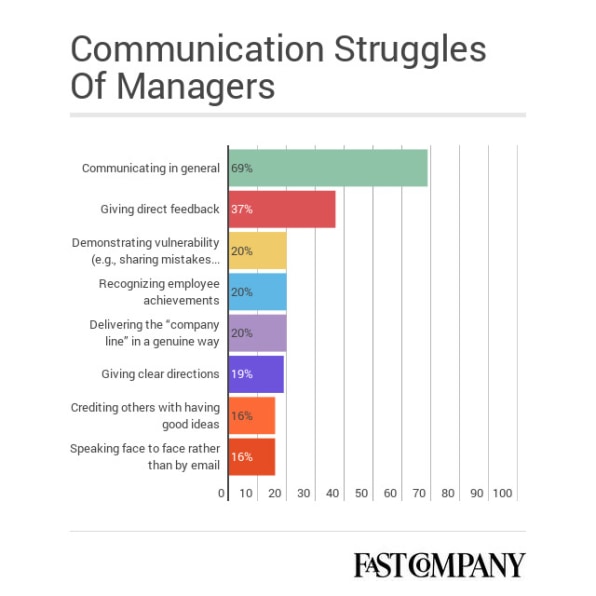 Additionally, Solomon points out, "There's a chasm between having a leader's title and actually believing your job is to build connections, demonstrate vulnerability, express appreciation, and nurture new leaders." This is partly due to the fact that most leaders are under the gun to deliver short-term gains, she says, not a culture of clear and direct communication.
This is often a top-down problem, Solomon observes. "If there is no healthy straight talk or quality communication coming from the C-suite, that pattern cascades throughout the company, and people stop believing they can make a difference," she says. In turn, they convince themselves that it's easier just to let things slide and focus more on playing the game, says Solomon.
It's easy to imagine this being a common mistake among first-time managers, but Solomon says even more experienced leaders can fall into the trap. "It takes the right culture and personal courage to initiate a conversation that might evoke an emotional response or unpleasant consequences," she says, "to acknowledge and appreciate others in a way that will foster greatness, and to model strength through vulnerability."
People don't have these direct, respectful conversations at work unless they are modeled, expected, and rewarded, she adds.
To be more effective at communicating the tough stuff or showing the love, Solomon offers the following tips:
Straight talk doesn't have to be unkind. "Making someone feel that they are wrong, or feeling superior in some way, is off track," she says, so be sure to include specific examples of desired behavior to illustrate the issues.
"Ideally a direct feedback conversation is meant to spark learning on both sides," she says. Pausing to listen conveys respect and gives space for managers and employees to understand the situation together.
It is easy to take things personally in a direct feedback conversation, Solomon says, but imagined slights can be toxic. "Acknowledging the emotions being felt will offer the recipient a relief valve for any stress they might experience," she says.
Don't rush off after having a tough conversation with an employee. "Follow up afterward so that afterthoughts don't create imagined distance and hurt feelings," she says.
Make sure the recipient understands that you have aspirations for who they can become.
"If we get it right, feedback can create collaboration, a culture of connection and sustainable change," she says.