Custom housing floor plans are coming to virtual reality, and getting a look at what a new apartment could look like has never been easier.
Today at SXSW in Austin, Atlanta-based Trick 3D, a company that for years has specialized in making virtual visualizations of commercial properties, will open the doors to its newest product, a tool aimed at housing developers that will let them easily and inexpensively create virtual model homes using nothing more than a two-dimensional floor plan.
Fast Company got the first look at the new tool.
Known as Floorplan Revolution, it allows creating the virtual model homes–which can be viewed on any smartphone, tablet, desktop computer, or Samsung's Gear VR virtual reality headset–in just minutes.
Eventually, Trick 3D hopes to make a consumer version of Floorplan Revolution, but for now, it's focusing on housing developers.
To start with, a builder will make a number of choices on the style of furnishing–contemporary, classical, or transitional–as well as appliances, trim, wall color, flooring, and finishes for things like countertops and cabinets.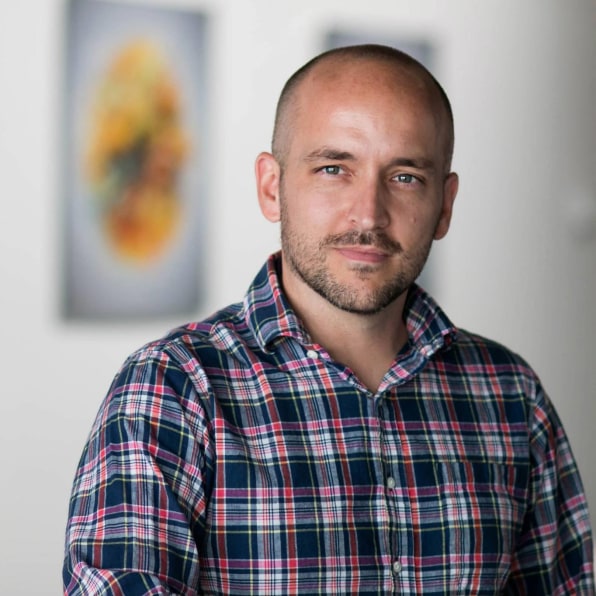 The company is also in discussions to bring retailers' furnishings and styles–think Crate & Barrel or Ikea–into the mix, Trick 3D founder and CEO Chad Eikhoff told Fast Company.
Once a developer has made all those choices, they can upload the floor plan–which can be any image file, not just an architect's CAD file–of an apartment type they're developing. And voila! A 3-D, virtual floor plan is ready to go.
Floorplan Revolution has a base price of $950 per rendering, which buys a year of hosting a floor plan on the company's site. Beyond that, it costs $99 a year. Add-ons, like the ability to look at the rendering in daylight or at night, with or without furniture, and with a ruler superimposed on the imagery, run $99 apiece.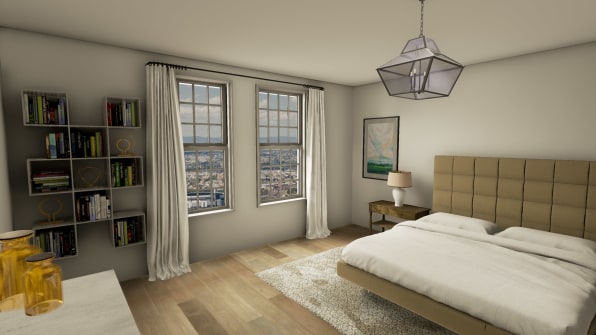 A virtual reality version costs an extra $500, Eikhoff said, meaning that a full VR walkthrough, with all the bells and whistles, would cost a developer about $1,500 per floor plan.
That might sound pricey, but he said that existing tools available to developers can cost between $2,000 and $5,000 for a single image of a single room.
When finished, a Floorplan Revolution rendering is delivered as either a clickable URL or an embeddable link.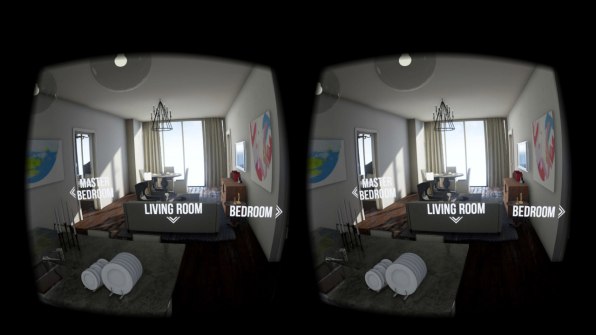 For now, the product is aimed at housing developers building brand-new units who want to be able to give prospective buyers or renters an easy way to see what their potential apartment will look like.
To be sure, the rendering is computer-generated, and isn't an exact look at what an apartment would look like with a resident's own furnishings.
There are other ways for real estate professionals to try to give would-be buyers or renters such imagery. One is a system from a company called Matterport, which utilizes a special camera that shoots high-quality 360-degree imagery of a house or apartment that can be embedded in an online real estate listing.
But Trick 3D thinks that is too complicated. To make a Matterport rendering look good requires staging a house and using the company's multi-thousand-dollar camera. By comparison, Floorplan Revolution requires only a 2-D floor plan.
Over time, Eikhoff said, as 360-degree cameras that can shoot high-quality imagery become commonplace, he imagines Floorplan Revolution being able to incorporate would-be buyers' own pictures. But we're not there yet.
It's hard to know how big a market Floorplan Revolution and other tools that aim to generate virtual home models can be. Trick 3D thinks it's potentially huge, and thinks it's the first company to make it easy and cost-efficient to build these kinds of renderings.
Time will tell.