"Brains are hardwired to process imagery much faster than they process words," says Pamela Grossman, Getty Images's director of visual trends. As someone who spends most of her days immersed in images, it's understandable when she says that "visuals are an immediate and universal language, and it's how we're all communicating, much more so than ever before."
The latter part is all the more plausible when you consider the convenience of a pocket-ready camera–i.e., mobile device–that's ready to capture an image and share it at a moment's notice. According to the most recent data from InfoTrends' Worldwide Image Capture Forecast, the industry analysis firm estimates consumers took 1 trillion photos in 2015, and project that number to grow to 1.3 trillion photos by 2017.
If a picture is, indeed, worth a thousand words, such an open firehose of images can be powerful, as Grossman has observed in her studies of visual culture. "The one thing that we think a lot about at Getty Images is the one idea of the narrative in imagery," she explains. To combat gender stereotypes, it's necessary to ask: "Are women playing protagonists or ancillary roles in an image?" she says. 
We've reported on the ways that search algorithms, like humans, can foster unconscious bias. A recent study conducted by researchers from the University of Washington and the University of Maryland revealed how a gender bias can be present in Google searches when people look for images to represent careers and jobs. The more people saw certain images, the more they reinforced long-held stereotypes of women in the workplace, even if they aren't based in reality. For example, in telemarketing, men and women are equally represented, but the Google image results would have you believe that 64% of telemarketers are female.
One positive trend Grossman has identified is curated in Getty's Female Rising collection. It represents a changing world in which beauty ideals are more inclusive and authentically represent the global population. Grossman also oversees the Getty Images Lean In Collection, a partnership with Sheryl Sandberg's nonprofit, LeanIn.Org, which aims to break down gender stereotypes and use the power of imagery to change perspectives and promote equality.
So far, the Lean In Collection has amassed over 8,000 images and have been licensed in over 65 countries, from Kuwait and India to Israel and Angola. Grossman notes that the images have been licensed across a wide variety of industries, but two of the largest sectors using the images are financial and tech, which are actively trying to attract more women, Grossman says. 
What's emerged from this particular collection are two important trends. "We're certainly seeing women in positions of leadership, authority, and power get more visibility," Grossman says. "They're not just leading, but they're also collaborating in equal partnership with people of all genders."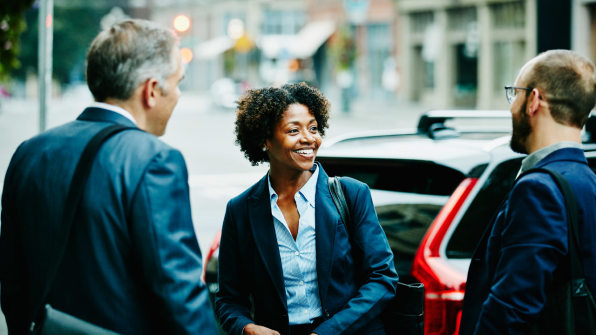 She also points out that the Getty Images website has experienced a 722% increase in search terms such as "female empowerment," and searches for "woman entrepreneur" have increased by 402% in the last 12 months.
While she notes that most of the world's nations have never had a female leader and only 4% percent of S&P Fortune 500 companies have female CEOs, "we still have a ways to go until the reality catches up to today's visual representation of women." But she adds, "This is testament that our customers are obviously hungry for this kind of content to tell their brand stories and reach the modern woman."
Grossman says that Getty's search function uses a combination of factors to ensure the most relevant, current, and diverse imagery is delivered to users. That's partly due to a creative research team made up of visual anthropologists who analyze trends and monitor the visual landscape. "We study image sales and Getty Images's customer search behavior, which is fed back to our art directors, content editor, photographers, and videographers around the world to ensure the imagery we're creating is as inclusive as possible," says Grossman.
The success of the Lean In Collection also prompted Getty to assess how other concepts are communicated visually through other content collections. The RePicture movement launched last year in response to the assessment that more content was needed to help break down stereotypes across themes like family, love, and community. Grossman says Getty also partnered with the United Nations Global Goals campaign, "which, as one of the 17 global goals, aims to fight gender inequality and promote togetherness."
One of the most stereotypical images found in media and advertising across the globe is the woman juggling both career and family, Grossman admits. "It's for good reason, because it's certainly a concern that many women have," she says. "When it's the only image we see, it's very limiting."
Grossman underscores the importance of showing that motherhood is not the only valid experience a woman can have. "It has the potential to be damaging when it's the only image we see, which is why we're committed to creating alternatives," she says.
Not only does Grossman say it's imperative to continue to see women taking on the vast variety of roles that men have take on for centuries–athletes, scientists, business leaders, etc.–to ensure that "woman" isn't always relegated to the archetype of "mother," but to look at the entire picture (pun not intended).
"The depiction of females is only half the story," Grossman says. "We have to evolve the way we're depicting and defining masculinity"–images that depict men who are involved fathers, and who are equal partners at home and in the workplace. Another project that is part of the Lean In Together campaign is a curation of images that reflect this "contemporary, involved–and evolved–man," she says.
"Images change people's perspectives and expectations, and that impels action," Grossman maintains. "The more you see these images, the more they become normalized, and the quicker we'll get to living in a world of equal opportunity for all."