It's generally agreed upon that the ability to code is going to be an invaluable job skill for upcoming generations. So how do you teach preliterate children aged three to seven how to program without increasing their screen time? The answer is a wooden play kit called Cubetto.
Designed to unlock young children's creativity using a wooden robot, a programming board, and instruction blocks, Cubetto's groundbreaking system officially launches today.
The idea is ingenious. Instruction blocks are one of four colours, each representing a different programming command: red to move forward, blue to turn left, yellow to turn right, and green is the function key.
Inside the board is an Arduino-compatible circuit that can read the position of the block and transmit directions to a circuit inside Cubetto.
Children place the instruction blocks onto the board in a set order to determine how Cubetto, the robot, moves. Three reds in a row make the robot turn in a circle—left, left, then left again. The function key enables children to build up longer patterns. The aim is that skills are mastered gradually.
The inspiration for developing a tangible programming interface, according to Primo Toys cofounders Matteo Loglio and Filippo Yacob, came from Loglio's studies toward his master's degree in interaction design three years ago.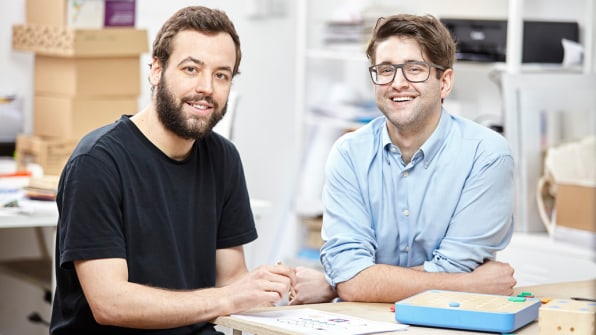 "The starting point was a challenge to help young children be creators not just consumers of technology," Yacob tells Co.Create. "The response was to digest programming and present it back to them in a physical format they could easily understand."
Programming is "a new literacy" and should be prioritized as such from an early age, he says. "Being introduced to the environment of programming, and the language of algorithms, debugging, and functions helps give them the foundations necessary to succeed in today's digital age."
The Cubetto play set is informed by hands-on learning principles borrowed from Montessori early-learning theories, and MIT's Logo, which was designed by Seymour Papert at MIT in 1960s as a way to teach children programming and find their own ways of solving problems.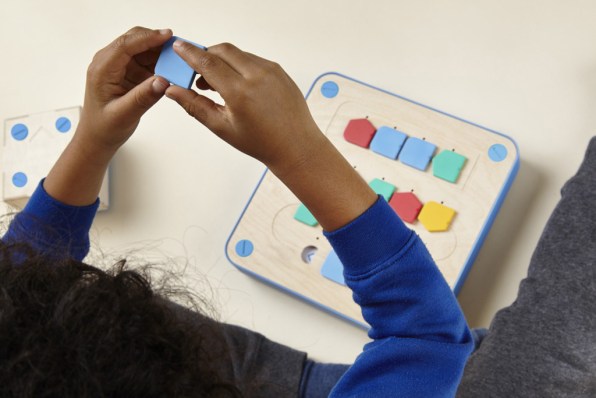 Its design is inspired by traditional wooden preschool children's toys.
"During field research, initially in Switzerland but then in schools across 40 countries, it was clear kids from a young age are attracted to the challenges and tactile nature of wooden puzzles and jigsaws," says Yacob.
"So we set out to make this look and feel like other toys they already enjoy—familiar, nonthreatening, and instantly relatable."
The minimalist design is also a way to further foster children's imagination.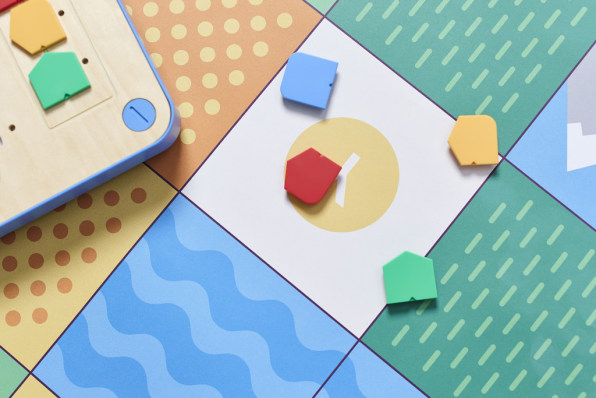 "Not only are we trying to teach a new language they can be creative with, Cubetto is designed to be a storytelling tool," he adds. "The robot character with a smiling face is intentionally left open as an 'it' for them to interpret as they choose, personalize as a character, and create their own stories around."
A series of play mats have been designed to prompt children to play with their robots in different imaginary landscapes—outer space, for example, or beneath the sea.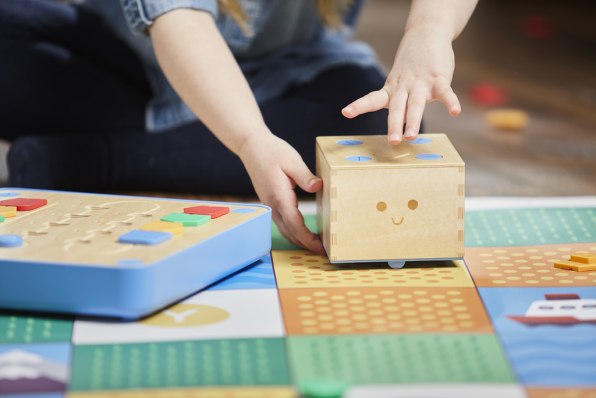 From the outset of Cubetto's development, the team wanted their design to be intuitive and easily understood by any child, irrespective of their language.
Subsequently, the team worked to make it even more inclusive through the specific shapes of its different components, tactile cues, and two-tone recognition pattern sounds that enable visually impaired children to learn to program, too.
Conceived and designed by Primo Toys with initial development funding through Kickstarter and backers including Randi Zuckerberg and Arduino cofounder Massimo Banzi, Cubetto was codeveloped for market with engineering and design firm PCH International.
Primo now plans to develop a range of toys designed to inspire children to explore the digital world around them.