Innovation and creativity are core tenets of the businesses we cover at Fast Company. Coincidentally, we've found that all the roads that lead to these pillars of business also light the path toward creating a great place to work.
The list of the Fortune 100 Best Companies to Work for in 2016 is a showcase of organizations that have mastered the complexities of culture, vision, and values necessary to ignite innovation. The list, released by Great Place to Work, is culled from the results of the Trust Index Employee Survey, sent to a random sample of employees from each company that applies to be considered for the list (nearly 1,000). Responses are evaluated based on employees' perceptions of management's credibility, overall job satisfaction, and camaraderie, and account for two-thirds of the overall score. The remaining piece is based on responses to the Culture Audit on pay and benefit programs, hiring practices, internal communication, training, recognition programs, and diversity efforts.
The top ranked companies are:
Google/Alphabet (it's the seventh time in 10 years the company secured the No. 1 spot)

Acuity Insurance

Boston Consulting Group

Wegman Food Markets

Quicken Loans

Robert W. Baird

Kimley-Horn and Associates

SAS Institute

Camden Property Trust

Edward Jones
Click to see the full list here.
Many employees of the Top 100 companies have a high level of trust for their companies and report feeling engaged in their work. Ann Nadeau, chief marketing officer of Great Place to Work, points out that compensation and benefits also rank high. Nadeau says that the survey asked employees if they felt their company provided benefits that were fair and unique.
Nadeau says fair pay and special and unique benefits are fundamental components of a great workplace, as well as key differentiators. "In 2016, 79% of employees surveyed at winning companies felt that people in their organizations were paid fairly for the work that they do, and 73% said they receive a fair share of the profits," she tells Fast Company. "While these figures have only gone up by 1% over the last year, their scores were 12 and 14 percentage points higher than the companies that did not make the list," Nadeau adds. The survey found that 73% of employees feel they receive a fair share of the profits made by the organization, versus 59% of non-winners. This is also up 1% over last year, Nadeau notes. "At the 100 Best, 86% of employees feel they receive special and unique benefits, versus 71% of employees at list contenders," Nadeau says.
At second place-ranked Acuity Insurance, employees are paid an average of $16,000 more than the industry average. Another standout is Salesforce, the cloud-based customer relationship management service provider that ranked No. 23. The company's compensation team identified gender pay gaps and spent $3 million in employee salary adjustments.
Nadeau says the analysis revealed benefits that are also innovative, such as free lifestyle coaching, among others. For example, a new benefit at No. 6-ranked Robert W. Baird & Co. provides up to $75,000 in lifetime benefits for an associate or covered dependent for health care expenses related to gender reassignment. A gender-neutral restroom at the company's headquarters was also installed.
Another common strategy among the top 100 is to offer generous vacation time. Nadeau says that 63 of the companies on the list offer more than 26 days off, and a few offer unlimited paid time off. "These generous offerings are reflected in our employee survey results," she says. "Ninety-one percent of employees said they are able to take time off from work when they feel it's necessary, and 83% said they're encouraged to balance their work and personal lives."
No. 3-ranked management consulting firm the Boston Consulting Group (BCG) offers employees paid time off, but also uses the common acronym for PTO for a completely different benefit called Predictability, Teaming, and Open Communication. The initiative helps increase work predictability and career sustainability that's led to a 74% increase of employees saying they plan to stay at BCG for the long term.
Nadeau adds, "Year over year, while specific policies and practices may evolve as employers think of new ways to support employees in these areas, the underlying commitment to fair pay and special benefits is an ongoing hallmark of the companies we see on our list."
Part of the application process requires companies to detail their diversity and inclusion policies and programs. "The Best Companies are committed to fostering a workplace that promotes diversity of thoughts, backgrounds, and contributions," Nadeau explains. "They have leadership development programs, recruitment strategies, events, and leadership positions all dedicated to hiring, retaining, and promoting employees from diverse backgrounds."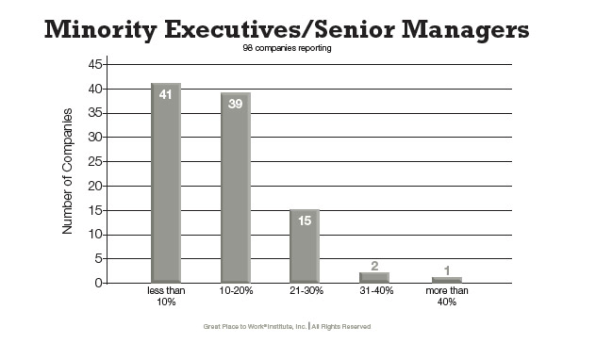 It's clearly a work in progress, as only 18 of the 100 best companies have 21% or more executives or senior managers who are minorities. However, 76 of the top 100 have 31% or more of executives or senior managers who are women.
At No. 12-ranked W. L. Gore & Associates (better known as the manufacturer of Gore-Tex and Glide dental floss), they are developing a network of more than 150 "diversity champions" who will sustain the diversity dialogue at a plant level. After extensive training, each champion commits to driving a diversity project ranging from from large-scale events to lunch-and-learn sessions and plant "diversity councils" that prompt discussions of differences in the facility.
Some other ways the top companies are promoting diversity is through their supplier network. At biotech company Regeneron (No. 72), Deb Tegan, executive director of procurement, said in a statement, "We never want a purchase to stall a business or scientific objective, and we have found over the years that small and diverse businesses are more nimble, rapid responders. And it allows us to support our local community."
Others such as Marriott (No. 83) ties bonuses for managers to a Human Capital Index that is based on retention and diversity results as well as leadership effectiveness ratings. General managers at each hotel are also given bonuses that reflect, in part, the achievement of each property's diversity goals.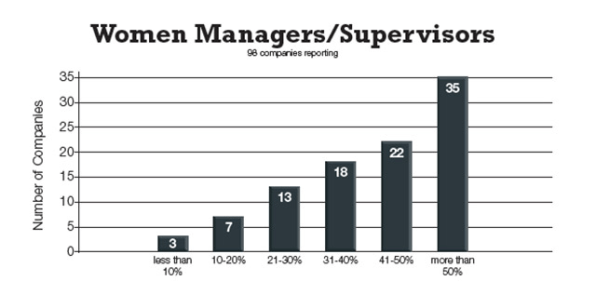 "We believe that any company can be a great workplace," says Nadeau, admitting that some industries such as retail and hospitality are more challenging to work in. The best companies, even in these industries, create great workplaces through strong relationships with their employees, she says. "One may think that to be a great workplace, you need a lot of money to lavish employees with expensive perks and salaries," she explains. "However, "thank-yous" and genuine signs of appreciation don't cost a dime, but can make a huge impact on employees' experiences."