Get ready to enter the mystical, fantasy Game of Thrones world of Westeros. Again.
For attendees of this week's SXSW in Austin, Texas, that's SXSWesteros, to be precise.
As HBO prepares for the April 24 premiere of season six of its mega-hit, it's also inviting anyone attending SXSW to come and check out an immersive GoT-themed experience.
This is the third straight year HBO has created a SXSWesteros experience as a way of promoting the upcoming season premiere of Game of Thrones.
This year, HBO said in a release, SXSW attendees are invited to "step inside the House of Black and White and experience the Hall of Faces by 'becoming No One.'"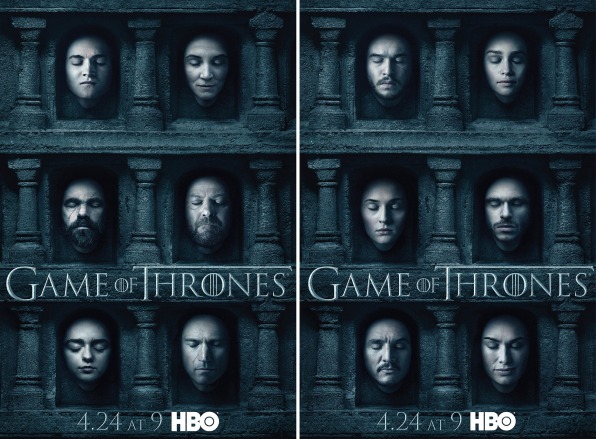 Here's the deal: GoT fans who take the time to visit SXSWesteros will first have their picture taken, after which an app will render their Hall of Faces portrait and then display that image alongside dozes of others on several towers. It's a reference to the Hall of Faces that is currently the major element of pre-premiere Game of Thrones promotion, at least as evidenced by trailers HBO has released for the new season.
Next, visitors "can peer into Melisandre's Flames" to get a quick sneak peek of the new season thanks to "OC Dream hologram technology." They'll also be able to guess which GoT characters will appear on the show's actual Hall of Faces and tweet their suggestions.
And, befitting any Game of Thrones promotional event, attendees will be able to sit on an Iron Throne. They'll also be able to pose with Needle, the sword belonging to show favorite Arya, and take a gander at a collection of costumes from the show. Anyone over 21 will be invited to quaff a bit of Iron Throne Blonde Ale.
Last year, SXSWesteros visitors got to have their photo taken and then incorporated with imagery collected by having them swing Arya's sword at a bunch of virtual targets.
In 2014, HBO presented a terrific collection of Game of Thrones costumery and other artifacts, and also let visitors try out an Oculus Rift experience that took them to the top of the famous Wall, manned by the Nightwatch, from the show.
The 2015 iteration of SXSWesteros, located at 213 West 5th Street in Austin, is open to SXSW badge holders from tomorrow until Monday.