The first thing you notice when you step into the exam room at Kaiser Permanente's new health center in Manhattan Beach, California, is the roomy leather exam chair. Instead of forcing patients to perch awkwardly—as a standard, paper-covered table does—it allows them to sit eye-to-eye with their doctor, who can summon X-rays, lab results, and even real-time specialist consultations on a wall-mounted touch screen, or send prescriptions to an on-site pharmacy via a tablet. Sitting smack in the center of the room, the chair ensures that everything literally revolves around the patient.
That's exactly the point. According to Kaiser chairman and CEO Bernard J. Tyson, the question driving the redesign of the exam room was: "How do we create a holistic experience where this organization is showing you care, compassion, and respect—and giving you all the medical information that you need?"
The exam room is part of Kaiser's championing of a new human-centered, design-driven approach to medicine—and its vision for the future of health care delivery. The Oakland, California–based not-for-profit, which provides both insurance and health care services through its own network of doctors and hospitals to 10.3 million members across eight states and Washington, D.C., is rolling out 10 new medical offices, called "health hubs," throughout Southern California over the next 18 months. Though Kaiser has long been recognized for successfully delivering affordable, high-quality care—it brought in approximately $60 billion in operating revenue in 2015—it's facing growing demand for services, along with increasing competition from both big players and startups. The health hubs represent a total overhaul of the patient experience, from the check-in process to the aesthetics of the waiting area to the way doctors and nurses interact with members and one another.
Tyson describes the first offices as pilots. He considers them real-world laboratories to test and fine-tune the physical features and work flow. The hope is to eventually introduce aspects of the health hubs in Kaiser clinics across the country. Manhattan Beach is the first of these hubs—and with 12 exam rooms in 8,000 square feet, it's also the smallest. The largest, set to open in L.A.'s Baldwin Hills–Crenshaw neighborhood in June 2017, will be more than 100,000 square feet and include everything from conference and event spaces to a garden with a two-mile walking path.
The experience starts with the waiting rooms, which take their cues from retail and hospitality. At the Manhattan Beach outpost, the vibe is warm, West Coast modernism: There's lots of wood, natural light, and inviting touches, such as a living wall of green plants. A pair of ATM–like kiosks near the front door allow members to check themselves in if they prefer not to wait for the tablet-wielding receptionist. They receive a text alert when the doctor is ready.
In larger facilities, the reception area will be reimagined as a kind of public square, where patients can wander while they wait, getting free information on nutrition and exercise from staff at a counter called the Thrive Bar. They can also take part in yoga classes, cooking demos, and the other programming that Kaiser is incorporating into "community rooms," which span both indoor and outdoor space.
"The culture of health care has been to get you in and out," says Tyson. "We're inviting you to linger. This is more than a physician visit; this is about your total health." This emphasis on education and preventive care is essential to Kaiser's unique structure. Since Kaiser providers receive a fixed amount of money per member, the system is engineered toward keeping patients healthy and out of the emergency rooms.
Kaiser's new spaces are also about keeping costs low: They are designed to be more efficient at serving patients. The first 10 hubs are projected to boost the number of face-to-face visits per exam room by between 20% and 40% and to deliver overall square-footage cost savings of 10%, thanks to space-conscious floor plans, redesigned collaborative work flows, and investments in new technologies.
Kaiser has a strong record of technological innovation. It was among the first big health systems to successfully implement electronic medical records, investing $4 billion to get its KP HealthConnect platform fully operational in 2010. In 2012, it launched a mobile app to give patients 24/7 access to their records, along with appointment scheduling and easy prescription refills. Kaiser doctors now conduct more than 20 million telehealth appointments with members annually and have access to an integrated, enterprise-wide platform that enables video consults. As telemedicine appointments increase, Tyson expects the new hubs to become even more productive.
Just as important for Kaiser, the hubs will serve as physical anchors for a model of care that aims to move health services, as much as possible, out of hospitals and medical offices and into members' communities and homes. This means ramping up telehealth and other virtual services but also rethinking Kaiser's physical presence. Concept development is under way on an initiative called Blink, a network of small, urgent-care centers staffed by nurses. Kaiser is working on another program called Pivot, which will offer members more community-based services to address issues such as drinking, smoking, and weight loss. Last December, Kaiser announced plans to open its own medical school in Pasadena, California, in 2019, which will train doctors in key aspects of its model: delivering care beyond traditional medical settings and addressing the specific needs of diverse communities.
Tyson's ambitious brand expansion comes at a time when many traditional insurers and providers are struggling to keep up with rising costs and the preventive-services requirements mandated by the Affordable Care Act (ACA). This has prompted aggressive moves by traditional competitors (see Anthem's merger with Cigna, awaiting federal approval) and a flood of Silicon Valley investment into health-insurance startups such as Oscar and Clover Health (see sidebar), with their promise to upend the industry.
But Kaiser is the rare legacy organization that has figured out how to make c When it comes to clinical outcomes, its providers nationwide rank among the best in the country. In California (Kaiser's biggest market, by far), its 2016 plan premiums are among the least expensive on the nation's health-insurance exchange. Just as impressive: Kaiser rose to the challenges presented by the ACA and took on more than a million new members nationwide in 2014–2015 (with, yes, a slight increase in premiums, which raised some hackles).
Tyson isn't threatened by the new competition. In fact, he welcomes more conversation about how to reprioritize medicine around patients: "Most of the industry still has a hard time thinking about patients as also consumers," he says. "We try to demonstrate the possibilities." In doing so, Kaiser, the old-school behemoth, might prove to be the most relevant health care innovator of them all.
---
Inside Kaiser Permanente's plans for its new health hubs
Though specific finishes will be customized to reflect each location, Kaiser Permanente's medical buildings will share many of the same elements.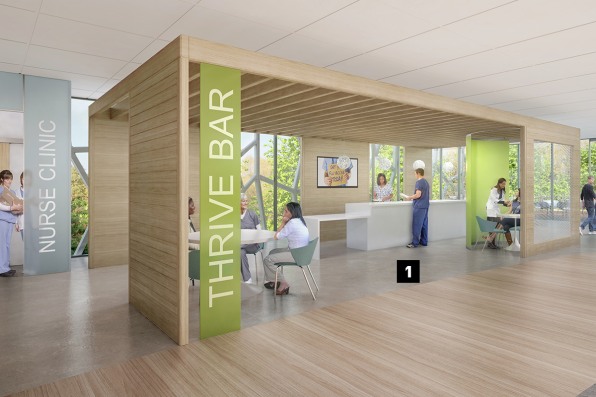 1. Inspired by Apple's Genius Bars, the Thrive Bar will be staffed with experts offering free advice on issues like exercise and nutrition.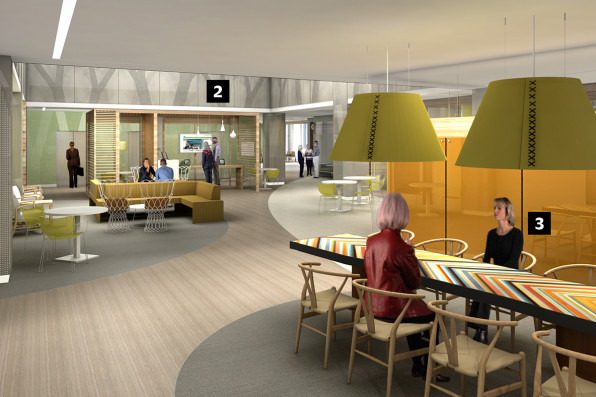 2. Members can check in with a receptionist or use a kiosk. Several hubs will also have self-serve vitals stations to measure blood pressure and heart rate.
3. Public areas feature lounge-like seating and common tables, designed to foster interactions among patients.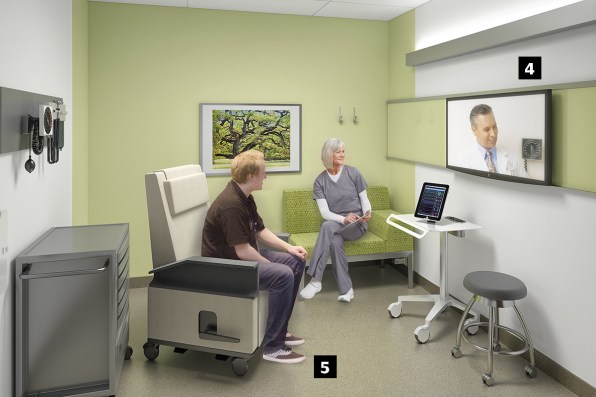 4. Every exam room contains both a large, wall-mounted display and the provider's tablet.
5. The exam chair takes up less room than a table. Kaiser is working with manufacturers on a next-gen model that will be more luxurious, less clinical.
Photos: Courtesy of Kaiser Permanente