This morning, Amazon announced two new voice-controlled home assistant devices—the $130 Amazon Tap Bluetooth speaker and the $90 Echo Dot.
The two new devices are follow-ups to the original Echo device, which has seen surprising success. All of these devices take the same kind of Siri or Google Now personal assistant functionality out of the smartphone context and place it in freestanding forms around the home.
The real brains and processing power behind the devices is Amazon's Alexa cloud-based platform, which does all the heavy lifting like processing voice commands and delivering content and information to the user.
Third-party companies, like Uber for example, can use an API to add their own functions to the Alexa cloud, allowing Echo, Tap, and Dot users to order a car using their voice. Through these third-party integrations, Alexa is rapidly learning new skills, Amazon says. Interestingly, Alexa users can now control their Nest thermostats by giving voice commands to one of the Alexa-powered devices.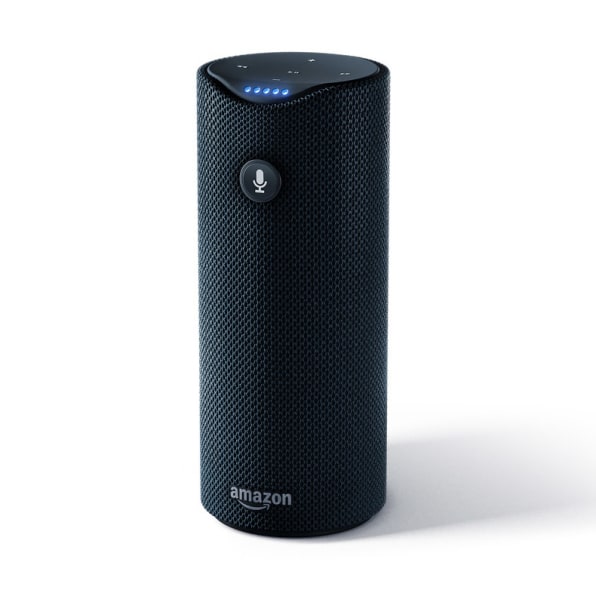 The Amazon Tap looks and acts very much like a Bluetooth speaker, with some added smarts built in. To "tap" into the Alexa brain (via a Wi-Fi connection) users push a button near the top of the device. Then they can order up Amazon Music tracks or songs from their Spotify account (or Pandora, or iHeartRadio), request weather or traffic information, listen to news, ask ad hoc questions, or order pizza–all courtesy of Alexa.
The Tap can be connected and controlled using the Alexa app, which runs in a desktop browser or on mobile (iOS, Android, or Amazon's Fire OS). It can also stream music from a phone or tablet connected via Bluetooth, and play it back through its dual stereo speakers, which Amazon says emit sound 360 degrees around the device. It's compact, stands just 6.25 inches tall, and weighs only 16.6 ounces.
The Tap, Amazon says, gets nine hours of play time, or up to three weeks of standby time, on a single charge. It recharges by resting on a small round cradle at the bottom of the device.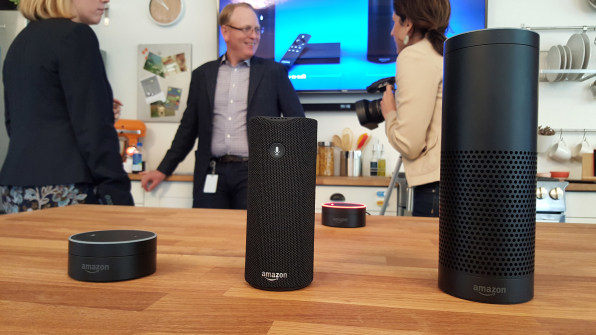 The Echo Dot allows voice interaction with the user that's more like that of the Echo. Instead of pushing a talk button on the device, you speak a wake-up command (this can be "Alexa" or another word set by the user) to the Dot, then ask for this Alexa action or that. As in the Echo, special microphone array technology inside the hockey-puck-shaped device can pick out voice commands through lots of ambient noise in the room, or while loud music is playing.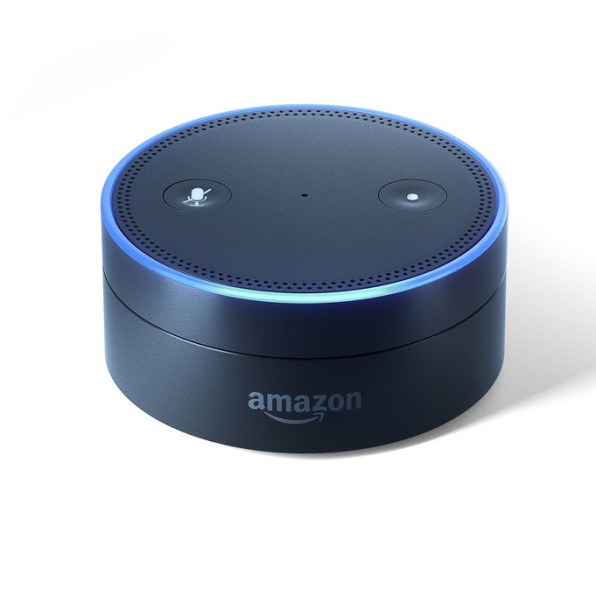 The Dot isn't meant to be a music playback device, but rather connects via cable or Bluetooth to whatever sound system is already in the home. It does contain a small speaker, but that's just for delivering voice information and for alarm clock functions.
The Dot is also compact. It stands just an inch-and-a-half tall, with a diameter of 3.27 inches across the top. It weighs 8.64 ounces. The Dot uses the same circular light rounding the top of the device to show when it's resting, listening, and other statuses and states.
The same Alexa app used with the Tap is used to set up and manage the Dot.
It's not all perfect yet. As people begin buying the Dot as a secondary device to their Echo, there's a chance that both devices may hear the user say the wake word, then each respond to the user request that follows. Since both devices are end points to the same brain, they'll respond in the same way, but they might not do so at the very same time (this depends on their connection speed), which might sound confusing. Also, it's not yet possible to order one end device to play some piece of audio content through a specific Alexa device in a specific room in the house, but that trick might be added later on. And it is possible to give room-specific commands when using third-party home control systems that have integrated with Alexa.
The Echo Dot is now available for pre-order, but only to people who already have an Echo and a Prime membership, and then only when they order it by voice through the Echo. The Amazon Tap is also available for pre-order today–to anybody and through normal order channels. Both devices will begin shipping March 31.
Finally, Amazon said it's now selling its Alexa Voice Service (AVS) to other companies that want to make their products voice-activated. Amazon has made a huge business of selling Internet server space to businesses small and large with Amazon Web Services (AWS) and the company is selling AVS in the same way, said Amazon Devices SVP Dave Limp in a recent media briefing.