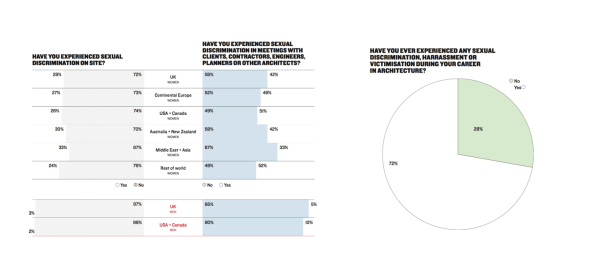 Architectural Review's fifth annual 2016 Women in Architecture Survey surveyed 1,152 female practitioners working in firms around the globe (though the majority of respondents—68%—are based in the U.K.). Demographically, 48% of those surveyed are between the ages of 21 and 30; 31% are between 31 and 40; 13% are between 41 and 50. Here's what it found, by the numbers:
–One in five women surveyed say they would not encourage a woman to start a career in architecture.
–Of full-time architects, men out-earn their female counterparts by 18%; that percentage jumps to 31% more for male versus female practitioners at the director, partner, or principal level.
–About 40% of women in the U.K.—and over 40% of those asked in other countries—thought that they would be paid more if they were a man.
–67% believed that the building industry does not accept female authority.
–69% of those surveyed wanted more transparency about pay.
–72% of women worldwide say they have experienced sexual discrimination, harassment, or victimization on the job.
One somewhat bright spot in the survey? The overall "dissatisfaction level" among women is lower in firms where women make up a significant proportion of management and in offices where there are mentoring and/or career-development programs.
A word of caution: The survey's sample size—around 1,000—was relatively small. Moreover, it relied on self-reported data. That's not to diminish the findings. Will this be the wake-up call for the industry as a whole to move beyond lip-service awards to making meaningful progress?
We want to hear about your experiences with gender inequality—from men and women alike—for a future series on the state of the profession. Email CoDTips@fastcompany.com.