Walking around New York's Metropolitan Museum of Art, you can't help but notice a pattern. Though the world's largest art museum welcomes diverse crowds of people daily, most visitors have something in common: They're holding smartphones.
You might think this would be a problem for an institution whose survival depends its ability to capture our attention in the offline world. But the Met, which opened in 1870 and is expanding into its third location on March 18, is ready to embrace smartphones as another opportunity to bring great art to the public.
This week, the Met reveals its latest digital project, a wholly redesigned, simplified MetMuseum.org with a mobile-friendly focus. The redesign, which carries over into the museum's apps for iOS and Android, is timed to help inaugurate the new Met Breuer location when it opens next month in Manhattan.
For the Met, this newly refreshed mobile presence not only helps it embrace the smartphone era, but it lays the groundwork for future projects that help blend digital and physical spaces.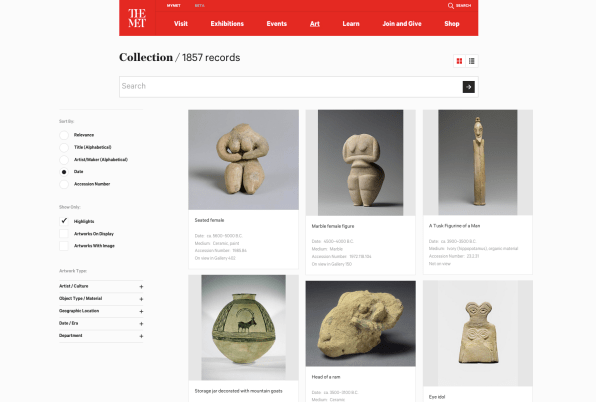 "People ask me: What is your biggest competition?," says Sree Sreenivasan, the Met's chief digital officer. "Is it MoMA? Guggenheim? Our competition is Netflix. Candy Crush. It's life in 2016."
Staying competitive requires a multipronged approach: In addition to mobile apps and a website that serves millions of visitors across many devices, the Met's two-person social media team must strategically channel their limited energy into platforms like Facebook, Twitter, Pinterest, Instagram, and SoundCloud.
"We believe that every person in the world has something of interest here," says Sreenivasan of the museum's massive collection, which spans 5,000 years and more than 2 million square feet. "The question is: How do you surface those things? How do you get them to see them?"
Not surprisingly, social media is a huge piece of that puzzle. With minimal investment into things like targeted ads, the Met managed to reach over 101 million people on Facebook last year. It has even branched beyond YouTube–where the museum's videos received nearly 7 million views last year–and has begun broadcasting some of the museum's events on Periscope.
Instagram, an obvious opportunity for any visually oriented institution, sees a flurry of photo-sharing activity at the Met everyday. The museum's own Instagram account boasts 1.1 million followers. "We're pro-selfie, but not pro-selfie stick," Sreenivasan says of the museum's decision to ban the photo-taking sticks last year. Every photo shared from the museum is a free advertisement for the Met. Indeed, the digital team watches as users tag each other in Instagram comment threads, vowing to come check out a given piece of art for themselves.
As Sreenivasan and the digital team watch the stats evolve, they can't help but notice one big number: Last year, 91% of visitors to Met brought a mobile device with them. That gives them plenty of confidence that building out mobile features in the museum itself will be well worth the investment. But first things first: The Met's website, which had 33 million visitors last year, needs a modern design that works flawlessly on devices big and small.
The new responsive site, which coincides with a recent, somewhat controversial rebranding of the Met, took about nine months to complete. It includes some expected features: a simplified, more intuitive navigation–the "collections" button is now simply called "art"–as well as pages that are not only cleaner, but better optimized for search engines. The idea is to spread the museum's digital content, including hundreds of thousands of digitized and annotated works of art, as far and as wide as possible.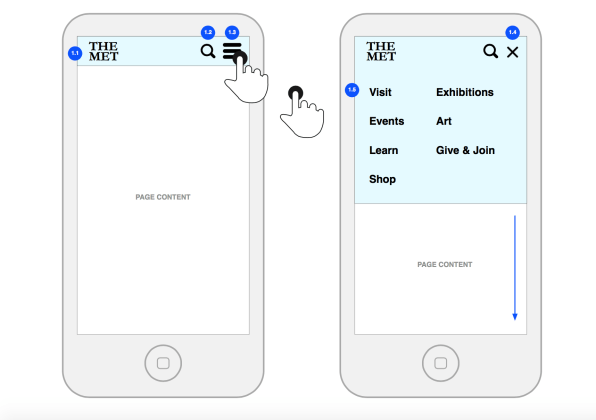 In a few weeks, the Met will also launch a redesigned map of its museums, which will, from here on out, exist on digital platforms first before it gets printed and repurposed in the analog world. This project aims to centralize data about the Met's massive indoor maze of galleries, including their geographical coordinates, with the goal of building out indoor GPS and way-finding experiences in the future.
While many of these improvements seem like no-brainers in 2016, instincts like these don't always come naturally to institutions that are nearly 150 years old.
"They were worried: If you show the art online, then why would people come to the museum?" says Sreenivasan. The new site lets people download high-resolution images and use them for free in non-commercial work. "Shouldn't they be crappy pictures? I believe that the more you show, the more people will want to come."
Is that true? It's not always easy to track the impact of digital products on real life activity–how many people does a well-hashtagged Instagram photo of a Hercules statue actually bring to the Upper East Side? But the museum's foot traffic is encouraging; last year, the Met brought in a record-breaking total of 6.3 million people.
So while people of all ages are increasingly glued to their devices, that doesn't necessarily mean they're less engaged with their surroundings. The Met's new digital initiatives aim to make sure those mobile screens can enhance the enjoyment of art, rather than detract from it.
"We live in an experience world," says Sreenivasan. "People want experiences."