The next job you apply for could involve a challenge even before you submit your resume. Two companies are gamifying the recruiting process to change the way they search for talented candidates.
It's not surprising, given the major shift in the way people look for jobs over the last decade. Research from the Boston Consulting Group and Recruit Works Institute reveals that 55% of searches globally happened through Internet job sites and 35% via a smartphone. Applying through social media and submitting a video interview are rapidly becoming more accepted.
But on the recruiters' side, things aren't changing as quickly, even though 95% of companies admit to making bad hires each year. Communication channels are broken or unused as employers invest resources in less efficient ways to attract talent. According to Talent Board, as many as 88% of employers are allowing more candidates to complete their applications even after they fail screening questions. And those who rely on software to automate the recruitment process could unknowingly be discriminating against qualified, diverse candidates.
Changing recruiting wasn't the original intent for CodeFights. The platform was designed to offer users a way to learn and improve their coding skills by proposing, solving, and discussing challenges with other programmers.
As Tigran Sloyan, CodeFights' CEO says, "We had a hunch that there was a recruiting angle in CodeFights from the very beginning, but we wanted to make sure that it was an authentic experience both for our users as well as companies." To do this, he tells Fast Company that they conducted some small experiments that didn't initially amount to much. "Then we tried Uberbot which was a big hit," he explains.
Done in partnership with Uber, participants would compete in a timed challenge against the automated UberBot, to solve some of the core challenges faced by the business such as finding an optimal route for a car. "That helped us decide to launch Company Bots as a recruiting product," says Sloyan, which officially went live in November 2015.
CodeFight's Company Bots present participants three rounds of challenges with one specific challenge per round. "In each round, both the challenger and the bot are solving a coding challenge. The faster you submit a correct solution, the more points you get," Sloyan says.
After the participant submits their completed work, it's evaluated by a cloud-based system that puts the solution through a series of test cases that Sloyan says can take as little as one to four seconds, depending on the programming language used.
A solution is accepted only when it passes all the tests, he says. If a participant wins, they are presented with a form that gives them the chance to submit their information directly to the recruiters of the specific company running the challenge.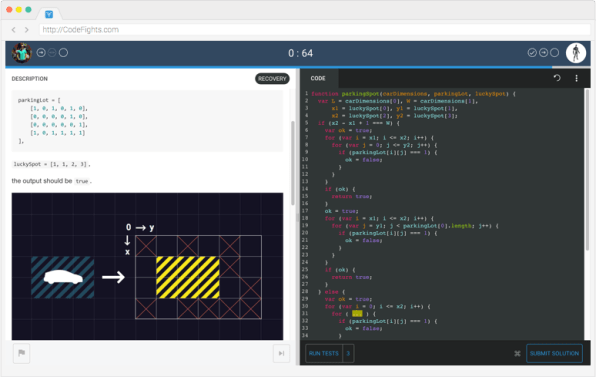 Fast Company previously reported on Google using a somewhat similar strategy to recruit an engineer. Although Google's tactic was to reach out directly to the candidate and invite them to complete programming challenges through a private site, the net result was that the candidate was eventually asked to come out to HQ and interview in person, and was offered a position at the tech giant.
Sloyan says that because this feature of the platform is only three months old, he isn't sharing any numbers on candidates who have landed jobs by challenging CodeFight's Company Bots. "One data point that we can share is that our clients are reporting a 10x higher conversion rate from interview to hire for candidates that come through CodeFights versus all other sources."
This strategy isn't for engineers only. Ketchum, a global marketing and public relations firm, is using an app called LaunchPad to gamify the recruiting process for junior staff–specifically in its Summer Fellows program.
The 10-week paid internship that places recruits in all parts of the company regularly garners about 2,000 applications for the 15 open positions. Rather than wade through piles of resumes and other application collateral, LaunchPad presents an interactive game for candidates to play.
They must solve two challenges, according to Michele Lanza, SVP and director of North America Talent Acquisition for Ketchum, but they are measured on creative, digital, written, and visual communications skills. 
But they aren't playing alone against a bot. Applicants or "gamers" are then able to vote and comment on other gamers' responses and earn points, and more active participation helps boost their rankings. Lanza says they earn two points each time they vote for another challenge entry (up to 10 points) and two points each time they vote for another participant's comment (up to 10 points). Gamers earn 10 points every time another participant votes for their challenge entry or comment with no limit.
The games are open for two weeks and can be done on a mobile device. Top gamers are chosen to proceed to the interview stage based on the points they earn. 
Since the app is still in beta, there are no results to share yet, but Lanza says there were 1,069 unique applicants and around 1,900 total applications (meaning some candidates applied to several Fellow opportunities) for approximately 15 Fellow spots this year.
Neither company is able to say yet whether this is helping to eliminate unconscious bias inherent in the hiring process. But both Lanza and Sloyan note that submissions are anonymous. For LaunchPad, gamers create a screen name, and that is what other gamers see in the game. On CodeFights, an account must be created before challenging the bots. Sloyan points out, "Your information is never shared with any company until you explicitly ask us to."