The tech industry can't seem to get over its obsession with bridging the difference between the laptop and smartphone–or even merging them into one device. Over the years, the approaches have covered virtually every base. There have been pocketable-PC attempts such as the Oqo and Viliv N5, dockable phones like the Asus Padfone and Motorola Atrix, and technologies like Apple's Continuity and Samsung's SideSync. As the components in computers and phones have grown more similar, the quest has seemed so close–and yet a true singularity remains out of reach.
With Windows 10, Microsoft launched Continuum for Phones, a capability that allows you to use a phone as a PC by adding a wired or wireless keyboard and display. With so few Windows Phones being launched, Continuum has mostly been the province of Microsoft's Lumia 950. But at last week's Mobile World Congress, one of Microsoft's largest partners among manufacturers of commercial PCs made an announcement that elevates Continuum to a new height.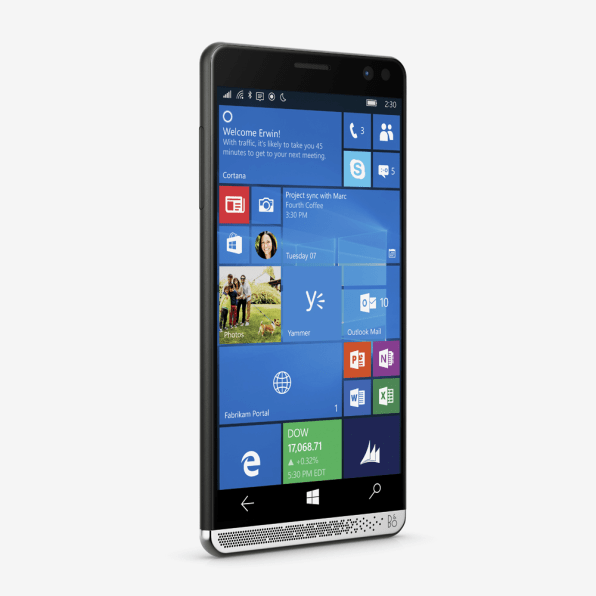 HP's Elite X3 would easily be the most significant new Windows Phone in ages in its own right with its snazzy design, 6" display, leading-edge Qualcomm 820 processor, and wireless charging. As it has done with its ElitePad Windows tablet, HP is planning to release a series of jackets for the X3 to add features such as a credit-card reader.
HP has one-upped Microsoft's Continuum-enabling Display Dock with a charging dock that cuts down slightly on the cable spaghetti. But it's gone even further with the Mobile Extender, a laptop-like device that is all keyboard, battery, and display, relying on the phone and Continuum to turn it into a computer. That means that there's no out-of-the-box support for Windows desktop apps, something that's a much bigger issue with a PC than it is with a phone. Indeed, HP has historically shied away from versions of Windows that do not run traditional desktop apps. Unlike Lenovo, Asus, and of course Microsoft itself, the company completely (and wisely) sat out the dumbed-down Windows RT.
But having had little luck with Android tablets–even an iPad Pro-like 12" model that preceded Apple's largest tablet–HP has doubled down on Windows. Windows 10's refined version of the Windows 8 interface, after all, has done much to bridge the worlds of clicking and tapping. Furthermore, HP has turned the legacy app omission into an opportunity by providing its own HP Workspace–based on virtualization technology–to let the X3 run desktop apps from a remote PC. Future Windows phones may use Intel chips, which would let them run desktop apps natively.
The x3 isn't the first phone to take the "Russian doll" approach to computing. Last June, I wrote about the impact of 802.11ad, a super-fast wireless standard that will help make experiences like the one HP is proposing more seamless. In that piece I mentioned the Neptune Suite, which takes the concept to the extreme by creating a smartphone, tablet, laptop, and smart TV experience all from a smartwatch (with a lot of battery help).
After raising nearly $1.2 million on Indiegogo last May, Neptune had originally estimated delivery of its Suite this month. However, in what has become common for even far less complex tech projects, it is nowhere close to shipping. The company has been posting regular if vague updates, noting earlier this month "We'll be moving to the next phase of development with our design partners next week, and should be able to start posting some substantial technical updates soon afterwards."
There will also be some waiting in store for the first x3 adopters as the device won't support 802.11ad until a future update, relying instead on the slower–but longer-range–802.11ac standard at first.
Still, it's one thing for a crowdfunded startup to proclaim that the future is separating the processing soul of a laptop from its body. It's another for a big, mainstream technology provider like HP to say it. And while the x3's attractive hardware can centralize your apps and file–at least by involving corporate servers and cloud services–it will be challenging to convince customers to give up their often more powerful and backward-compatible laptops that are not much bigger or heavier than the Mobile Extender.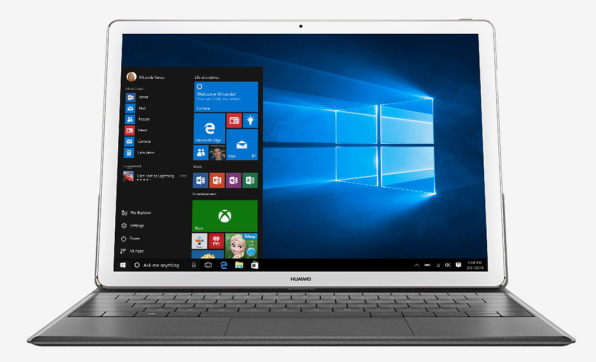 HP hasn't yet announced pricing for the X3 and its accessories, but it seems strange that the company–which has seen so much more success in laptops than in phones–would seek to cannibalize the former with the latter. This is particularly true given that anyone who buys an X3 must accept the skimpy selection of Windows phone apps. In contrast, the other victories Microsoft saw among handset makers at Mobile World Congress came from two Chinese smartphone makers, each of which is using full-blown, fully compatible Windows 10 on two-in-one devices. Huawei has assembled the sleek and expensive road by offering every accessory for its MateBook separately while Alcatel's Plus pursues a chunkier but cheaper route.
Perhaps Windows isn't the right OS choice, at least not removed from the Intel processor that lets it run the full library of Windows apps. Perhaps the phone isn't where the processing should live. And perhaps new standards that could help aren't supported as well as they need to be. Regardless, the x3 points to a future where–should it please the OS and device maker–we'll be able to flip our work environment on the fly to move more seamlessly between portability and productivity. That's a nice option to have, but not one that precludes us from continuing to use conventional phones and laptops.