Twenty-five years ago, Canon launched the EOS Rebel SLR camera–one of the first consumer-grade SLRs, giving everyday people the chance to take not just snapshots but art from behind the lens. And while elements of the "Image Is Everything" campaign are certainly dated now (it starred Andre Agassi and his spectacular mullet), the idea of finding the artist in people who haven't always had access to the same resources as others remains a part of the "Rebel" image.
To celebrate that, the camera brand partnered with super-producer and rapper Swizz Beatz to stage a mini-rebellion in the New York City art world as part of its new "Rebel With A Cause" campaign. Swizz–whose driver's license reads Kasseem Dean–is no stranger to the art world. His Dean Collection consists of personally curated contemporary art from young artists that he's offered opportunities to through a series of showings in Miami. (He's also on the board of the Brooklyn Museum of Art and curates at Basel.) So when Canon came to him looking for rebels, he was excited to take it to Instagram and look for the best unknown artists he could find.
"We came up with the concept of–what if we could do a bunch of unknown artist I probably would never have a chance, and probably will never be seen in a gallery or in a museum or in an auction house," Swizz says. "And the way we did it was through Instagram. I just sent out a message: 'Attention all artists, we're doing something very special. Put this hashtag and one photo of your work, and stay tuned. It was very simple–we didn't blow big trumpets or make it seem like it was like playing the lottery or something. We kept it very organic and low-key. But if you were paying attention then your chances of being a part of this were pretty good."
Once they had the submissions–Swizz says they had thousands of entries ("You can go through a few thousand artists pretty quick," he notes)–he found a number from artists he believed in. "Some of them sold their work in the street, some of them had dreams of being in a gallery, and some of them were just talented and unknown," Swizz says. "But we had fun–we were going to change their life, and we didn't even tell them what we were doing."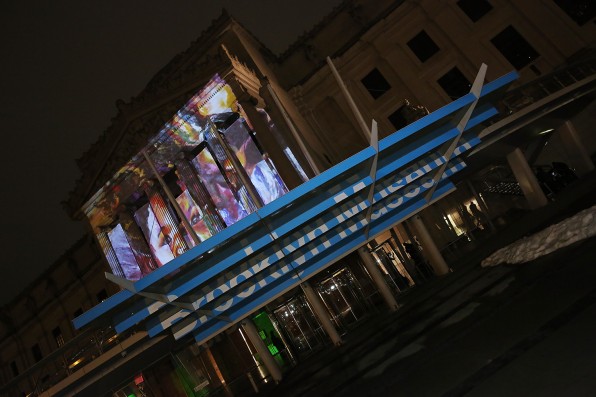 What they were doing was holding a gallery showing, using a giant projector, on the exterior of the Brooklyn Museum and the Bronx Museum of the Arts as part of a campaign called #TheUnknowns, as well as filling the walls of Sotheby's with the work of those unknown artists. "It was deeper than just being in a gallery–it was monumental," he says.
Taking an interest in unknown artists comes naturally to Swizz, even if his music career tends to gravitate more to the Kanyes and Alicia Keys of the world. When he started collecting, he sought out the same sort of big-name artists that most collectors tend to look for: names like Warhol and Basquiat. (His first piece was an Ansel Adams original.) But as he acquired more from those artists, he says, he started to feel like he was collecting art for the wrong reasons. "I was collecting for names and status," he confesses. "Then I started to move forward, and I started collecting these unknown artists. And I realized I was having more fun collecting these unknown and up-and-coming artists from around the world than the ones that are every other place I go to. So you go to my place and you're like, 'Who is this?' 'Oh, this is X, Y, and Z from Mexico. I love that."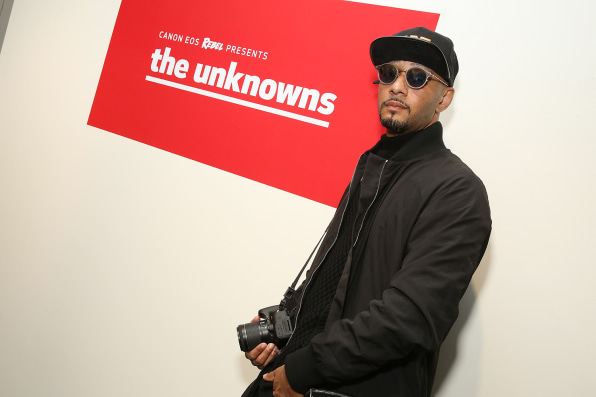 The next stage in the campaign involves giving those unknown artists not just the chance to display their work, but the chance to earn a living off of it. Like in Swizz's No Commissions series, he's curating work from the artists for sale–and allowing the artists themselves to keep 100% of the money they make. "I came up with No Commissions because you go to these events that are supposed to celebrate the artists, and at the end of it they're having a hard time finding their way home. So I said, 'You know what? I want there to be a show where they keep 100% of what they sell.'"
To do that, these unknown artists who've been selling their work on the street are now selling through Sotheby's, through an online portal for #TheUnknowns. And Melisa Yoo, Marketing Specialist at Canon U.S.A., says that giving these artists the chance to do that is a big part of what the "Rebel With A Cause" campaign is about. "Being a part of this experience, I really saw the whole emotional process for these artists," she says. "The spirit of the campaign is to show that there's a rebel in all of us, and these rebels are helping empower others, and empower themselves. These artists are the epitome of what we're trying to get, and the epitome of the idea that there's a rebel in all of us."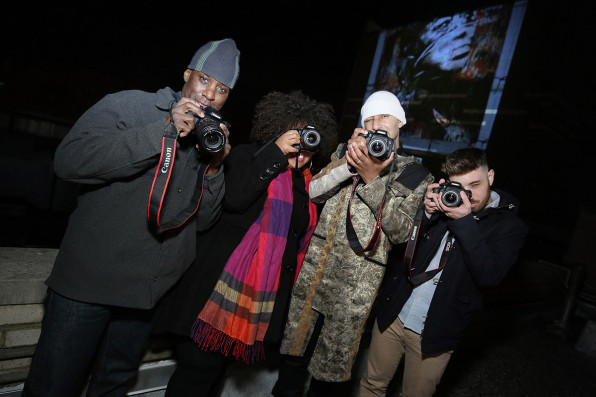 At a time when the idea of democratizing photography the way that the original EOS Rebel did in the '90s is downright quaint–these days, everybody has a pretty good camera on their phone–a campaign like the new Rebel With A Cause has to talk about art, creativity, and empowerment in a new way. (Stu Mair, Grey's Creative Director behind the campaign, notes that the video for the campaign was shot in a low-light environment to show off that there are some things an iPhone camera can't do.) But talking about those things in a way that feels organic and authentic is something that Swizz Beatz is equipped to do. He's been interested in art since before he produced "Ruff Ryders Anthem," and he's seen the way the rap world has come around to this medium that he's passionate about–so when he has the opportunity to bring that passion to the world, he's not afraid to sound a little rebellious.
"I remember when people used to laugh at me for collecting," he recalls. "You know, a lot of my peers normally don't want to talk about it. It was hard for me to come out and really show people my passion for art at that time. It wouldn't feel like a cool thing to do. Once I realized that it's all a part of creating–that everything we do as an artist is art–whether you're a photographer, or a producer, or a painter, or whatever. It's all art. They're all parallel lines together, and you should never hide your passion for creativity."