An A to Z list of world problems that could be eased by being able to read is at the heart of a campaign launched in the U.K. today to promote Project Literacy, an international initiative to raise public awareness and support for efforts to combat illiteracy.
"With multiple causes and no one silver bullet solution, an immediate challenge in raising awareness about illiteracy is the issue's complexity," says Owen Lee, chief creative officer at FCB Inferno, which conceived the "Alphabet of Illiteracy" and cocreated it with British artist Wilfred Wood.
Wood has produced 26 sculptures, each depicting a world problem—from AIDS to zero options, including female genital mutilation, infant mortality, and sexual exploitation—caused or made worse by the fact that an estimated 757 million people in the world today cannot read.
The sculptures feature in an online film, social campaign, print and outdoor ads, a book, and other merchandise developed for educational publisher Pearson.
All campaign elements, created by FCB Inferno, have been designed to drive people to visit the Project Literacy website where they can find out more about illiteracy; donate time, influence, or funds to initiatives to combat it; or sign an online petition to call on world leaders to do more.
A GIF generator has also been created to reward petition signers with a short animation of their first name using "Alphabet of Illiteracy" letters that they can then share on social platforms.
Project Literacy was announced by Pearson in autumn 2014 as a five-year project to encourage action and investment in literacy to ensure that by 2030, no child is born at risk of poor literacy—a problem that doesn't just restrict people's economic opportunities but also their health education and ability to vote.
In its first year, the project's focus has been on striking alliances. Last September, 16 organizations confirmed that they would join Pearson in backing the initiative as it delivered the world's largest-ever petition to the United Nations' headquarters in New York.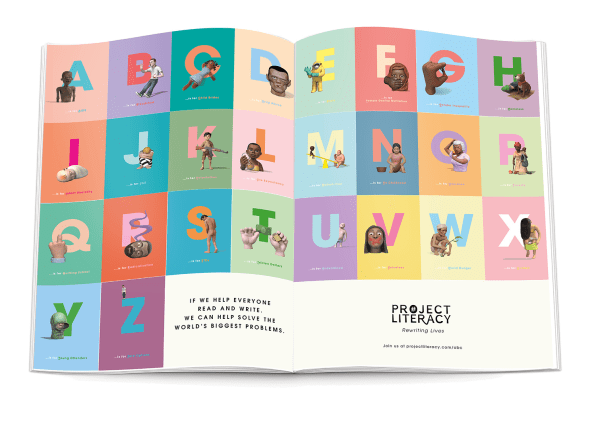 Now, with FCB Inferno's help, the emphasis is switching to the general public and communicating not only the problems illiteracy causes but also the work being done to combat it. However, complexity wasn't the only challenge the creative team faced.
"Charity fatigue is a growing concern, and the fact that with the number of campaigns already out there, people often see the same kind of messages again and again," says FCB Inferno senior copywriter Martin McAllister.
"But what immediately struck us was a near total lack of awareness. Ask people to name the world's top problems and they are far more likely to mention others, like hunger. Yet scratch the surface, and illiteracy is a factor in them all."
This insight led the team to start considering how to bring to life literacy by highlighting the impact it has on higher profile problems.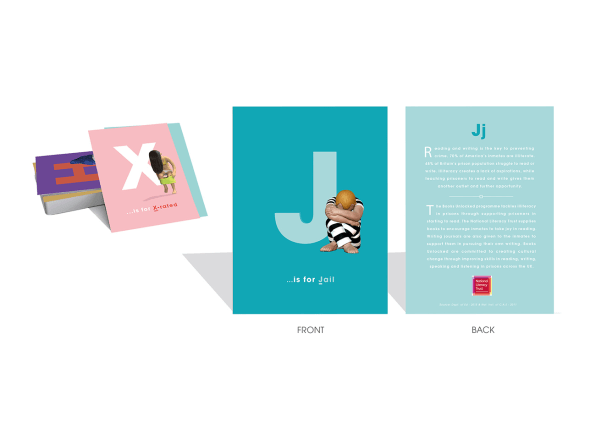 The idea was to exploit the power of juxtaposition, according to art director Julia Ferrier. The appeal of a pictorial alphabet lay in the power of contrasting the simplicity of a children's ABC-style of approach with the stark reality of the global problems illiteracy feeds.
"It is a clash of the knowing and the naïve, and that's a neat fit with the style and sentiment behind much of Wilfred Wood's work," she observes.
However, while eager to capitalize on the emotive force of unexpected associations, the creative team was eager not to over-sensationalize. So while many of the problems highlighted are surprising—illiteracy and female genital mutilation, for example—the only issues featured are those where the link is proven by independent academic research.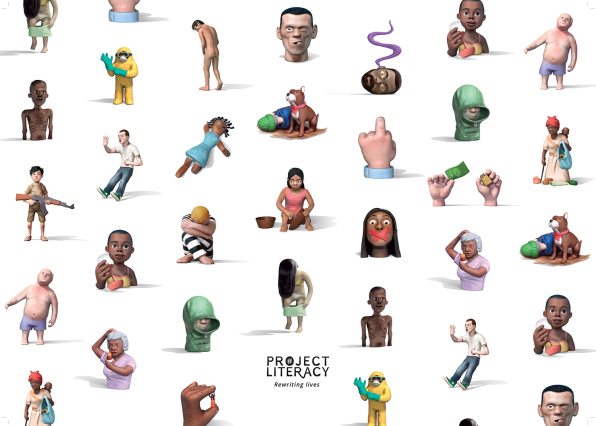 Furthermore, alongside each of the 26 problems featured, a nonprofit organization working to tackle that problem is also highlighted through associated content.
"All too often charities compete for attention and donations," Lee observes. "This campaign, however, unites charities to tackle illiteracy as one of the root causes of their own particular issue."