Many sudden health emergencies have warning signs, even up to eight hours before they happen. The problem is there usually isn't an expert around to spot them—unless that expert is an algorithm. That's the promise for people with heart ailments of the new Phillips Wearable Biosensor (its working name). The a 4.6 by 1.6 inch, one-use patch monitors key vital signs and streams them wirelessly to a cloud-based service called IntelliVue Guardian that looks for early indications of trouble and sends alerts to doctors via their smartphones or tablets.
The Wearable Biosensor, made by a company called VitalConnect, provides a light, portable version of the vital-sign monitoring that allows hospital patients to avoid being always wired up to bedside machinery. The data streams to Philips's cloud-based IntelliVue Guardian system, which tracks patterns of vital signs and sends early warnings of impending problems.
Philips isn't the only company that is attempting to keep better track of patients with heart disease using mobile devices. A startup named AliveCor has developed an accessory that fits on an iPhone, which it claims can detect the presence of an arrhythmia.
The Philips Wearable Biosensor can be used to keep a closer, automated eye on patients in the hospital; but it could also be used to track them at home. "You go to your GP [general practitioner aka primary-care doctor], you're at high risk of a cardiac problem, and we put you on monitoring," says Jeroen Tas, who heads up Philips Connected Care and Health Informatics division. "And then we can just stream the data to what we call our eCareCoordinator…in that way we can measure thousands of patients." It's part of what Tas envisions as a new role for doctors. "The role of the GP will probably be not just prescribing medicine, but [they] will prescribe apps and devices," he says.
Cloud technologies will also enable specialist services from the GP's office. Philips already offers ultrasound as a subscription service called Lumify, in which a GP or specialist performs an ultrasound scan and uploads the images to a cloud service where on-call experts examine the results. Tas hopes to extend it to cardiology. "You could have a cardiologist basically looking over the shoulder [of the doctor]," he says.
The Wearable Biosensor connects to a smartphone with Bluetooth to stream data over the Internet—just as dozens of fitness bands do. It's another example of consumer tech filtering up to revitalize high-end, professional services like medical-grade health monitoring—something Philips calls the consumerization of health care. This process has reshaped the entire 125-year-old Dutch technology firm (co-creator of the CD and DVD). In 2014, it announced plans to split into two companies: Philips Lighting, maker of the popular Hue connected lights, and Royal Philips, formed by merging Philips's consumer and professional health care franchises.
"A lot of our heritage is around consumer [products]," says Tas. Examples include electric toothbrushes and air purifiers. Philips is also a major producer of medical monitors, including heavy-duty devices like magnetic resonance imaging (MRI) machines. According to Tas, Philips makes 40% of the world's patient monitors. The new Royal Philips blurs the line between consumer and medical-grade technology. "You can look at it…from that very interesting intersection, and that's basically where you start looking at patients as consumers," he says. Consumers now expect information and tools to self-manage their health, says Tas. Philips's eCareCompanion app runs on tablets and lets patients answer questions about their health that goes into their patient records. Philips is also developing an app for diabetes patients to monitor their condition. (There are plenty of diabetes apps, but Philips's links to health care providers and allows patients to interact with their doctors.)
Shaped like an elongated figure eight, the Wearable Biosensor sticks to the chest, over the heart, and can run for 3-4 days, but is not rechargeable. It continuously monitors respiratory rate, skin temperature, posture, and activity, including steps and falls. It also functions as a basic electrocardiogram (ECG), which measures the electrical activity of the heart to read not only heart rate but any irregularities in how the heart is beating. (ECGs produce the classic squiggly lines on hospital vital sign monitors—lines that go flat if the heart stops.) All this data will flow to IntelliVue Guardian.
This is a step above Fitbit and the Apple Watch. Wearable Biosensor is classified as a medical-grade device: You can't just buy it on Amazon. In fact, it's not yet available anywhere, since it's still undergoing trials in the EU, U.S., and Singapore and evaluation by regulatory bodies like the U.S. Food and Drug Administration (FDA) and may be available by the end of the year. But consumer health monitors are part of a broader cloud initiative called HealthSuite that weaves their data in with pro-grade readings and medical records to understand the patient's overall health context. "We're connecting air purifiers," says Tas. "We're even connecting toothbrushes." Philips makes a connected weight scale—hardly a unique product, but it's tied to a weight-management coaching program run by European health insurer Allianz. Philips recently launched a program that integrates data from consumer fitness monitors such as Fitbit, Jawbone, and Apple Watch, for instance.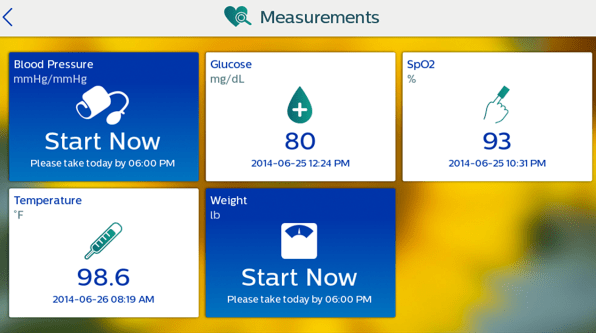 Insurers and health care providers are footing the bill for these services, since it's cheaper to keep a patient healthy than nurse them back to health. Prevention programs are popular with so-called integrated delivery networks, all-in-one insurance and treatment systems such as Banner Health. In a pilot program with Banner, the companies claim that they reduced hospitalization of patients with multiple chronic conditions (the most expensive to treat) by 45% and reduced costs by 27%. "Payers are increasingly looking at, you know, rather than paying for just procedures, paying actually for outcomes," Tas says.
Philips also has a light version of its health monitoring system, using a product called the Philips Health Watch. It's already available in Europe, and Tas expects it to arrive in the U.S. around summertime, pending FDA approval—as Philips is marketing it as a medical-grade device.
Extensive health monitoring is especially valuable for patients with multiple chronic illnesses, such as heart disease and diabetes. The complexity increases risks, and the various conditions can affect each other. Many of these patients are elderly, but Tas says that it's also valuable for younger people with a single illness. This is where the work gets personal for Tas, and his family. "My daughter is 25, and she suffers from type 1 diabetes," he says, "and she has been co-designing the app that we deliver for chronic care."
UPDATED: This article has been updated to reflect the maker of the Philips device.