When you're pregnant, the first thing you should do is figure out what your company's maternity leave policy is. The next step is to consider what would work best for you—and then to negotiate for that. In determining what you'll want to negotiate, I recommend listing the details of both your leave (how long you'll be gone, and how you'll be compensated) and your return to work (where, when, and how much you'll work).
How to negotiate effectively is a far deeper topic than I can cover in this article, so if you haven't received any formal training in negotiation, consider picking up a copy of Roger Fisher and William L. Ury's Getting to Yes: Negotiating Agreement Without Giving In, which is widely considered essential business reading. And this isn't just for discussing leave time: This is applicable for conversations about flexibility, compensation, and more.
Most of the advice below applies to negotiating with either HR or your direct manager. Sometimes you can work out a side deal with your manager that doesn't involve HR at all, like getting permission to work remotely one day a week.
Lay the groundwork for your negotiation well before you sit down at the table. A successful investor told me, "From the time I was hired, I set out to make myself as indispensable as possible so I would have as much negotiating leverage as possible when I got pregnant." Another woman advised building relationships with both HR and legal; she hadn't done so consciously, but after seven years at her company she'd developed friendly rapport with leaders on both teams. "It helped," she said. "You don't want to meet someone for the first time when you're negotiating a maternity package."
The core premise to consider, especially when you're talking about your family life, is that negotiating isn't always a zero-sum game, where your loss is their win and vice versa. Experts talk about reaching the "efficient frontier," where you're maximizing the value that each party is deriving from the negotiation.
You can get there by identifying everything that's on the table—and on your list. Once you have a comprehensive list of what's up for negotiation, look for places where you can derive value without it "costing" your employer anything.
The beauty of capitalizing on the efficient frontier is that there may be must-haves on your list that don't directly add costs to their bottom line (like five additional personal days), or your employer may have a budget line like "professional development" that could be used to compensate you indirectly. One startup VP asked for—and received—professional development funds that she could allocate toward the cost of childcare when she traveled for conferences. "A straight-up raise didn't meet my objectives," she explained, "but they wanted to retain me, so we got creative."
Progressive companies are getting more and more thoughtful about flexibility—in both hours and location. "Productivity happens in more places than just the office," explained Jennifer Hill, COO of a health care data startup. "Companies that focus on output tend to yield more appreciative and productive companies. The future is companies integrating with life instead of blocking it."
Frame everything on your list in terms of what's in it for them. For example, you could say:
"Working remotely two days a week eliminates my commuting time, so I get an hour back in my schedule on those days to get ahead on XYZ projects."

"Shifting my schedule so I'm working a couple of hours in the late evenings will help me focus on the XYZ initiative, because I can work uninterrupted by calls or meetings."
You'll also want to put yourself in their shoes, imagining what their objections might be. Be systematic about this too: Write everything down. Come up with a comprehensive list, and then develop a response for each one. "It's just like a sales process," a professional coach told me. You identify objections in advance, and have ready a thoughtful counterpoint to each.
Jennifer Dulski, the CEO of Change.org, often delivers speeches to women and men early in their careers. When asked about how to achieve balance in working life, she gives them two pieces of advice. The first is to be great at your job. "Over-deliver when asked for things," she tells them. "Be the one with the solution when problems arise." And the second: once you're great at your job, don't ask permission. You still need to tell someone when you'll be away and keep lines of communication open about your projects and accessibility, but frame those conversations with care. "I never said, 'Can I leave at noon and come back at 3:00?' If you're asking permission, you're making it seem like your employer has a choice." But, and this goes back to the first point, if you're great at your job, you've earned some latitude. She reiterated, though, that you can only get away with this if you really deliver. "You have to be 200% confident that you will be able to do the things you've promised and more."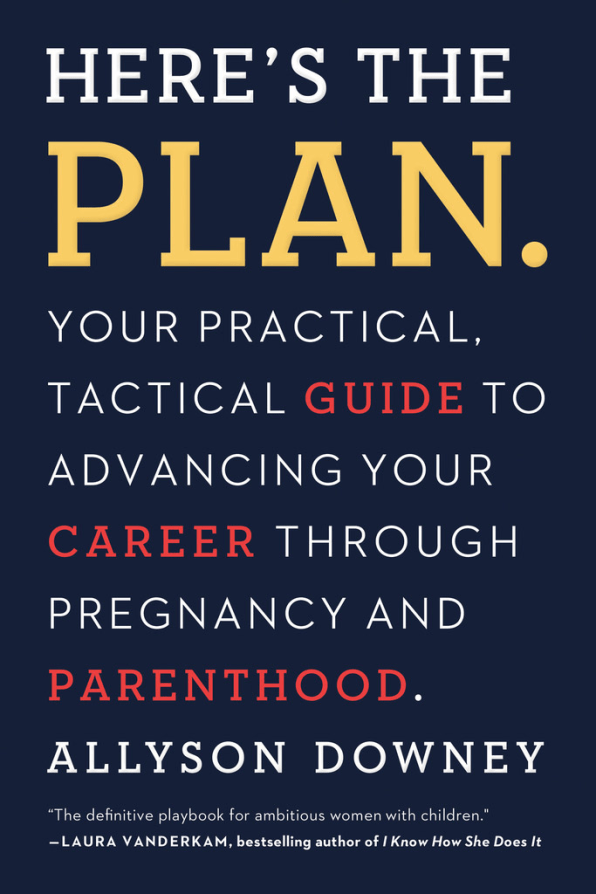 Do not, I repeat, do not make apologies at any point in your conversations with your employer about your pregnancy or early parenthood. Just state the facts, without apology. Replace "I'm sorry I won't be able to make it to that meeting" with a simple "I won't be able to make it to that meeting."
Women make apologies compulsively, and they're often not even aware that they're doing it. Case in point: After a presentation I made to a group of investors, a woman pulled me aside to say, "I don't know if you realized it, but you apologized about a half dozen times in your 10-minute talk." I had offhandedly apologized for my font size, the amount of information I had on one slide, and the fact that I wasn't projecting to the back of the room—none of which merited an apology. And don't just watch out for "I'm sorry"; using crutch words like "just" (as in, "I just wanted to check in . . .") is an implicit apology. You don't need them. Be direct, be assertive, and be done with it.
Excerpted from Here's the Plan: Your Practical, Tactical Guide to Advancing Your Career During Pregnancy and Parenthood, by Allyson Downey. Published by Seal Press, members of the Perseus Books Group. Copyright © 2016