The U.S. isn't very competitive with other countries when it comes to taking care of its workers, according to a new report from Glassdoor.
Conducted in cooperation with London-based Llewellyn Consulting, the report, "Which Countries in Europe Offer Fairest Paid Leave and Unemployment Benefits?" shows a sharp divide between American workplace benefits and those offered in 14 European countries.  
"In the U.S., workplace benefits like unemployment, maternity/paternity leave, and paid time off are part of the total compensation pie negotiated between employer and employee," said Glassdoor's chief economist Andrew Chamberlain in a statement. "In most cases, the responsibility to provide these necessary social benefits to workers falls to U.S. employers rather than the government." This is in contrast to social policy across Europe, Chamberlain observed, which generally results in far more generous benefits than what is typical in the U.S.
With unemployment at historic lows, the general sentiment among workers is that they can find another, better job elsewhere, particularly among millennials, 44% of whom Deloitte found would leave their employers in the next two years. Benefits could make the difference between a talented employee staying or leaving to find a better package elsewhere.
A separate Glassdoor survey found that 79% of U.S. employees report they would prefer new or additional benefits instead of a pay raise, and more than half (57%) of people said benefits such as health insurance, paid vacation, paid sick days, and a retirement plan–some of which are mandated in European countries–are among their top considerations before accepting a job.
Using the United States as a benchmark, this study compared of benefits in six key areas:
Paid maternity leave

Paid paternity leave

General parental leave

Paid holiday allowances

Paid sick leave

Unemployment benefits
Data from the OCED Family Database of all parental leave policies was analyzed for 14 countries including Denmark, France, Spain, Netherlands, Sweden, Finland, Italy, Norway, Austria, Belgium, Germany, the U.K., Switzerland, Ireland, and the U.S.
It's important to note that Glassdoor analyzed the U.S.'s parental leave policy as stipulated under the Family and Medical Leave Act (FMLA), which also allows unpaid leave for reasons other than childbirth, such as caring for sick children, spouses, or elderly parents. This was reclassified as "general parental leave" rather than "maternity leave" or "paternity leave."   
There are differences from country to country based on government regulatory mandates, but those that ranked as the most generous are Denmark, France, and Spain, while the U.K., Switzerland, and Ireland are among the least generous. The U.S. brings up the rear in nine of the 12 areas ranked as well as an overall aggregate score of .03 for its benefits (or lack thereof). For comparison, Denmark scored a 7.8 and France came in second with a 7.2.
Paid parental leave is now a hot-button issue as businesses of all sizes are scrambling to offer what the U.S. government doesn't. Under the FMLA, new parents (birth mothers, birth fathers, and new adoptive parents) are entitled to 12 weeks of unpaid parental leave. Working mothers in the U.S. may take short-term disability benefits offered at the state level, such as in California and New Jersey.
Highlights from Glassdoor's report:
Maternity leave in all E.U. countries has to amount to a minimum of 14 weeks, but the time and pay offered in each country differs considerably.

The U.K. offers the longest time at 52 weeks (1 year), 39 of which are paid at 90% of previous earnings for the first six weeks and the remainder at up to £140 a week. The U.K. is followed by Ireland at 42 weeks, 26 of which are paid at a flat rate of €188 per week.

Germany, Spain, the Netherlands, France, Austria, and Denmark all offer at or near the statutory 14 weeks at full pay.
The U.S. has no mandated paternity leave. However, similar to U.S. maternity leave policies, many companies offer paid paternity leave to new fathers to help attract and retain talent.

Paternity leave is still unregulated by the E.U., and entitlements vary dramatically. Austria, Germany, Ireland, and Switzerland offer no mandated paternity leave.

New fathers in Finland get the most leave by far with 45 working days off (nine weeks), while Spain and France are the next most generous.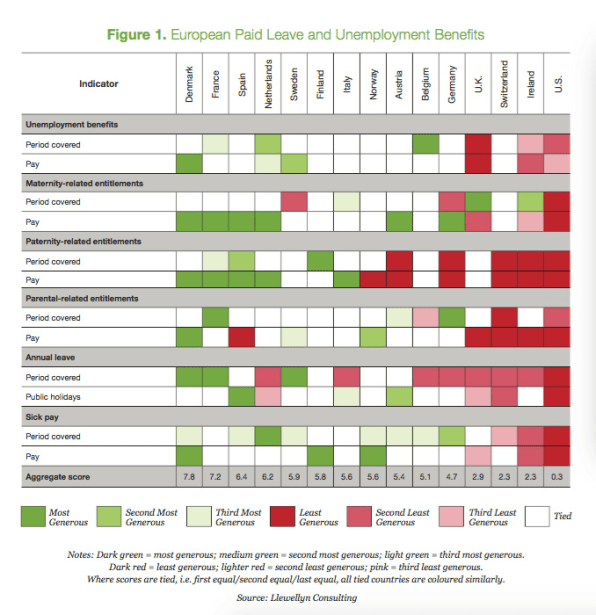 In the E.U., general parental leave is different from maternity and paternity leave that new birth parents receive, and it is regulated. E.U. legislation states that parents have the right to take time off work to care for children up to 8 years old for a minimum of four months (16 weeks). The amount of time workers can take parental leave, and the pay offered during that time, varies by country.
Each country sets pay during parental leave. France and Germany offer by far the most time off (three years), although not all of it is paid.

Most countries offer less time than France and Germany, but with all of it paid. Denmark, Norway, and Sweden are the most generous in this regard.

In Ireland, Spain (a full year), and the U.K., all leave is unpaid and Switzerland (not a member of the E.U.) offers no leave at all.

The parental leave regulation in the U.S. is second to last when compared with these European countries.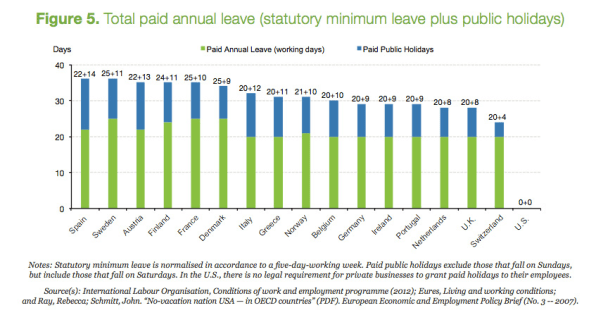 There is no statutory annual leave entitlement in the U.S. The number of days offered is left as part of the compensation package negotiated between the employer and employee. The average number of paid vacation days for U.S. workers is 10 days, according to a report by the Center for Economic and Policy Research.

Paid holiday entitlement in the E.U. is set at a minimum of four weeks (20 days) per year, exclusive of bank holidays; however, a number of countries are more generous.

Sweden, France, and Denmark offer the most, at five weeks (25 days) for a standard Monday to Friday job.

The number of paid public holidays is highest in Spain (14), Austria (13), and Italy (12), and lowest in Switzerland (4), the U.K. (8), and the Netherlands (8).

In the U.S., a report by the Center for Economic and Policy Research found the average number of paid public holidays workers are entitled to is six days.
The U.S. has no statutory mandate for paid sick leave, and the number of days offered is part of the compensation package negotiated between the employer and employee.

Sick leave and pay are most generous in the Netherlands, where workers can be absent for up to 104 weeks (2 years), while receiving 70% of their salary.

They are least generous in the U.K. (28 weeks, paid at a flat rate of around £88 a week); France (26 weeks, paid at 50% of earnings); and Ireland (dependent on the specifics of a worker's employment contract).
Like most areas of social policy, unemployment benefit systems across countries vary widely, making it challenging to compare countries. The amount paid and the time period covered can depend on factors such as how long someone has been working, whether he or she has dependents, and even on age.
The U.S. offers between 40% and 50% of earnings for up to 26 weeks, depending on the individual state.

Unemployment benefits (taking both benefits and the eligibility period into account) are greatest in Denmark (90% of previous earnings, for up to 104 weeks) and Belgium (65% of their prior earnings for the first 13 weeks)

They are least generous in the U.K., Ireland, and the U.S.
"Providing benefits and other workplace entitlements is a complex responsibility for governments and businesses," Glassdoor's Chamberlain says. "Striking the right balance is never easy."