Todd Carmichael, the founder of La Colombe Coffee Roasters and the inventor behind the cold-draft latte craze, is sitting in a booth in the company's Noho cafe in New York City. It's 24 degrees Fahrenheit outside, but the picture windows opening onto East 4th Street have a solarium-like effect, and jackets are quickly shrugged off as patrons line up at a quick clip for the frothy, barely sweet beverages—no ice—pulled straight from a tap at the bar.
It's about a week before Philadelphia-based La Colombe will launch its newest coffee innovation: cold Draft Latte in a can. Carmichael, who also hosts the Travel Channel show Dangerous Grounds, is ready to show off. "We'll do a taste test!" he proclaims, plunking an expensive-looking four-pack of La Colombe's white-and-navy latte cans down on the table next to a single glass bottle of Starbucks Frappuccino. But first, he says, he'll "bore me" with some history.
Carmichael has been thinking about cold coffee since 1995, when a customer came into his Philadelphia cafe and asked for an iced latte (perhaps not coincidentally, the Frappuccino was introduced the same year). "It was like hearing, 'Can I get a piping hot beer?' There was no such thing," Carmichael says. Aiming to please, he concocted something on the fly and didn't think much of it other than that the guy was eccentric. Fast forward to today, when 50% of coffee drinks sold in La Colombe's cafes are cold. And yet something still bothers him: all that ice watering everything down.
So last year, Carmichael devised the cold-latte-on-tap system that's now a hallmark of his cafes. At the 21-year-old Philadelphia location, he says, sales jumped 17.5% in the first week it was introduced. Demand for draft lattes soared, customers were able to move through the line rapidly, and baristas could focus more attention on hot drinks. "The feathers were flying. The way we run the bar, the speed at which we process people, shifted overnight," Carmichael says. Better yet? "I finally made that person the drink he asked for," he says.
Inside the company's cafes, draft lattes were a hit. But much of La Colombe's following gets its fix elsewhere. Seven percent of the company's sales come through the brand website; its products are also available at Whole Foods and other retailers. The next question for Carmichael, then, was, "How can I get that," he says, gesturing toward the latte tap, "out there," and points out the big picture-glass window.
---
One problem with coffee drinks in a can or bottle, as anyone who's tried a Frappuccino can tell you, is there's no foam. For Carmichael, that was a big problem. "It started with texture," he says. "You have to have texture."
How to get texture in a can or bottle was a question that would dog him leading up to the rollout of the in-store draft lattes as he pondered how to get that out there. He figured it out on January 19, 2015.
"My son. He's 4. We eat fruit for dessert, that's our thing. But he loves whipped cream. He says, 'Spray, Daddy, spray!' So I've been thinking about texture and how to do it, and I flip the can over to blast the whipped cream. And that sound . . . brraaaawwwwwwwhh! Just as I filled his mouth, it was like, if you're in the mountains at night and it's dark, and there's a lightning bolt and suddenly you can see the whole mountain and all the trees. I thought, 'Shit, I know how to do it!' I know the date because I started writing emails that day."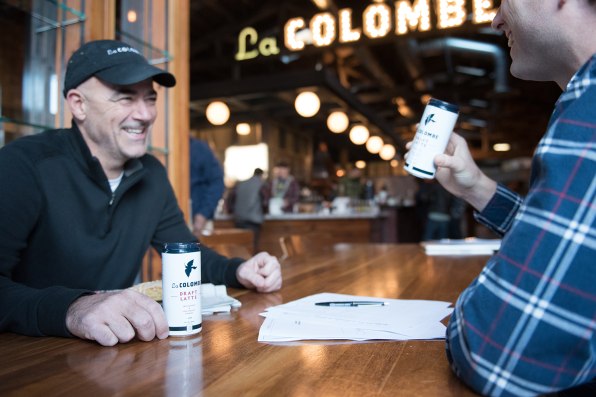 Each can has a small hole in the bottom that's covered by a daisy-shaped plastic seal to prevent leaks. Inside the hole is the "Innovalve," which releases liquified gas into the milk and coffee when you open the can. (The process is patent pending.) This results in a whoosh of silky microfoam that rushes to the top of the drink, and tiny air bubbles that create the texture Carmichael was so intent on having. On the top of the can, a navy blue plastic rim covers the aluminum, making it feel like you're drinking from a takeout coffee cup lid, rather than a dusty can of Red Bull. The milk has been heated to the point where it's shelf stable for 180 days, meaning the company can safely ship it to consumers and retailers without the added expense and hassle of refrigerated delivery trucks.
Though the four-pack looks like something you'd be proud to present as a hostess gift, it will be priced at $10. At $2.50 a can, that's safely below what people are accustomed to paying for specialty coffee drinks.
---
Now about that taste test. The canned latte has a slightly more caramel flavor than the tap latte, because of how the milk is heated. Like the tap latte, there's the signature froth and just a hint of sugar–one can of La Colombe Draft Latte has 120 calories and 14 grams of sugar, compared with 200 calories and 32 grams of sugar in the bottle of Frappuccino. "I hope it's good…I just pulled it straight off the production line," Carmichael says as he pops one open. It's delicious.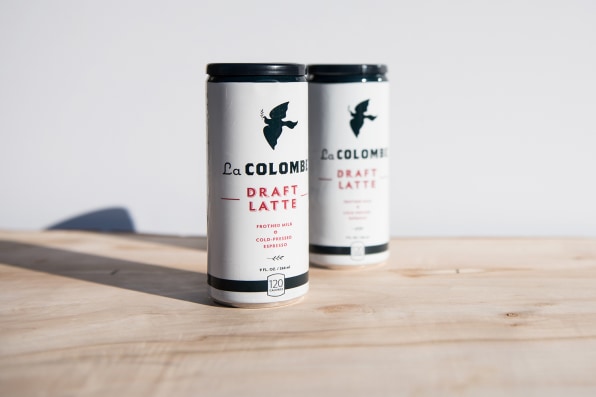 For Carmichael, these cans (available online and in select cafes on March 1, and coming soon to David Chang's delivery-only restaurant Maple, Whole Foods, and other retailers) aren't just a convenient and ingenious delivery system for his Draft Lattes—they are one of the keys to the company's ambitious plans for expansion. Last summer, Chobani founder Hamdi Ulukaya took a stake in La Colombe, and Carmichael reportedly has plans to open cafes in every major U.S. city.
"Every two generations, somebody comes along and changes the way America interacts with coffee," Carmichael muses. "At the turn of the century there was Folgers—do you know how cutting edge it was to put a frickin' vacuum in a can? Then Mr. Coffee changed everything. Howard [Schultz, of Starbucks] built a cafe on every corner, and then the K-Cup guys made this thing like a capsule in space—you don't even have to see your coffee! I look at these Frappuccinos and I think they are prototypes.
"I believe this is an $8 billion to $9 billion category," Carmichael concludes as we finish our last latte of the morning. "And I would like the lion's share of it."