Shortly after being hired here at Fast Company, our head of video showed the entire staff this helpful YouTube clip from 2012 about why it's important to always shoot iPhone video in landscape mode.
But a few funny things happened in the years since Mario and Fafa made that video: Snapchat, Vine, Periscope, and Meerkat. All these apps made videos shot in portrait made not only acceptable, but popular. Snapchat in particular has advanced the format by adding ways to interact in the lower third of the screen.
BuzzFeed produces videos across all of those platforms, as well as Facebook—where landscape orientation still prevails—and Instagram, which is a square format. Which presented a challenge for the team behind the BuzzFeed Video app, which launched today for iOS and Android. How do you take landscape, square, and portrait shaped video windows and combine them into a unified feed that doesn't look kludgy?
Video has become a key factor in BuzzFeed's success. This past summer, BuzzFeed Motion Pictures moved into a huge production studio with a rooftop view of the Hollywood sign, a sound stage, and two bungalows that serve as sets. They rack up around 3 billion video views per month across all platforms, including Facebook and YouTube. And their native videos created on behalf of advertisers, such as the wildly successful Dear Kitten segment for Purina, have become a major source of revenue for the company.
Until now, though, there's been no easy way to find and watch all of the original videos that BuzzFeed creates—at least 65 per week—in one place.
BuzzFeed Video's main feed is mostly a firehose of the latest videos. You can also swipe over to a Shows collection page, which houses hit series including Try Guys (a group of guys who try weird things) and Tasty (home to all those video recipes). You can subscribe to a series and get push notifications whenever a new clip is added. The archive doesn't include every episode of every show, but there's enough to keep you occupied for quite awhile. And some of these series will appear first on the app before landing on any of the other platforms where BuzzFeed distributes them.
The app was created first and foremost for people who can't get enough of BuzzFeed videos. "It's for die-hard fans," says BuzzFeed's VP of engineering, Ryan Johnson.
People like Graphic Design Guy, a YouTube commenter who almost always weighs-in on BuzzFeed videos.

Or the people on Instagram who post fan art of all their favorite BuzzFeed personalities in the form of potatoes.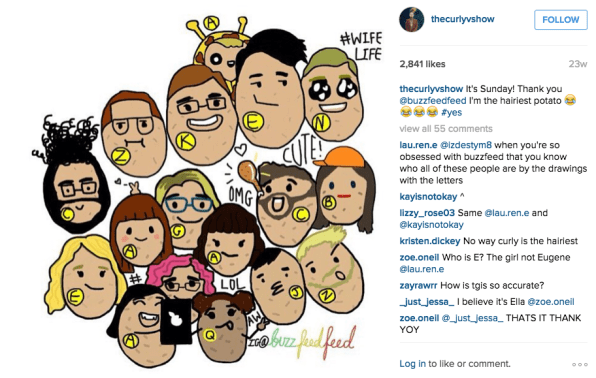 One piece of feedback gathered from those fans was that they spent too much time having to look around and find the most recent videos from their favorite shows. The app solves that problem in a simple and easy to binge-watch experience.
But because some of these videos are shot in portrait while others are made in landscape mode, the videos are sometimes rectangular, square, and occasionally vertical. An earlier version of the app used paged style scrolling so that each video would snap into place. "But it was too heavy for users," says Jess Shapins, BuzzFeed's director of product for apps and consumer experience. His team noticed that watching video often requires user interaction—a click to start the video, another one to turn the sound on and off. Minimizing that friction was paramount.
In the final version of the app, the differently sized videos auto-play as you scroll them into view. When you pause for more than a couple of seconds, the video automatically becomes centered on the screen, and the rest of the chrome around the viewport fades into the background.
"Once we notice you've stopped, then we do the work of putting into the best viewing window possible," says Shapins. Moving back out of the immersive mode is lightweight, just start scrolling again.
The spacing between each video and the way it's presented in the feed make the different sizes seem like no big deal.
The sound for each video is turned off by default, as with any responsible app, and you can opt-in with the click of the phone's volume toggle button. BuzzFeed's app adds one small but helpful feature: it remembers your choice so that once the sound is turned on it stays that way as you watch the rest of the videos in the feed. That's better than Facebook, for example, where you have to click and opt-in to the sound control for every new video in the news feed.
Analytics tools built into the app will offer in-house video creators dashboards showing engagement—not a huge deal since you can also get this from other places. But in this case, BuzzFeed will also know at exactly what second the video gets shared, or when the viewer scrolls away.
"The data can start to drive user experience," says Shapins. The app will also become more personalized over time. "We can see you are interested in this type of content so we can start to surface content more easily."
BuzzFeed Video's stream will of course be used to distribute the co-branded and native ads, which is how the company makes its money. And the app itself can be sponsored too. There will be no display or pre-roll video ads in app.
A good deal of technical infrastructure was built to host the videos so that they stream directly to your phone from BuzzFeed's servers. It also allowed Johnson's team to optimize the videos to work on a cell connection, no WiFi required. This tech will be reused in the near future to serve video into BuzzFeed's News app, and any others that they build.
A drag and drop content management interface was also created from scratch for the BuzzFeed Video app. The plan is for it to be used across the company, including on the website. Eventually it could replace the current system, which requires uploading videos separately onto every different platform.
BuzzFeed Video was built over the past year in a collaboration between BuzzFeed crews in Los Angeles and New York City, as well as Minneapolis—the team there is from Hyper IQ, a mobile app development agency that was acquired by BuzzFeed in late 2014.