One of the most well-known employees at the Orchard Supply Hardware store in downtown San Jose, California, is a 5-foot-tall autonomous robot. OSHbot, as he's called, just recently celebrated his one-year anniversary at the store, which is owned by Lowe's. His job is twofold: to help customers find items they need, and help store managers with inventory tracking. When I approached OSHbot, his facial-recognition technology identified me as a human customer and he cordially introduced himself. "Hi, I'm OSHbot," he said in a monotone voice. "I can help you find things in the store. What are you looking for?"
Technically I wasn't looking for anything, but for the sake of research, I made something up. "LED lights," I declared. On a screen, a list of LED bulbs appeared. I scanned and picked one at random. A map of the store appeared on the screen, with a green dot indicating our current location, and a red dot suggesting the lightbulb I'd chosen was across the store. "Would you like me to take you to the LED?" the robot asked, pronouncing "LED" like the stuff you'd find in a pencil. I pressed yes. "Sure, follow me," he said, before rolling away with me in tow.
The bot uses the same navigational technology found in driverless cars to look for obstacles. It swerved around product displays and customers on its quest to find my item. After about a minute, the robot came to an abrupt stop in front of a wall of LED lights. "We are here," he said. "Boom," said Kyle Nel, the executive director of Lowe's Innovation Labs and the brains behind OSHbot. He's a young man with a full beard and a mop of slicked-back brown hair. Thick-rimmed glasses complete the nerdy hipster look. Nel has a background in applied neuroscience and has been tasked with transforming the world's second-largest hardware chain from that place your dad goes to buy power tools, to a hotbed for retail innovation that brings science fiction to life.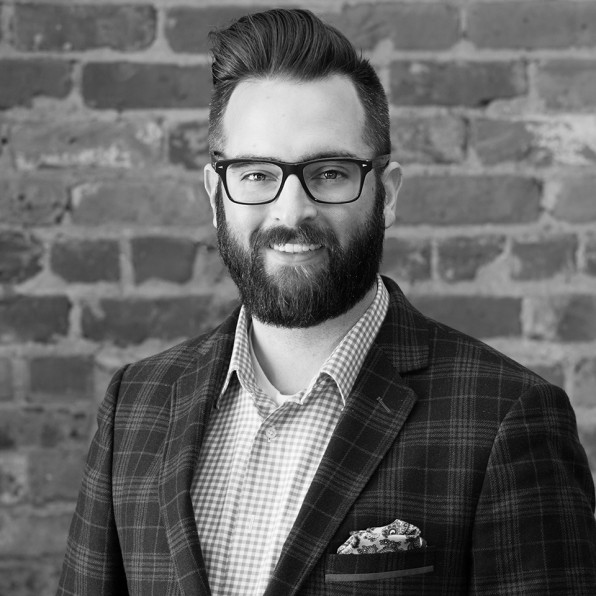 "People ask me, 'Why do you work for Lowe's?'' Nel says. "One of my metrics of success is how often people go, 'Robots at Lowe's? What?' We're really good at retail and understanding home improvement, which means we understand how people live in their homes. Why can't we also continue to iterate and innovate in uncharted ways?"
At Lowe's, Nel basically gets to experiment and play however he wants. For example, a few years ago, he invited a group of science fiction writers to create stories about the future of retail based on Lowe's research and trend data. OSHbot was one idea they came up with. Nel, a self-proclaimed comic nerd, had the stories turned into comic books, which he gave to his team members along with a mission: Get this built. Within eight months, OSHbot was on the floor of the Orchard Supply store.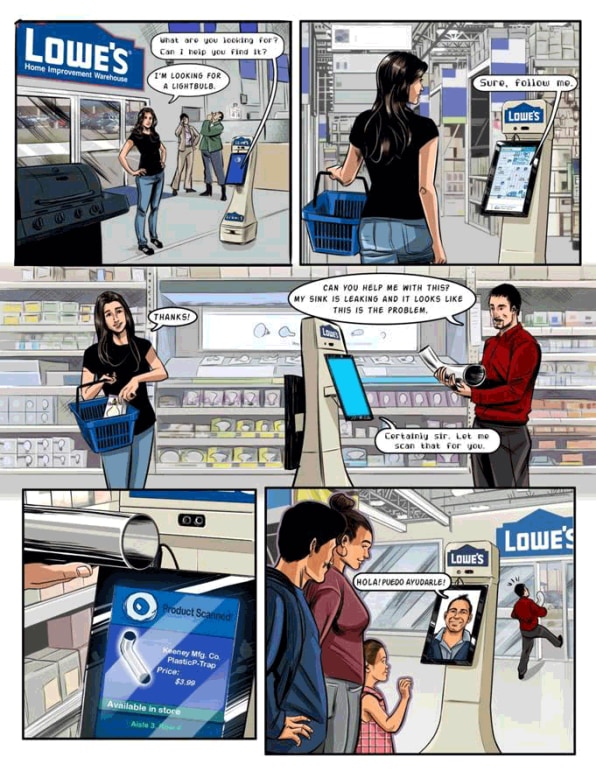 "On the outside, the whole thing might seem like a gimmick," Nel admits. "But we didn't build robots for the sake of building robots." Indeed, the robot does things human employees can't. For example, it is multilingual. So far, OSHbot is fluent in English, Spanish, and five different Asian languages. "Our research showed language was a huge pain point for customers," Nel says. "Knowing you can walk up to a robot and communicate with it and you know it's going to speak Japanese or Mandarin is a big deal."
The robot also tracks inventory in real time and can tell employees when an item is out of stock, misplaced, or has possibly been stolen. "The real-time inventory thing in retail is like the holy grail," Nel says. "Right now, inventory tracking at all retailers is a very tedious and very time consuming and inaccurate process, so we're trying to attack that." Soon, OSHbot will be able to scan items customers bring in and tell them what it is and whether the store stocks it.
The robot can also spot previously unnoticed trends that could shed light on new revenue opportunities. "Mailboxes," Nel says. "People always come in asking for mailboxes. Who would have thought? So, are we missing an opportunity to do more with mailboxes?"
Nel is also overseeing a handful of other innovations, like the "holoroom", which lets customers use virtual reality headsets to visualize their home improvement plans. It's already in 19 locations and expanding. Another impressive project: a 3-D printer on the International Space Station that lets astronauts print broken or lost tools on the spot rather than having to Macgyver a solution or wait months for a replacement. That's scheduled to launch in a month.
The company is also using eye-tracking gear to see how people navigate a Lowe's store and then identify confusing areas. In one test, they wanted to see if people could find the holoroom in the store, but realized quickly that shoppers were confused by a set of recently installed ads that were obscuring the aisle signs. "We were like, we gotta take those signs down," Nel says. "It's very simple things that have big ramifications and make the overarching experience intuitive and better."
Customers seem to like OSHbot. Sometimes they stop to take pictures of him. One frequent shopper named Don Kahrs professed his love for OSHbot after using it to find carpenter glue. Nel says the review ratings have been very positive, and not just among the tech savvy. The data shows non-millennial adults love the robot. "So it isn't just a tech thing, or that the robot is cool, but this solves a problem, it helps me find a thing."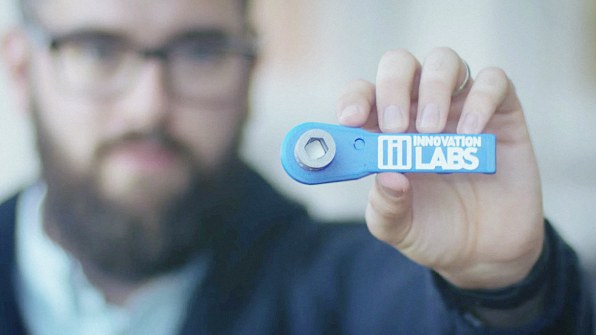 Employees are so used to OSHbot's presence that they basically ignore him. The idea is to roll the robot out in actual Lowe's stores soon, though Nel wouldn't give an exact date.
"All these projects might seem disparate, but they're all so interconnected," Nel says. "The holoroom helped us develop a proprietary way to create 3-D assets, which allowed us to do things with robots. It's all tied together. We really are focused on trying to make a real omnichannel where you can just get whatever you want, whenever you want."