Venture capitalist and Facebook board member Marc Andreessen was, unsurprisingly, disappointed that India's telecom regulator recently thwarted Facebook's plans to expand Free Basics, the company's free but limited Internet service aimed at developing markets. On Tuesday, Andreessen turned to Twitter to air his grievances:
When a Twitter user likened Free Basics to "Internet colonialism," Andreessen copped to his characterization of Facebook's Internet service—and added that the Indian economy had, in fact, been booming under British colonial rule. "Anti-colonialism has been economically catastrophic for the Indian people for decades. Why stop now?" he wrote, as seen in a screenshot of the now-deleted tweet, captured by Re/code.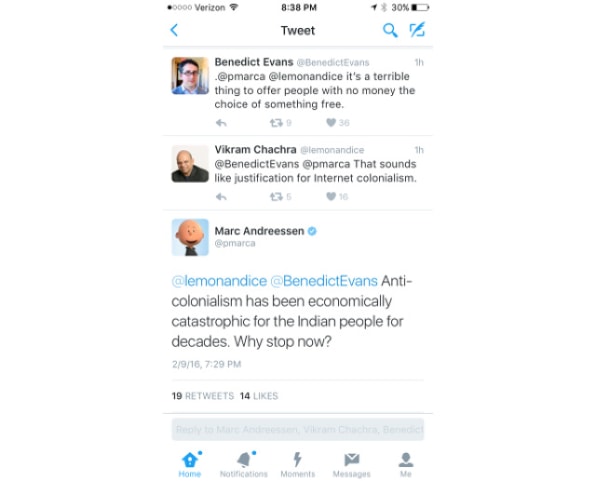 Benedict Evans, a partner at Andreessen Horowitz, jumped to Andreessen's defense with his own take on the British Raj:
But Andreessen's take on the Free Basics controversy ignores the harm British colonialism did to India's economy. During a recent session held by Oxford's debate society, eminent Indian politician Shashi Tharoor pointed out that India's share of the global economy went from 23% to 4% during the 150-plus years it was occupied by the British. "We literally paid for our own oppression," he said.
Andreessen's tweets also highlighted why, on a cultural level, Indians have been so resistant to adopting Free Basics. The net neutrality argument peddled by Indian regulators is just one side of the story. Indians have a deep-seated distrust of Western forces that seek to "empower" its people—a sentiment that is steeped in historical precedent.
Entrepreneur and tech blogger Anil Dash touched on this in a comment on Facebook CEO Mark Zuckerberg's post about India rejecting Free Basics:
I'd suggest that there's fundamental context missing here which may explain why you haven't found a solution that's been acceptable to Indian regulators, and to many ordinary Indians. At a broad level, it might be useful to really, _really_ reckon with the history of western corporate powers enforcing their desires on a broad swath of the Indian population, especially India's poorest. There are things that India, Indians (and those of us in the diaspora) place a very high value on for historical reasons that should be obvious with some thought. A colonialist "trust us, it's for your own benefit" pitch is a hard sell with good reason.
Zuckerberg has spent months relentlessly defending Free Basics, but the company's approach has been flawed from the start. Facebook has marketed the product as an on-ramp to "the full Internet"; in reality, the company has complete control over which content is made accessible to its users. And regardless of how many times Zuckerberg asserts that Internet access should be a right, Facebook's ultimate goal with Free Basics is to grow its international user base.
Suffice it to say, Andreessen's nod to colonialism wouldn't have been sanctioned by Zuckerberg. Andreessen apologized for his comment early Wednesday morning, in a string of tweets singing the praises of India and its citizens.
Update 3:27 p.m. ET: A Facebook spokesperson sent Fast Company the following statement this afternoon: "We strongly reject the sentiments expressed by Marc Andreesen last night regarding India."
Update 5:10 p.m. ET: In a Facebook post, Zuckerberg wrote that Andreessen's comments were "deeply upsetting" and did not reflect his company's stance on India. Below is his post in full:
I want to respond to Marc Andreessen's comments about India yesterday. I found the comments deeply upsetting, and they do not represent the way Facebook or I think at all.

India has been personally important to me and Facebook. Early on in my thinking about our mission, I traveled to India and was inspired by the humanity, spirit and values of the people. It solidified my understanding that when all people have the power to share their experiences, the entire world will make progress.

Facebook stands for helping to connect people and giving them voice to shape their own future. But to shape the future we need to understand the past. As our community in India has grown, I've gained a deeper appreciation for the need to understand India's history and culture. I've been inspired by how much progress India has made in building a strong nation and the largest democracy in the world, and I look forward to strengthening my connection to the country.
Update 10:19 p.m. ET: The investor just posted another series of apology tweets. Not sure vowing to never talk about this subject again is the answer, but…
[via Re/code]