Shield 5 is a captivating new thriller that follows a wrongfully accused man on the run, desperate to clear his name. It has a lot in common with shows like Homeland and 24, except for one tiny thing: Each episode is only 15 seconds long.
Shield 5 is a new dramatic and cinematic series being released on Instagram in installments, just one recent example of what is being labeled as "social cinema." It is the brainchild of British director Anthony Wilcox, who was looking for a quick project to work on while he finished developing a bigger feature. "I've done a few short things online as a director-for-hire, and the fast turnaround of those things excited me. I was looking for a way to do that, but telling my own story," Wilcox told Fast Company.
Wilcox began to look around for a platform that would work for his needs and meet his very, very low budget. "Instagram just seemed to tick a few boxes," said Wilcox. "There's a potential for a massive, global audience, and there was something fun about the 15-second restriction that weirdly appealed to me for some reason."
He wasn't sure if the idea would work; 15 seconds doesn't give you time to show or say much. "The idea stuck with me, though, and I couldn't quite shake it," said Wilcox. He started to study film trailers and commercials and slowly realized how much drama you could pack into a limited time frame. He slowly came up with a basic framework of a big, cinematic story to be told on Instagram's tiny screen.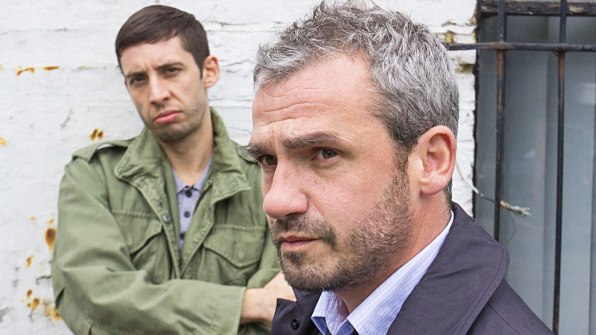 To help usher the idea from daydream to reality, Wilcox teamed up with writer Adam Dewar to create a show for release on Instagram. "Adam took my very basic concept of a man on the run, up against everyone, and he came up with the story," said Wilcox. Dewar crafted a story arc and broke it down into beats, which eventually became the 15-second episodes. Once they had a rough outline, they sat down to figure out what they could add to the story from characters to subplots. "We wanted to push the limits that we were working under," said Wilcox.
Part of the appeal of the project was Wilcox's "mischievous" idea of creating thrilling and dramatic moments for a tiny screen. "Instead of going to the trouble of making a feature film that you hope everyone will watch at the cinema, and they end up watching on an iPad or whatever, I thought it would be fun to flip that and make something really big for a tiny screen that hopefully people will think, 'I'd quite like to watch on a bigger screen,'" he said.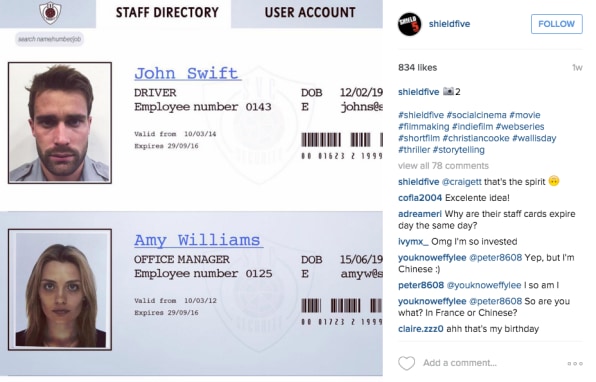 To bring those cinematic effects to a square on-screen box, Wilcox shot Shield 5 on a Canon C300 camera and filled the story with visual effects and impressive stunts. "We wanted to surprise people with what we could do," said Wilcox. It's an even more impressive feat when you take into account their budget, which was, according to Wilcox, a "no-budget production." The series was produced by Mark Hopkins and Declan Reddington, along with executive producer Julian Bird of Lorton Entertainment, who joined, despite the fact that there was no chance of returns on their investment.
They shot the film over four days with the camera following stars Christian Cooke, Elliot Gleave, Wallis Day, and Kieran O'Brien as they ran through the streets across 12 locations in London to tell the story of John Swift, a man wrongfully accused of a crime.
The episodes aren't the only storyline that viewers can follow, though. Wilcox and Dewar also decided to include still photos as part of the plot. "We were looking for as many ways as possible of expanding the story and giving people more to get their teeth into," said Wilcox. "But also the platform we were working on was Instagram, which is photos and videos, so we wanted to tell a story using those tools." Each 15-second episode is posted alongside a still photograph that plays an important role in the story by helping explain some of the evocative, if vague, action. So far, there's a wanted poster explaining that the police want to speak with a man named John Swift in connection with a murder and armed robbery. Another explains that Swift is employed as a driver, and a third shows that he was supposed to be on a run delivering jewels.
The rest of the story remains to be seen, but will be unveiled in the rest of the 28-episode series running throughout the month. Shield 5 does not follow a traditional narrative arc, but instead the episodes are almost impressionistic. But anyone who has seen a crime thriller can piece together the story. "If you watch all these 15-second clips back-to-back, it won't make any sense at all. It was never designed to be watched that way," said Wilcox. "The stills are critical to the storytelling, and the story only makes sense with those stills."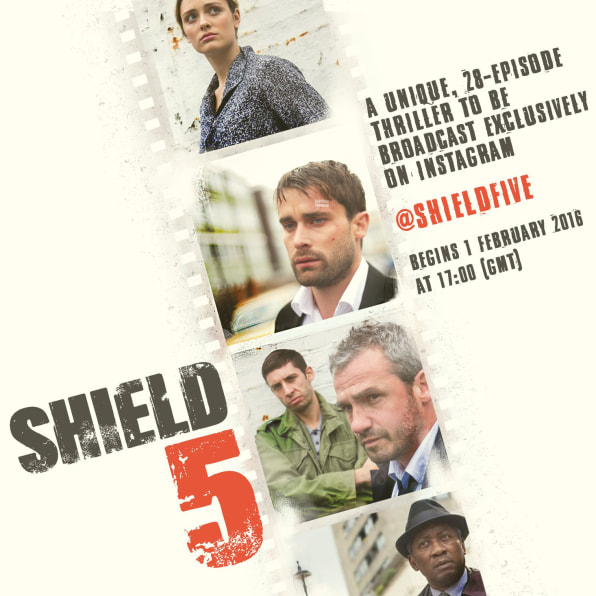 The videos are action packed, and thanks to the 15-second format, it's easy to hold your breath as the scene unfolds. While only six installments are out so far, Shield 5 has already drawn in over 30,000 followers, a number that already exceeds what Wilcox hoped for the series. As the series grows in popularity, it shows that Instagram, which is not involved with Shield 5 and didn't comment on the record for this story, can be an exciting place for cinema, thanks to its low barriers to entry. Social media sites like Vimeo and Snapchat have started to promote original content on their social networks—and it seems like only a matter of time before someone submits their Vines to Sundance.
Wilcox hopes that Shield 5 will serve as a testament to Hollywood and future employers about what he can do. While most young filmmakers make short films, show them on the festival circuit, and wait hopefully for offers, Wilcox took matters into his own hands and created the show for Instagram's massive audience. "If you've got the opportunity to show your work to a much, much bigger audience than that, all around the world," said Wilcox, "it might be worth trying it."