Although Twitter's users are reportedly tweeting less than they used to, the Super Bowl remains prime time for the platform. Last year, Twitter saw 29 million tweets during the Super Bowl, about 21% more than the year before. "We're going to have more marketers activating on Twitter this Super Bowl than we ever had before," says Alex Josephson, a director on the social network's brand strategy team. "We're like the world's biggest couch for the Super Bowl."
Leading up to the big game, Josephson's team has been developing and testing new ways for brands to use the platform to reach new audiences in visually engaging ways. He spoke with Fast Company this week about a few brand strategies to watch for during #SB50 that go above and beyond the promoted tweet:
Video consumption on Twitter has gone through the roof this year, Josephson says, so it's no surprise that brands are working video into their Super Bowl ad strategy. In January, Twitter rolled out its new conversational ads, which let brands tweet a native piece of video content alongside a call to action button. "This entices users to tap that button while watching the video, and that button sends a tweet from their handle that carries the same video and the same call to action button," Josephson explains. "It's built intentionally to drive consumption of video, but also to create instant shareability and a snowball word-of-mouth effect." Roughly two dozen brands will be using conversational ads between now and Super Bowl Sunday, including Mini USA, Budweiser, and EA.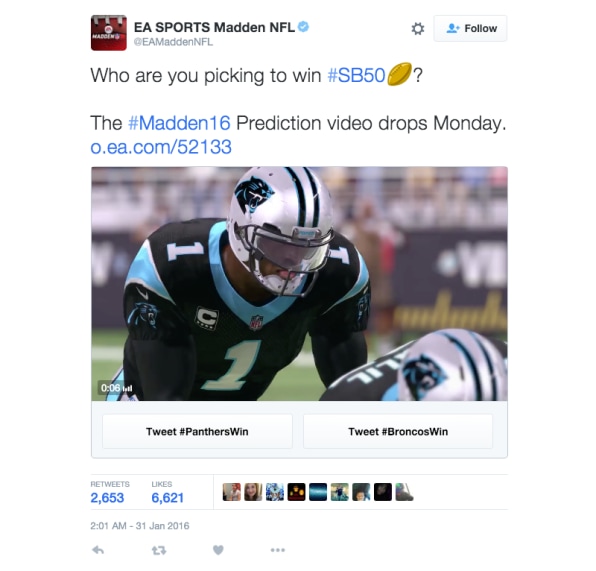 It's worth noting that users can customize the text of their tweet any way they like, and it will still appear alongside the branded video. But the possibility of some snarky commentary might be worth it for the greater brand awareness boost. According to Josephson, the conversational ads are designed specifically to impact Twitter's trending algorithms. "Every time a user composes a new tweet with a hashtag, that moves the needle when it comes to trending topics," he says. "We are seeing a disproportionately higher hashtag mention volume from marketers who leverage the conversational video card verses traditional video."
During the 2015 World Cup, Twitter converted country name hashtags into country flag emojis. Brands began to test their own emojis in late 2015, and Twitter will unveil a handful of new ones through Super Bowl Sunday. For example, Pepsi already unveiled its own emoji to drum up anticipation for the halftime show:

For its #giveadamn campaign to discourage drunk driving, Budweiser teamed up with Twitter to create an emoji that features a beer bottle and a hand (responsibly!) throwing down a set of keys: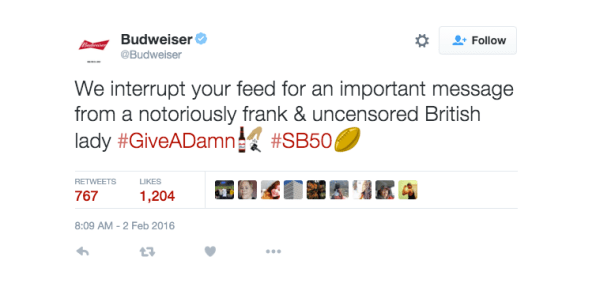 "It's one way to drive conversation volume and message association," says Josephson. But it won't come cheap. Reports suggest custom emojis come with a $1 million price tag.
Pepsi will own the Promoted Moment during the halftime show, but Twitter will also use the Moments tab to create a compilation of the Super Bowl ads as they're aired. "The hope is that creating a moment with all these TV spots will be a utility to all our users and pop culture fans in general," Josephson says. "And it's another environment in the platform for advertisers with spots to re-engage users."
Twitter will help brands use the platform to get more eyeballs on their TV spots with reminders from within the mobile app. For example, earlier this week, LG released a teaser for its first-ever Super Bowl commercial featuring Liam Neeson, and anyone who retweeted the spot will get a push notification from Twitter when the ad is about to air to remind users to tune in. "Historically with the Super Bowl, you see interaction between what brands are doing on TV and on Twitter," says Josephson. "This year you'll see a more premeditated version of that happening."
Other dos and don'ts for brands? Here are a few best practices from the experts:
Preparing for spontaneity may sound oxymoronic, but Oreo's brilliant response to the Super Bowl blackout of 2013 set a precedent for advertising in a live environment. "It's so funny, years later people still bring up the Oreo moment," says Josephson. "It was a defining moment for real-time marketing." Brands should have all the proper decision makers in the room during the Super Bowl—from marketing leaders to the legal team—so that when something random happens, no one has to waste time going up the chain of command to get a tweet approved. "That's your competitive advantage," he says. "You don't want to be stuck having to reach out to someone in a different department.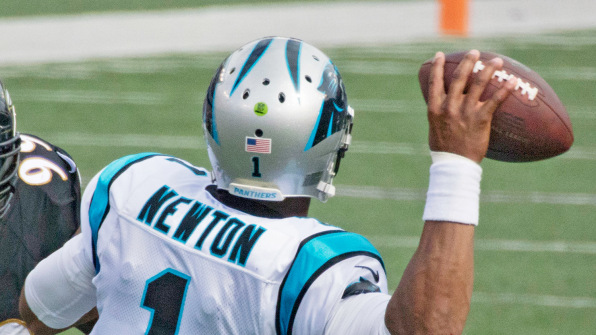 Josephson suggests going so far as to rehearse the big day by watching last year's game with all the right people in the room. "That might sound crazy, but that is a really surefire way to make sure there's some muscle memory and organization when things are crazy and millions of people are interacting. You don't want to make those decisions for the first time in the heat of the moment."
Being prepared doesn't mean over-relying on tweets you created ahead of time. "Fake messages are very easily noticed," warns Jennifer Risi, head of media relationships at Ogilvy. There's a fine line between being casual and cool, and abandoning the brand's voice. "Don't alienate your brand," Josephson says. "Be prepared to react and be creative in the moment, but it's important to remember what you're trying to say, and who you're trying to say it to."