Distributed energy systems are a good idea for homes that aren't hooked up to the grid. But distributing solar panels to remote areas in the developing world is hard. That's why Mobisol, a German installer, is testing whether drones could do some of the heavy lifting.
"The last mile can be a headache, and, since we have a couple of engineers who can develop drones, we thought maybe there's a leapfrog we can make in how we bring appliances and pieces of kit to a customer," says Thomas Duveau, the company's business development manager.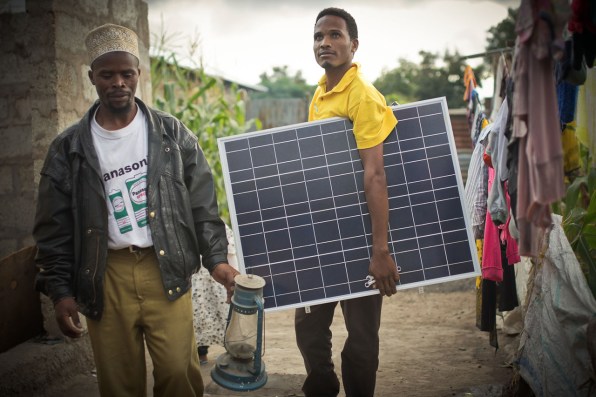 Every Mobisol customer has a solar home system that can be put to productive use, he says. The company is testing the idea that it could put a little recharging station on every customer's roof–that way drones could move around, say, large areas of Rwanda or Tanzania. In other words, Mobisol's customers would become part of the drone network, offering their rooftop panels as micro-charging stations. In return, customers would get credits on their bills, offsetting their monthly repayment costs. See more in the video here:
Mobisol has a rent-to-own business model, whereby customers pay back the cost of solar panels and household appliances over a three-year period and then own their equipment. So far, the company has signed up about 40,000 families, or 200,0000 people in all.
Duveau believes the cost of solar has declined sufficiently that governments and international agencies should move straight to distributed energy rather than investing in large grid projects.
"The money the World Bank and others have spent has never materialized," he says. "People have been waiting 10 or 20 years for the grid and the grid is not going to come, because it's much too expensive and it's too big an infrastructure for what people really need."
"Most families just want six or seven lamps, a fridge, a TV, a stereo and a charging station. Assuming you could build it, you could never manage to refinance it, simply because the average consumption of electricity is so low. [Generally] they have more efficient appliances than we have."
About 1 billion people still lack electricity, according to World Bank figures, and plenty of other places have grid infrastructure that isn't reliable.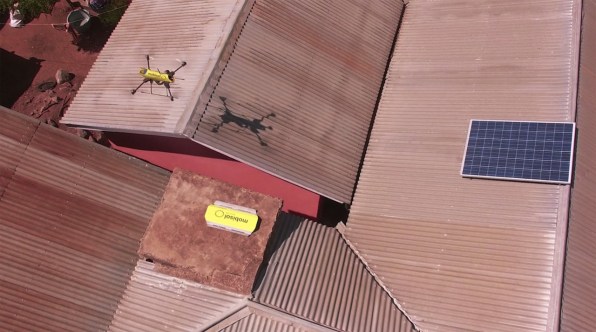 Mobisol's systems are bigger than others sold in the developing world. M-KOPA, which has connected 300,000 homes in East Africa, typically sells 8 watt kits. That's enough to power two LED lights, charge five phones and a torch, and run a radio. Mobisol's packages start at 80 watts, complete with a TV, mobile recharger, radio, and five lights.
Its systems cost at least $21 a month over 36 months. But Duveau says it's more useful and allows families to become micro-entrepreneurs, for instance charging phones and laptops for other villagers, and setting up barber shops or small cinemas. "We're the only company that can claim to substitute the grid," he argues.
It's early days for the drones. But one day they could allow Mobisol to extend its reach further while piggybacking on the company's existing solar network.