There's a lot going on around Super Bowl 50–the ads, the storylines, the Coldplay, the actual football game–but another layer to this onion of athletic achievement is that it pits two of the NFL's most marketable stars against one another. Peyton Manning versus Cam Newton. Old School versus New School. The Past versus The Future.
Whether Manning decides to retire after the game or not, his time as the marquee marketing face of football is largely over. And what an advertising career it's been. From Mastercard and Oreo to Gatorade, SportsCenter, DirecTV, and many more, Manning was able to provide brands with a rare combination of star power and a self-aware sense of humor.
But there are a number of younger NFL stars that are making a go at the marketing crown, chief among them Manning's Sunday rival Newton. Cam's got the serious down pat, but he's also dabbled in laughs. I spoke to some leading ad agencies and marketing firms about who they see as the top contenders to be the NFL's next great advertising pitchman. Some answers were obvious, others not so much, but they all agreed that Manning will be a tough act to to follow.
Matt Delzell, managing director of the talent practice at Omnicom's The Marketing Arm firm, says that Newton is the one poised to become the league's most marketable. "Cam Newton is primed to take the place of Peyton Manning as the next major NFL celebrity endorser," says Delzell. "It's ironic that he's playing him in what may be Peyton's last Super Bowl. Cam has the looks and the personality, and he soon may have the Super Bowl win to go along with that."
The Marketing Arm's Davie-Brown Index (DBI), which measures and compares thousands of sports stars and celebrities in categories such as influence, awareness, appeal, and many more. Out of almost 4,000 celebrities and sports stars, Manning is No. 280 in awareness, No. 10 in influence, and no. 27 in aspiration. Newton, by contrast, is currently no. 1075 in awareness, no. 131 in influence, and no. 224 in aspiration. Celebrities ranking similarly include Phil Jackson and David Ortiz for awareness, George Clooney in influence, and Kevin Hart in aspiration.
For Harry Roman, Group Strategy Director at Droga5, which is behind all the recent award-winning work for Under Armour, young people today know that nothing is as perfect as it seems and will respond to stars who are honest and authentic. "The new, next great NFL pitchman has to be comfortable out in the open—accepting their own flaws, willing to take a stand on issues that matter to young people," says Roman. "The brave brands that embrace this new dynamic and align their values with the values of young people are the ones that stand to win the most."
So who fits the bill in today's NFL? "With this new standard, someone like Cam Newton is an obvious pick," says Roman. "He's charismatic, has fun on the field and this attitude seems to be infectious among his teammates. Together, they have brought a sense of Pop Warner camaraderie to the NFL like nothing we've ever seen."
But Roman also has a few other candidates that he says brands will be increasingly looking to. "Richard Sherman is someone who excels on the field, is a leader and not shy about sharing his point of view," says Roman. "Russell Wilson, while maybe not as vocal as his teammate, has the goods to become the next great pitchman. He plays sound football and is super-athletic. The fun part of his personality is that he is a bit of a nerd, and people find that endearing about him."
Brent Anderson, executive creative director at TBWA\Chiat\Day LA, whose clients include Gatorade, is another vote for Newton. "He's having fun and playing the game at the highest level with pure joy," says Anderson, who has worked with Newton on Gatorade. "And that is contagious. If he stays healthy and consistent, you'll see this year's MVP dabbing his way into more and more work for brands."
Anderson's runner-up is another Gatorade athlete JJ Watt. "Historically, pitchmen were the quarterbacks, the running backs, and the wide receivers," says Anderson. "The big personalities and big achievers on the offensive side of the ball. But with JJ you have that and more on the defensive side." "
In general, Anderson says a great NFL pitchman is someone who you'd want to sit next to while watching the game. "He needs to prove trustworthy over an extended period of time, competing and winning at the highest level," says Anderson. "Character–on and off the field–and charm sit atop the qualities of those who are invited to show us what to drive, what to drink, and what to wear when their games go to commercial break."
David Schwab, managing director of sports and entertainment marketing firm Octagon First Call agrees with Anderson and sees Newton and Watt dominating NFL-related brand ads into 2017.
"Cam's personality is infectious," says Schwab. "There will always be naysayers in the world of celebrity, but he is doing something you do not see every day–success at the highest levels with a huge smile and the obvious love of the game. It makes brands want him even more."
Schwab says Watt has taken over as the lead marketing defensive player in the league. "This mantle has moved from (Brian) Urlacher to (Troy) Polamalu and now from Richard Sherman and Clay Matthews to JJ," says Schwab. "(Panthers linebacker) Luke Kuechley would be next in-line but he doesn't have the outspoken personality necessary to drive national brand campaigns. He is more similar to Tim Duncan and Pete Sampras. Unbelievable athletic talent but not marketing superstars."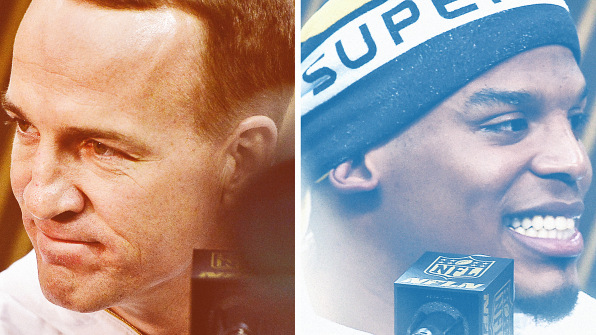 And then there are the outliers. While BBDO New York executive creative directors Dan Lucey and Chris Beresford-Hill know a thing or two about marquee marketing athletes, having overseen Foot Locker's advertising for the last few years, they're making a couple less-than mainstream bets.
While Lucey says plenty of brands will go for Newton, his darkhorse pick would be … New York Jets quarterback Ryan Fitzpatrick?! "I'd like to see him have a good year because he's got all the makings of a great character–the great look with the beard, and he's the underdog we all root for, but he's also got a Harvard education," says Lucey, adding he's actually a Giants fan. "There's a lot of angles on him that would help a brand deliver a fresh story."
For Beresford-Hill, it's all about the player kids will be imitating on the schoolyard on Monday. "It used to be it would always be the quarterbacks because they were the most visible, but I think the way ESPN reports the hell out of everything, and Bleacher Report is on everyone's Facebook feed, wide receivers are much more familiar than before," says Beresford-Hill. "So for me it can be about incredible catches, so someone like Odell Beckham Jr. could be a lot bigger."
Whomever takes over for Manning, we can all only hope they too can swear at kids and pelt them with footballs with as much style and grace.