In a world where surprise drops from musicians have become standard practice, Louis C.K. may be re-writing the rules for comedians with his unannounced project Horace and Pete–only thing is there's nothing to laugh about.
Louis C.K. delivered his one-hour, two-act play, which he wrote, produced, and starred in, via email over the weekend with very little fanfare:
Hi there.

Horace and Pete episode one is available for download. $5.

We hope you like it.

Regards,

Louis
And for that $5 you get a bar full of savage honesty and crippling dysfunction, courtesy of a cast including Jessica Lange, Alan Alda, Edie Falco, Saturday Night Live's Aidy Bryant, and Inside Amy Schumer's Kurt Metzger. It's unclear when episode two will drop but the pilot lays the groundwork for what's most likely to come–and it's pretty much a minefield.
Horace and Pete stars Louis C.K. as Horace and Steve Buscemi as Pete, the owners of a centenary Brooklyn bar. From open to close, topics of politics, race, mental illness, and anesthetized ambition serve as undercurrents to family drama that seems unresolvable.
The sound of microphones brushing during a hug or fumbled lines left in lends Horace and Pete its play-like feel, but it's unpolished to a fault. Somehow, the structure of Horace and Pete doesn't comfortably house Louis C.K.'s writing. However, as distractingly didactic as that writing can be at times, the points expressed, particularly by the supporting cast, are salient all the same.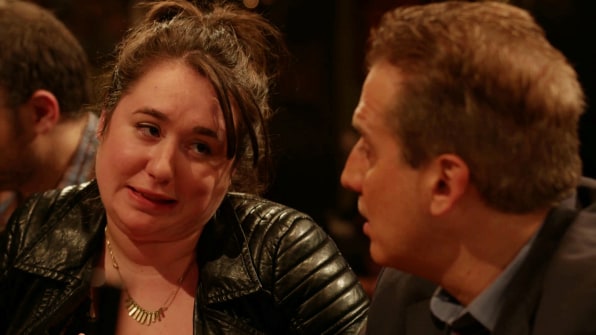 "I'm not going anywhere–it's just a job, that's all."
"So how old are you anyways?"
"I'm almost 50."
"So how come you're 50 and you're still doing that?"
A young woman grills her bar neighbor Nick (Nick DiPaolo) over what he does for a living. An assistant district attorney sounds impressive at the start but upon continued needling, she learns Nick is just one of hundreds of essentially faceless cogs in a machine that's numbed him to indifference. He's stuck in a job he's passionless about, but what's worse is that he's tricked himself into thinking his life, as is, is all it will ever be.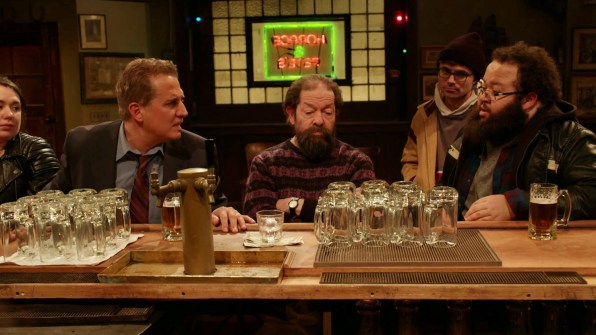 "You know what the sad thing is? This country has such potential. It's not a democracy–you're right. But it could be tomorrow. If the people woke up, they could change the whole thing. The whole system's set up and waiting. It's just sitting there like exercise equipment, waiting to be touched while your fat ass watches TV. If everybody woke up tomorrow and said, 'we're not gonna spend another fucking dollar or cast another vote or fight another bullshit war until we get our fair share,' that shit would change tomorrow. But it fucking won't."
Staunch conservative Nick and a hardcore liberal are, of course, locked in a broiling debate. A mediator asks them to define what their political affiliation stands for. Both men state their cases but Kurt (Kurt Metzger) proves it's all moot if the core principle of democracy continues to crumble at a quickening pace.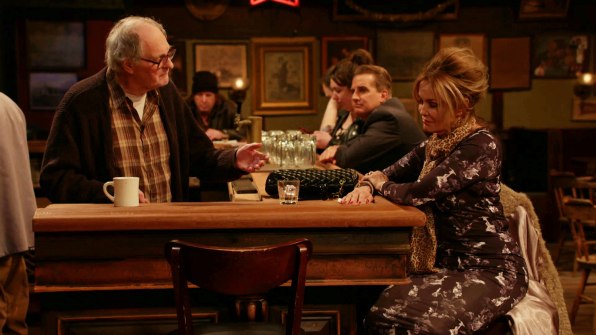 "Racist is what you do, not what you say. This place ain't racist–we served coloreds here in the '30s. Yeah, nobody would serve boogies back in those days. I got a picture of a nigger sittin' right there in that stool in 1930. You look at that and call me a racist. My father, Pete the XI, he used to say, 'If niggers drink beer, then we're all niggers.'"

Pete (Alan Alda), resident curmudgeon and all-star example of the oft-cited excuse "ignore him–he was born in a different time," takes umbrage with a young woman at the bar when she accuses him of being racist. It's a jarring conversation, indeed, but listen closely for the dissonance in political correctness: intention vs. delivery, the weight of words vs. the weight of action.
Download episode one of Horace and Pete here.