On February 2, Yahoo will announce its financial results for the last quarter of 2015 and the full year, and will hold a webcast to discuss them. But to an unusual degree, what people are waiting to hear about isn't how the company's been doing, or what its expectations are for the next quarter. They want to know about its future–which could involve the company getting broken up in various ways, shrinking, and/or making major changes to its management and board.
Much has happened since Yahoo's most recent earnings announcement last October–which, as with other quarters during the three-and-a-half-year tenure of CEO Marissa Mayer, contained only pockets of good news at best. At the time, the company was still planning to spin off its enormous stake in Chinese e-commerce giant Alibaba–worth almost $23 billion at the time–into an independent public company called Aabaco. The planned move was based in part on the assumption that the spin-off would be tax-free. And if you subtracted the value of the Alibaba investment from Yahoo's market cap, you got a pittance–indicating that the stock market thought that the company's core businesses were hardly worth anything at all.
But in December, as the IRS refused to confirm the deal's tax status, Yahoo reversed course and said it would instead pursue the idea of spinning off the rest of Yahoo, including all of its consumer websites and its advertising business. It kicked the can down the road by noting that the planning for such a maneuver might take a year or more.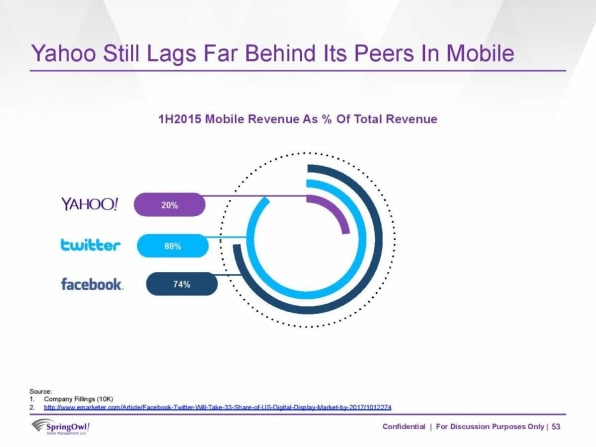 Nobody with a financial stake in Yahoo's fate is going to give it an indefinite amount amount of time to mull over its options. Activist investors, as usual with Yahoo, are already full of advice, some of which could remove Mayer from the company or sell it off altogether. Starboard Value has called for a management shake-up and for Yahoo to make clear it's accepting bids from other companies that might be interested in acquiring part or all of it. Canyon Capital is telling it to conserve cash rather than making more acquisitions. And SpringOwl Asset Management sent Yahoo a 99-page presentation recommending, among other things, that Mayer and 75% of Yahoo's 12,000 employees be let go; that the company give up on developing its own search technologies; and that it bring back its old logo.
As much as Yahoo would like to ignore such helpful feedback from pushy investors, it may need to announce something big to forestall a proxy fight that would impose changes to its board and management from outside. In early January, a Yahoo spokesperson was saying that Yahoo would have news about its strategic direction on or before it released quarterly results–which, at the time, people were expecting it to do by the end of January.
Last week, Yahoo did disclose that it was closing its Mexico and Argentina offices, which TechCrunch's Ingrid Lunden had fewer than 50 employees between them. Beyond that, there are the rumors. Re/code's Kara Swisher says that Mayer is prioritizing Yahoo's myriad current efforts with an "Invest/Maintain/Kill" list. And on Monday, the Wall Street Journal's Douglas Macmillan reported that Mayer will announce layoffs of 15% of the company's staff and the closure of several business units. (That seemingly contradicts an earlier Reuters report that Yahoo would wait until after the results announcement to make any major strategic moves.)
When I talked to Mayer last March for a Fast Company cover story, she emphasized that she wasn't running the company to please anyone who was interested only in making a quick buck. "It's hard to listen to the viewpoint of anyone who says, 'Wait, the strategy should be not about building a great company for the long term, how to make the strongest Yahoo we can in 2020 or 2025,' " she told me. "My responsibility is to build for our shareholders the strongest, most future-leaning, fastest-growing Yahoo that I can." At the time, her vision for a Yahoo built for the long haul involved a strategy she called MaVeNs–for mobile, video, and native content. It's an emphasis that could survive even if the company is forced to make major changes that weren't in its game plan back then. But if Yahoo can't repackage it in a form that gets it through 2016, those plans for 2020 or 2025 could be moot.