Here's a new angle on the gender divide in leadership: Men and women score nearly equally in their ability to drive businesses, but fewer women are able to get beyond lower-level leadership positions.
The finding comes to us from a new study conducted by DDI. The report is a synthesis of assessments taken by 15,000 participants being considered for leadership from the front lines to executive levels at 300 companies in 18 countries. DDI evaluated the data from personality and intelligence tests as well as from "day-in-the-life" simulations that allowed participants to demonstrate their skills.
DDI's report (like others) suggests that gender equality in leadership still has a long way to go, despite the equity in scores. Their findings show that the ratio of men to women chosen to complete these assessments was weighted in favor of male participants. According to the report's authors, because these assessments represent investment, they are a reliable indicator of gender diversity among high-potential leaders.
"Far more women are chosen as candidates for assessment at lower leader levels than at senior levels," the authors write. "This conveys to women: It's okay to be a lower-level leader, but you're not yet ready to rise to the top." But maybe not even that. At the operational level, the gender split is 75% men to 25% women.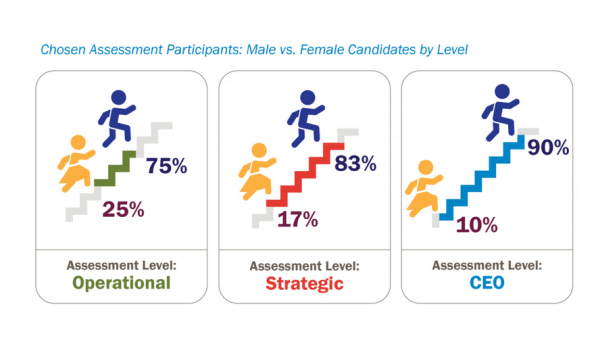 This plays into findings from the recent McKinsey/LeanIn.org study, which revealed that across the advancement board, from entry level to manager and from SVP to executive rank, women are less likely to advance, with the greatest disparity occurring between manager to director. Women are only 79% as likely to reach that level, compared to 100% of men.
The McKinsey/LeanIn.org study points to two trends standing in the way of women rising through the ranks. Although the likelihood of advancement is equal at entry level, it drops off as fewer women take on roles that lead to executive leadership positions. More women are found in departments such as HR, legal, and IT, where job responsibilities don't directly impact the bottom line.
But a Deloitte study revealed that even among lower-ranking millennials, the disparity was evident. Twenty-one percent of millennial men said they lead a department or are members of their organization's senior management team vs. 16% of women.
DDI's research adds to those findings indicating that the reason there aren't more women in high-level leadership is not rooted in lower competence. In fact, analyzing the differences between men and women on business drivers showed that there were no statistically significant differences, and neither gender got extremely high scores.
What are business drivers? Evan Sinar, PhD, DDI's chief scientist, tells Fast Company that they are a focused set of broad leadership challenges that leaders absolutely must overcome to execute the organization's business strategy. "They provide the essential business context against which leader readiness is evaluated." He adds, "They are measured by mapping both skills and personality factors (including both enablers and derailing aspects of personality) to each driver."
He also notes that a few of them "force important conversations about prioritization of leadership growth targets."
Participants were scored on a four-point scale ranging from Not Ready (lowest), to Development Needed, to Ready to Strength (highest). "Because the average score is less than three, we know that on average, leaders fall between the Development Needed and Ready points," Sinar says. Higher scores mean a higher proportion of leaders that are Ready.
According to the report's authors:
We've also heard considerable discussion about men being better at the "harder" side of business, while women shine in the "softer" side. But in looking at the "softer" versus "harder" business drivers, there is little support for this proposition.
Significant distinctions did arise on three personality traits:
Inquisitiveness. Men scored 16% higher, which DDI attributes to several possible reasons, including the fact that there are more men in STEM careers that both reinforce and reward structured inquiry. "Also notable are cultural attitudes and practices," the report's authors write. "In some countries, women entering the workforce were raised in an environment that reinforced silence over curiosity."
Impulsiveness. Men scored 11% higher than women on this trait. "We surmise that men are reinforced to 'just do it' without considering consequences," the report's authors write. Women tend to behave more cautiously, especially when considering a promotion, according to recent research from Harvard Business School. DDI's researchers posit that women are also encouraged not to proceed until they are sure they can do something perfectly.
Interpersonal sensitivity. This is the personality trait in which women got 13% higher marks, and it is an asset, especially when leaders are in positions that rely on their demeanor and interactions with others.
The study authors encourage organizations to consider emphasizing all types of diversity by promoting support groups, flexible schedules, sponsoring networking opportunities, and mentoring.
DDI's researchers found that almost two-thirds of women have never had a formal mentor. "Even one good mentor means they are more likely to climb the organizational ladder," they say.