Last summer, Paddle8 cofounder Alexander Gilkes happened to run into designer Andy Spade at a dinner party. "I've long admired Andy's eclectic taste," says Gilkes, a former auctioneer and Old Etonian with a penchant for tweed jackets. Spade had recently sold his home in Southampton, Long Island, and the artworks and collectibles that he had acquired over the years were sitting in storage. As the evening light filtered through the windows of host Tory Burch's uptown apartment, Gilkes suggested that Spade sell the Southampton works online through Paddle8, his startup auction house. That conversation led to a meeting at the Bowery Hotel, and by mid-January, 80 lots from the designer's personal treasure trove were open to bidders around the world.
Paddle8, Gilkes says, is the "perfect platform" for consignors like Spade. By the time the Spade sale closed in early February, the startup had had no trouble selling everything from a Jean-Michel Basquiat drawing that its specialists valued at $50,000, to a six-foot-tall stuffed giraffe valued at $300.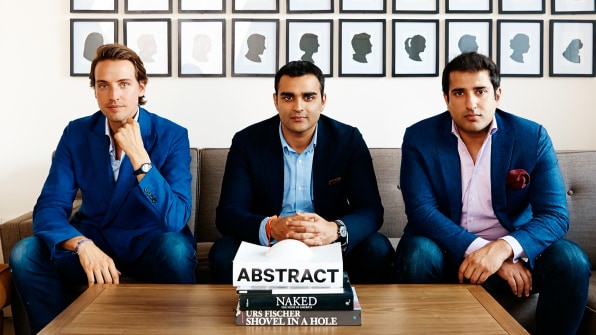 "We love bringing all those collections together online, and through that, creating a visual archive of the individual," Gilkes says. "We're big believers that people can learn how to collect through the eyes and authorities of great collectors."
Collector-driven sales have become a differentiator for Paddle8, which Gilkes launched in 2011 along with cofounders Aditya Julka and Osman Khan. Their goal: to capture the rising tide of affluent millennials interested in purchasing art for the first time. While have-not millennials living with their parents and paying off their student loans tend to capture the headlines, there are 6.2 million millennial households in the U.S. earning $100,000 or more each year, according to research firm FutureCast, not to mention the young wealth exploding overseas. What's more, these digitally savvy prospective luxury buyers "are approaching their peak spending years," according to Goldman Sachs.
Paddle8 is based on the idea that as affluent millennials grow in number, they will continue to spend their money on unique products and experiences that reflect their personal values–and rising income. "Affluent millennials are more likely to pick a different destination every time they travel instead of returning to the same place twice," FutureCast reports. For luxury items like art and collectibles, Gilkes argues, the same rules apply. "We are a generation with access to greater troughs of knowledge than ever before; we travel more extensively than ever before," he says. Paddle8 selects curators like Spade, Ellen DeGeneres, and Steven Kolb as featured sellers for their ability to serve as inspirational guides.
So far, the tastemaker strategy has shown promise. In 2014, the value of the works sold in Paddle8 auctions hit $35.8 million, a figure that the company says it doubled last year. That places Paddle8's revenues for 2015 in the ballpark of $20 million, based on the commission fees it charges to the buyer (20%) and the seller (8%). The demonstrated momentum persuaded investors including artist Damien Hirst and gallerist David Zwirner to pour an additional $34 million into the company last October.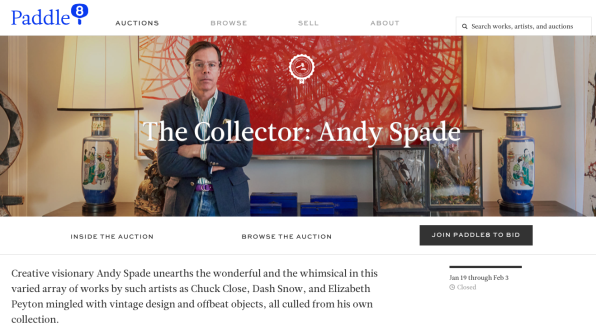 "Our gutsy view of the world is that going forward, with time, there will be three auction houses in the world: two serving the upper end of the market and then Paddle8, servicing, in a streamlined and online-only manner, the middle market," says Gilkes, in a nod to market giants Christie's and Sotheby's. (New York startup Artsy, which raised $25 million last year, has focused on partnering with galleries to sell new works.)
But that friendly positioning belies the convergence taking place as the established auction houses move more aggressively into online sales. Both Christie's and Sotheby's see digital channels as a way to lure young collectors, and both are experimenting with categories and price points that overlap with Paddle8. The average online lot price at Christie's, for example, is around $10,000–the same average that Paddle8 would like to reach in the next few years.
"Today you're buying a $1,000 print. Over the next few years, hopefully you grow with Paddle8, and you're the purchaser of a million-dollar work," cofounder Khan says. At the moment, the company's lots are priced at under $100,000, with the average hovering around $5,000.
Christie's and Sotheby's are famous for their blockbuster fine art auctions, but digital channels have allowed them to move into the middle market that Paddle8 seeks to claim. "The things that you could buy at Sotheby's are not only extraordinary, but surprisingly accessible," says David Goodman, head of digital development and marketing for Sotheby's. After joining the company last summer, he spearheaded a series of online-only sales, hosted by partner eBay and designed to expand Sotheby's audience. The sold-out sale of Star Wars memorabilia, timed to coincide with the release of The Force Awakens, attracted 400 new bidders, all prospective future customers. "They were fun, they were promotable," he says of the sales. "For a lot of new buyers and bidders, it's a way to onboard them."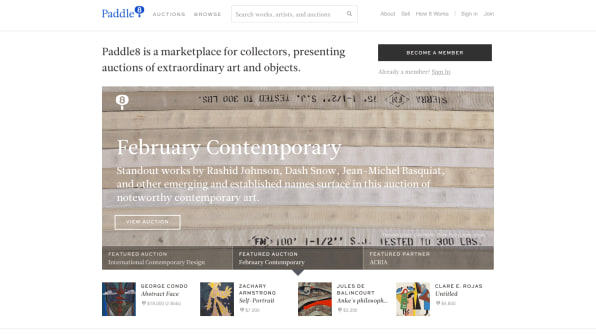 One difference between buying a Luke Skywalker figurine from Sotheby's and–say, the Darth Vader Companion by KAWS on Paddle8–is the way in which the items are verified and shipped. Specialists at Sotheby's and Christie's, even for online sales, verify the authenticity of all works in person at their offices. Paddle8, in contrast, relies on photographs and documentation to verify items remotely, and then ship directly from consignor to buyer.
John Auerbach, managing director for e-commerce at Christie's, makes the comparison unprompted. "It's not a third-party or drop-ship model," he says of his house's way of doing business. "That's what differentiates us from the competitive set, that peace of mind."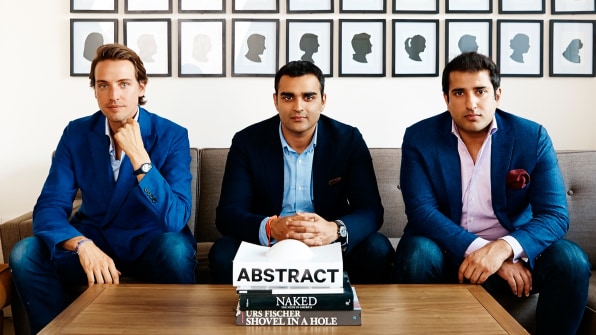 Gilkes stands by the more efficient Paddle8 model, which enables lower fees. "Every single work that is listed on the site passes through the validation of a specialist," he says. "If we don't have sufficient records or we have any concerns, then we have a network of specialists who can go in to inspect the work in person. We are really focused on contemporary collecting verticals, so there is an abundance of records."
Once Paddle8 secures the right to sell an item, it has the added benefit of being able to execute the sale in a matter of weeks. "There are fewer pain points: We're not printing a catalog, we're not setting up an exhibition, so we're able to move much more nimbly," says Kate Brambilla, a Christie's estate sales veteran who now manages Paddle8's collector auctions. This year her team plans to stage 12 of the sales.
"I think there's a deep-seated interest to see how people live with art and objects, to see how somebody pairs a contemporary work of art with an antique desk accessory," she says. "There's an appetite for that—not only seeing into the personal lives of these collectors, but also how you can bring it into your own home."
Ikea shelving optional.