Talk about a corporate headache. Lumosity, the brain-training game app whose TV ads and web presence have been near-ubiquitous in recent years, was slapped with a $50 million fine by the FTC earlier this year over claims made about the benefits of its product. (They ended up settling for $2 million but not without a spate of nasty headlines.)
According to the FTC, Lumosity settled charges of deceptive advertising of its games, claiming that the games help users with school or office work, and reduce or delay cognitive impairment in seniors. Specifically, the FTC cited practices like purchasing Google AdWords related to memory, dementia, and Alzheimer's disease for the app, and unfounded claims in the company's advertisements.
The company says that it is sticking by its core product–and even branching out into new areas like stress management and sleep patterns–but will be more mindful of how it uses Google AdWords, says Steve Berkowitz, the CEO of Lumosity parent company Lumos Labs, in an interview with Fast Company.
Berkowitz joined the company in November 2015, well after the FTC's investigation was under way. "The settlement was really a small setback in what's a really long journey to make cognitive training accessible to everyone," he said. "Every industry is new, things happen as companies are young, and this is about opportunity going forward."
Lumosity definitely hyped its products, and used an aggressive advertising campaign similar to what you'd see for a regular, non-"brain training" game or consumer electronics product. But was it deceptive advertising?
The jury of its peers is still out.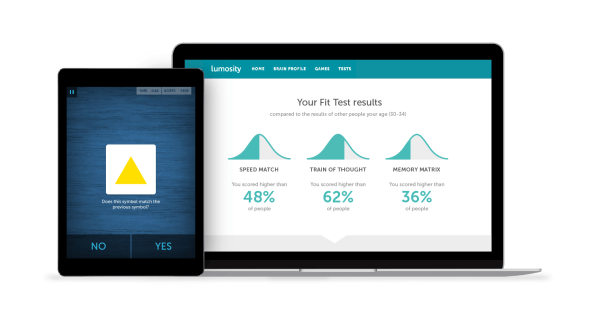 Adam Gazzaley heads up the University of California San Francisco's Gazzaley Lab, where he researches the potential for video games, among other tools, to alleviate cognitive deficits. He is one of a group of scientists who signed an open letter saying Lumosity made exaggerated claims in 2014. It's important to note, however, that Gazzaley serves on the board of a neuroscience gaming company called Akili that works in the same sphere as Lumosity.
Gazzaley, in an email to Fast Company, wrote that it is critical for companies that "create tools to enhance human performance" conduct rigorous scientific studies to "validate their offerings," and that regulators play a critical role in overseeing such firms. But he expressed concern about the impact of the Lumosity fine and that it could cast doubt on the positive effects of cognitive training via interactive media. "I remain cautiously optimistic that with high-level development and careful validation we will create a new category of cognitive enhancement tools for both healthy minds and those suffering from deficits."
USC's Mara Mather, who heads up the university's Emotion and Cognition Lab, signed the same open letter as Gazzaley, and says her main worry is that Lumosity's games may not improve users' cognitive functioning–they might just, in fact, make it easier for them to play the Lumosity game they are playing.
Here's her take:
To date, most laboratory studies looking at effects of practicing various types of cognitive tasks have yielded disappointing results. Yes, people get much better at the task they are practicing, but they don't usually show any benefits for other types of tasks. So practicing crossword puzzles should definitely improve your performance on crossword puzzles but might not help you remember what you need to buy at the store or the name of an acquaintance.
Mather wasn't completely critical of Lumosity, however. She praised the company's ongoing outreach to academia and willingness to work with outside researchers on projects related to human cognition.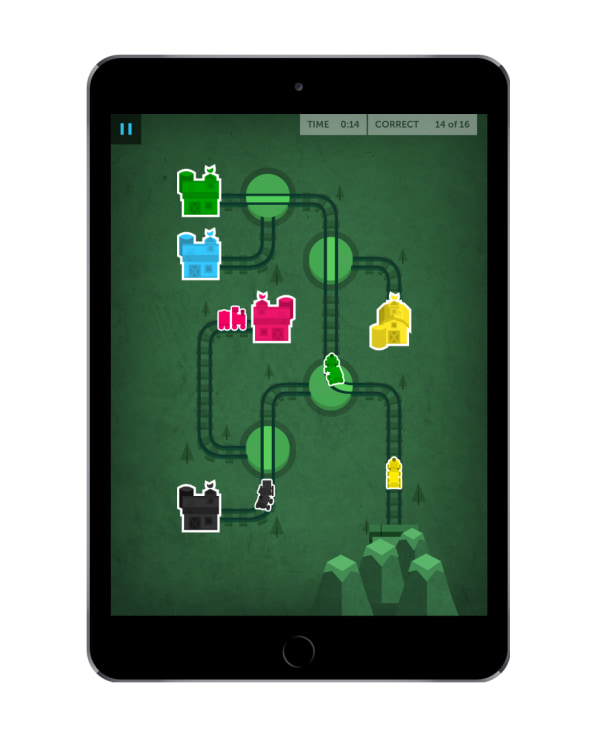 At Lumosity, Berkowitz seems eager to move on. As a recent hire, he wasn't named as a defendant in the FTC suit. The company's former CEO, Kunal Sarkar, and former chief scientific officer, Michael Scanlon, were both named as co-defendants alongside Lumosity in the suit; both Scanlon and Sarkar are currently listed on Lumosity/Lumos Lab's leadership page, and Sarkar remains the company's chairman.
Our conversation ended up with three interesting takeaways:
New products and areas of interest: Berkowitz says part of Lumosity's strategy for 2016 involves expanding the company's product line into areas such as stress management and sleep patterns.
When I asked Berkowitz if this marked a departure from its emphasis on cognitive training, he told me that "If you think about it, we're about health and wellness. Introducing people to the concept of health and wellness isn't just physical. It's also mental health and wellness, and our goal is to introduce those things."
Those Google AdWords keyword buys might not have been the best idea: "We never focused on diseased populations," Berkowitz asserted. He also emphasized that "When ads were purchased, Google gave a suggestion of what keywords to buy. It gives thousands and thousands of suggestions, and we purchased them. We purchased a minimal number of those kind of things, and our intent continues to be on healthy adults. Our idea there is we want to give training tools and learning to help adults."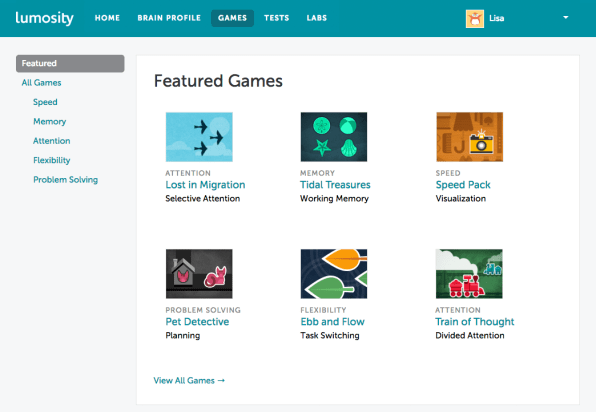 Lumosity's sticking by its core product: Berkowitz explained with a chuckle that "The best way to kill a low-quality product on the Internet is to market it. It's so easy to switch (to another product)." He added, "We recognize that, and that's our goal. I feel like this is, as I said earlier, a small dunk in whats going to be a long future."
Though it's common for app companies using AdWords to take a carpet-bombing approach to large clouds of semi-related keywords to see what works and what doesn't, the FTC is particularly sensitive to exaggerated health claims. One of the key challenges for Lumosity is how to straddle the fine line between recreational game and cognitive improvement tool, without pushing it too far.
In the meantime, Lumosity and Lumos Labs aren't going anywhere. The company, despite the FTC spanking, has a healthy user base, lots of name recognition, and a favorable market position. Now, they need to refine their product and embrace the exuberance of app marketing without crossing the line.