Good news if you're a technology worker or planning to be one: Average salaries in the U.S. jumped 7.7% to $96,370 annually, according to the annual salary survey by Dice, a careers site for tech professionals. Salaries in seven metro areas hit the six-figure mark for the first time since the survey started more than a decade ago.
The Dice report also reveals that bonuses and contract rates also rose between 2014 and 2015. This is in stark contrast to the average national wage growth of 2.2%, according to data from the Bureau of Labor Statistics.
To get its salary big picture, Dice surveyed 16,301 employed technology professionals between October and November 2015.
Tech jobs have been fairly solid since before the recession. According to the Dice report, the trend continues as the majority (62%) of respondents reported earning more money in 2015. Love or hate the annual review, it is still a good way to earn that salary bump. Dice analysts say:
Almost half of respondents reported a salary increase as a result of upward mobility at the same company, with 38% receiving a merit increase and 10% receiving an internal promotion. The second most common reason for a rise in salary was a result of the professional changing employers (23%).
Contract workers weren't left out of this largesse. They saw an average 5% increase in their hourly compensation coming out to $70.26 per hour. Those employed in the industrial/chemical, professional services, and health care and utilities/energy segments were paid higher than overall tech contract rates.
Dice data indicates that bonuses are becoming more common across the industry, with over one-third (37%) reporting that they received an extra payout. This is a sharp increase from 2009, when less than a quarter (24%) of respondents reported receiving a bonus.
The average bonus was $10,194, up 7% from 2014. Who are the luckiest recipients? Those with the most experience, and those employed in banking or the financial services industry, telecom hardware, entertainment, and utilities industries.
Tech professionals with less than two years experience tended not to be among those getting bonuses. However, Dice reports that newbies received higher than average raises. Dice president Bob Melk chalks this up to competition. "Demand for skilled talent and low unemployment rates for tech professionals aren't making the hiring landscape any easier," he said in a statement. "Employers realize offering competitive pay is a necessity."
Melk says that tech pros appear to be a bit more satisfied with their salaries than last year. Fifty-three percent reported contentment with their compensation, a 1% increase over those surveyed in 2014.
Part of the satisfaction could be due to confidence in job prospects. Sixty-seven percent of survey respondents claimed they'd be able to land in a good spot if they chose to change employers. That said, more than one-third (39%) said they would cast the net to see what positions were available in 2016.
An earlier Dice survey found that as many as 50% would move to another city, and 52% would relocate to a different state or region.
Work-life balance–or lack thereof–isn't necessarily to blame. Six of the top 10 best jobs for work-life balance listed by Glassdoor happen to be in tech, and current employees at Apple, Google, and other top tech companies reported they'd like to head to a startup or at least a company in the pre-IPO stage. Seventy-one percent of Microsoft's employees said they'd make the leap in that case, according to analysis by tech recruitment platform Anthology. It's no wonder. Microsoft's initial public offering in 1986 elevated four employees to billionaire status and made 12,000 millionaires at the company.
Where might a hungry tech professional head next? Quite possibly to a metro area with higher-than-average salaries.
It's no surprise that Silicon Valley's tech workers already passed the six-figure mark. Dice reports that it's the top-earning market in the country (with a cost of living to match). Others aren't so easily pegged as tech hives:
Baltimore/Washington, D.C. $102,873 (5% increase in average salary for 2015)

Minneapolis $100,379 (9% increase in average salary for 2015)

Portland, Oregon $100,309 (10% increase in average salary for 2015)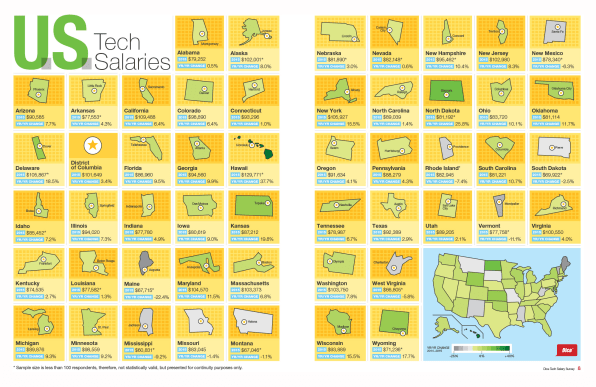 Although it helps get the bills paid, money shouldn't be the primary motivator to find a new job. WalletHub did its own survey of top metro areas for STEM professionals (a larger group than just technology workers) and scored locations based on 16 key metrics including median salaries, but also on the density of tech startups, housing affordability, recreation, and family opportunities, among other criteria.
As such, WalletHub's results look a bit different. While Silicon Valley topped the list and Minneapolis came in at No. 5, cities such as Madison, Wisconsin, and Pittsburgh also made the top 10.
"As more businesses look to build out their tech infrastructures, employers need solutions to securely store, manage, and process large sets of data," Dice's Melk notes. That's why 2015's highest earners include professionals skilled in analyzing big data or have cloud expertise.
Other skills such as HANA (database) and Puppet (programming language) made the list for the first time. Here's the full list of skills that commanded the highest salaries: