"We have no inventory," Chad Phillips, the creative director of Kwambio, says. For an ordinary design retailer, this might seem like a huge problem: How can you sell…nothing? But for a company that pulls its wares out of a printer, empty shelves could symbolize the next wave of retail.
Phillips is a veteran of the retail industry and with Kwambio, an online design platform, he wanted to take a fresh approach to curating and selling designer products. Before joining Kwambio, Phillips was the director of retail at the Cooper Hewitt Smithsonian Design Museum, creative director of Fab.com, and product manager at the late great design gallery Moss. One of the consistent challenges Phillips encountered was excess inventory, which quickly adds up. The way traditional retail buyers work is guessing how much of a product will sell, purchasing that amount from a designer, and hoping that the prediction holds true. Guess wrong and you're stuck with a clearance rack of stuff no one wants to buy and take a loss on their sales price. (Jason Goldberg, CEO of the troubled design marketplace Fab, cited over $1 million worth of inventory as part of the company's demise.)
And if it turns out that an item is a runaway success and sells out, you're potentially disappointing customers and missing out on a hefty paycheck if your suppliers can't provide more product instantly.
"It's something we all know is coming and are moving toward," Phillips says about curbing the amount of stock on hand. Making products to order is the linchpin of Kwambio, which solves the inventory problem, but the brand's direction is about more than solving inefficiencies in retail—it's also about elevating the reputation of 3-D printed products.
"3-D printed products are typically plastic, faceted, and look a like a science experiment spit out of a machine. It still feels very much like a moment—like in the early 2000s, here's a facet—it never felt like an heirloom design," Phillips says. "A big part of [Kwambio] really is having an aesthetic and coming from the design world and not the tech world."
The inaugural roster of designers includes a handful of familiar independent studios that the design-savvy set will recognize: Chen Chen & Kai Williams, byAMT, Katie Stout (winner of Ellen's Design Challenge on HGTV), Andrew Sack, and Jim Drain, among others. Kwambio is currently offering small housewares like piggy banks, jewelry, espresso cups, and small vessels. The next round of wares will include pieces from Visibility, Various Projects, Farrah Sit, and Dusen Dusen. Phillips sought out practitioners firmly planted in the contemporary design and art world, but who don't necessarily work in the digital realm. What unites them is a willingness to experiment with their work.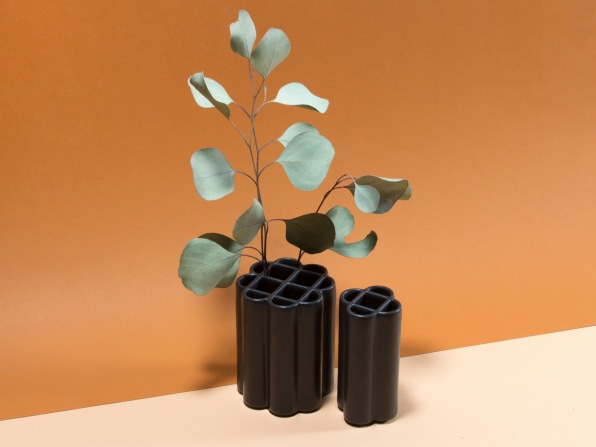 To develop a product, designers don't need to create complex computer files or worry about digital modeling. Even if they do work in CAD, it's not a direct translation to create files that the 3-D printers can use. "They can almost give us a napkin sketch and we can go from there," Phillips says. "We take all of the heavy lifting and let them do what they want the best, which is design."
The inventory issue isn't just a challenge for manufacturers—it's also a supply-chain hurdle for designers. Typically, independent designers have to prototype a product, figure out how to work with fabricators to produce it, and calculate the minimum order that would make monetary sense to sell wholesale. Depending on the product, that could mean a minimum order in the hundreds or thousands. Depending on how the designer works, it could also mean making something by hand, which becomes a scalability problem if a retailer suddenly wants 200 of a single item. Kwambio only makes an item once a customer places an order—average lead time is two weeks—which removes the layers of manufacturing and sourcing challenges for designers. There's no speculation and no hedging of bets on mow much to produce. Kwambio currently outsources production to 3-D printing companies located across the United States, but the eventual goal is to have its own facility.
Compared to traditional means of fabrication, 3-D printing is on the more expensive end of the spectrum. But Phillips says that because he doesn't have the overhead from maintaining brick-and-mortar stores and warehouses and doesn't need to worry about investing in minimum orders from designers, the expenditures have balanced out to a certain degree. "There's cost savings there, and we're not on a Keystone pricing model [doubling the wholesale cost of a product to achieve the retail price]," he says. Moreover, Kwambio pays its designers a higher margin—about double—compared with traditional retailers.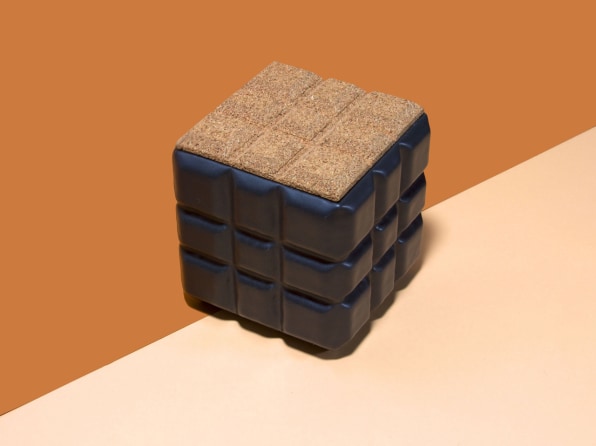 The price range is from about $38 to $1,800, depending on the product and material. (The $1,800 estimate is for a solid silver piece.) As of now, the materials are metals, like steel and silver, and ceramics, such as terra cotta and stoneware. Many of the items are made by 3-D printing a wax mold to cast the finished object. Customers have the opportunity to customize color and finish in some cases, like the Loop vases by Andrew Sack and Neo bracelet by Mir Ett. Part of the aim is also to feature products that require 3-D printing to achieve their silhouettes.
Right now, printing on demand makes the most sense for Kwambio, but if for some reason a larger order comes through, the fabrication technique may change. "Our end goal is to produce on demand for the demand," Phillips says. "If we have a demand for 1,000 that's different than a demand of 100 or two. It's Business 101—you need to make the product the most effective way for the price for everyone involved."
Phillips is not alone in his endeavor to lend more of a high-end sensibility to 3-D printed products. Since the technology has become more accessible—and more publicized—it's certainly catching on. For example, Exnovo, Odo Fioravanti, and Nervous System. What sets Kwambio apart is the material of the finished product—they have the tactility and aesthetics you traditionally expect with heirloom products versus the nylon and plastic substrates that 3-D printed items are usually made from. What it boils down to are the individual preferences of customers.
"I'm excited to begin reshaping the paradigm of what 'made on demand' and what 3-D printing means," Phillips says.
In the instant-gratification age of Dash buttons and apparel delivery in under one hour, two weeks to receive a product seems like a long wait. It's less than the bespoke model that often takes months to produce, but it's still a relatively lengthy lead time. So far the customization options range from glossy and matte finishes on the ceramic items and a few basic colors. Will that be enough to lure customers away from Amazon and local boutiques?