As Oculus founder Palmer Luckey puts it, his company does things a little different. Rather than hold its technological advances close to the vest in a bid to maintain its competitive advantage, it shares them because the more great virtual reality projects there are, the better it is for Oculus.
Maybe the same can be said for Oculus Story Studio, the Facebook-owned VR company's filmmaking arm, and its willingness to promote the work of other VR content creators this week at the Sundance Film Festival in Utah.
Even as the studio gives a first look at its latest film project, Dear Angelica–and the new production tool used to make it–it is also highlighting the work of about a dozen other VR content creators at Sundance, Story Studio producer Edward Saatchi told Fast Company.
"We wanted to take a breather and show the amazing range of [VR] movies out there," Saatchi said.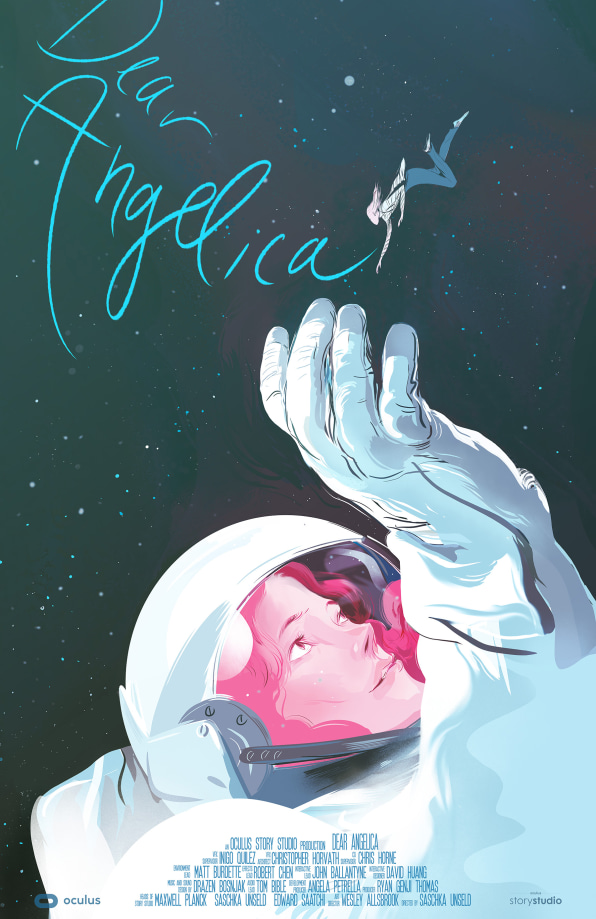 Still, despite the fact that Sundance this year has been a playhouse for VR enthusiasts–with upwards of 30 different projects being shown–Story Studio's new work in progress, Dear Angelica, will no doubt get much of the attention.
Story Studio creative director Saschka Unseld told Fast Company that the new film is the result of his team's commitment to trying out new storytelling methods and a desire to make each of its projects something altogether new.
Sundance, of course, is a natural place to screen the movie since the famous film festival was the site of Oculus Story Studio's big coming out a year ago, with its first film, Lost. Since then, it has released a second film, Henry. And now comes Dear Angelica, as well as a new production tool essential to its creation.
"The idea since we started the studio," Unseld said, "since VR is a medium, and there's no inherent style in VR, [is that] with all the projects we do, each project should experiment with something new and different."
With Dear Angelica, the exploration is to find a way to ask–and try to answer–the question: What would it be like to live inside, and step into, a painting? To do so, Unseld said, is a way to bring memories to life.
The film revolves around a teenage girl whose actress mother has passed away. Watching her mother's old films is pretty much the only way the girl can summon memories of her. The question the team wanted to address, Unseld said, is "what do memories look like and feel like?"
Unseld said that from a conceptual standpoint, Story Studio didn't think a representation of memories should look realistic. Rather, they should look "poetic," he said.
That's where art director Wesley Allsbrook came into play. Brought onto the project at a time when the team was attempting to take flat drawings and map them to geometry, there was soon a decision to engineer a new tool that would allow her to "draw in space and time."
Quill, the new tool from Story Studio, let Allsbrook–and presumably others who will be able to use it in the future–do just that. "It's a rudimentary program that allowed me to draw, not on a surface, [but] in space," she said, to "make an image and then walk around and inhabit it."
She added that nothing in Dear Angelica was originally drawn in 2D; everything was drawn in three dimensions using Quill.
Those familiar with the Oculus platform might wonder if Quill is like Medium, its VR sculpting tool. Unseld said it's a very different tool, but is similar in one fashion: that it's volumetric–meaning a viewer can move around the work. That's something possible on a platform like the Oculus Rift because of positional tracking technology that knows where a viewer is in physical space.
Oculus seems intent on making Quill available to other production studios, and Allsbrook lauded what she said is its potential for rich storyboarding.
To Unseld though, the tool is still very much about helping Oculus come up with all new ways to tell stories. They wanted it to portray a child's fantasy and express it through the memories of the film's teenage protagonist.
"We're currently prototyping the way to tell the story," he said. "You walk up to an illustration, and then it unfolds itself around you. So the way you walk around space matters. That basically influences the way you experience the story. It's bringing you more into this….We want it to feel like you can discover and unfold and walk through someone's memories, not just through looking, but through movement."