Elad Gil, Color Genomics' CEO, doesn't believe that his company will make money by jacking up the price of its genetic tests. Just a decade ago, it cost thousands of dollars for women to get tested for BRCA 1 and BRCA 2, the genes that are associated with breast and ovarian cancer. Color Genomics' screening test is just $249.
Instead, Color Genomics, a startup founded by veterans of Twitter and Google, wants to win over patients and providers with its easy-to-use interface. On Wednesday, the company launched a new service for health providers to order, track, and view the results of a patients' genetic test. By logging in to the website, physicians can check if the sample has arrived at Color Genomics' Burlingame, California, lab, and whether the patient has connected with a genetic counselor to receive the results.
In the past, doctors would typically have needed to fill out an extensive family history for each patient as well as provide insurance information. The results would be shared via fax.
But now, doctors who order tests from Color Genomics can view the status of the test online. Moreover, the test is designed to be cheap enough that patients won't need approval from their insurance provider–many payers will only cover the test if a person has a family member with cancer or a mutation–and can pay out of pocket. In addition, no patient family history is required.
Patients can also log in to the site and view a similar set of metrics as they await their results.
This kind of transparency when it comes to pricing, production, and logistics is uncommon in the field of lab testing. Test prices aren't often shared; samples are occasionally misplaced; and studies have shown that doctors will occasionally forget to relay test results to patients.
"Our strategy is to take best practices from e-commerce sites and apply them to health care," says Gil.
But e-commerce companies do not face complicated regulatory requirements in how they store and share data. Gil says that the company complies with HIPAA, the laws that govern how sensitive health information is shared among health providers and their business associates. "We don't share any patient information without permission," he stresses.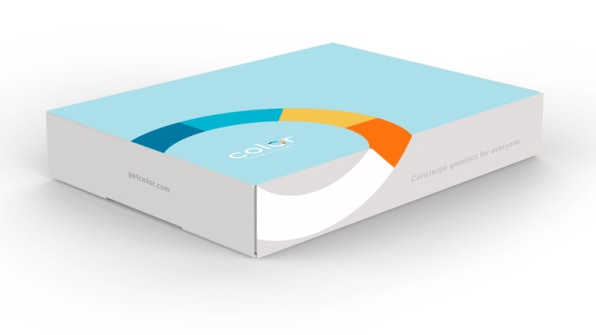 Color Genomics launched in April 2015 with $15 million from investors in the bank. The company quickly made a name for itself in health care for its focus on software and services. But it's far from alone. Counsyl, a fellow Silicon Valley startup, has been around longer, offers more tests at affordable rates, and it is also known for its well-designed software.
Both Color Genomics and Counsyl also offer patients the opportunity to speak to a genetic counselor. In Color Genomics's case, it's a requirement that patients schedule a telephone session before they receive the results. Patients do not pay an additional fee for that consultation.
In recent months, the company has experimented with other ways to boost awareness of its tests over its rivals. In September 2015, it convinced more than a dozen startups to cover half the cost of a breast cancer test for their employees. This strategy could unlock a lucrative new market: employers.
Going forward, Gil plans to invest in hiring data scientists. In the coming years, he expects that it will be routine for companies to sequence patients' entire genomes for less than the cost of a cable TV subscription. "In that case, the world flips from a biology problem into a data and user-interface design problem," he says. "That's the future we'll thrive in."